FIIL IICON wireless headphones review: Trading noise cancellation for sound quality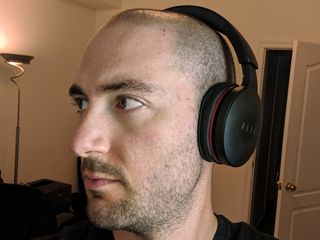 With the proliferation of phones without headphone jacks, it's no surprise that Bluetooth headphones have become incredibly popular lately.
But there was a category of headphones that, while perhaps more niche until recently, always extracted plenty of divisive opinions: noise-canceling. Thank Bose's incredibly popular QC25s, which gave way to the wireless QC35s, and inspired a category of imitators trying to get in on the action.
Now, a few years later, practically every company you can think of makes a good pair of wireless noise-canceling headphones. A new entrant, FIIL (pronounced "fill") entered the game a few years back, and while its flagship over-the-ear IICON has its problems, it's a bass lover's dream — and a great alternative to the popular options out there from Bose, Sony and others.
FIIL IICON What you'll love
The IICONs are all-plastic, and while that's not an immediate reason to like them, they are both sturdy and flexible — literally. The fold up to be very compact for a set of full-sized cans and the fake leather ear pads are very comfortable, even after being compressed for several hours in a bag.
The sound signature here can be summed up in one word: big. These are massive-sounding headphones, with an EQ that resembles a "U", with an over-pronounced low-end and treble that errs on the tight side without being fatiguing. At their default, they are tuned to my ideal sound profile for rock or hip-hop; these probably aren't ideal for classical, jazz, or anything that requires subtlety.
The included Android app is quite good, too, allowing you to tweak the equalization (Bass/Original/Treble), enable and disable the equalization, and play with some artificial soundstage themes like "Living Room", "Theater", and "Hall". These are useless, but having access to a battery check or a monitor (which uses the included microphone to hear what's happening in the outside world) is super useful.
The battery is another aspect of then IICONs that I love: they last around 30 hours, and while they charge using Micro-USB, I so rarely have to do so that I don't even mind.
The longevity is enhanced by the headphones' comfort: so few full-sized headphones are fatigue-free, but the combination of over-sized ear pads and a thick, foamy headpiece makes it easy to wear the IICONs all day without issue.
FIIL IICON What you'll dislike
Whereas I'd put the IICON's sound quality on par with anything from Bose or Sony, its active noise cancellation is not nearly as good. There's only one setting, on or of, and while it certainly does an adequate job cutting down on plane noise, FIIL lacks the experience (and the intellectual property) to give the big names a run for their money.
On a plane, for instance, the ANC suppresses enough engine noise to make for a pleasant experience, but it's quite easy to hear nearby conversations — unless, of course, the music or soundtrack is enough to drown them out.
The touch controls on the right side of the headphones, too, are a joke: they barely work, even with the exaggerated gestures required to skip tracks or raise and lower volume. So don't expect much there.
In terms of complaints, though, that's about it. My only remaining question pertains to price: the IICONs are $350, which puts it in range of every other great noise-canceling headphone on the planet right now, including the Bowers & Wilkins PX, Bose QC35 II and Sony WH1000M2, our three top picks in the category.
I liken the FIIL IICONs to, say, the LG V30: a large, well-made and, perhaps to some, attractive piece of technology that is better at some things — namely sound quality — but lacks the "star power" of its biggest rivals. Should you buy these headphones — will people buy these headphones — at $350? I love them and I don't even know that I would.
FIIL IICON Should you buy them?
Like so many saturated product categories these days, I would heartily recommend the FIIL IICONs after having enjoyed them for many months, but I can't say I recommend them over the Bose QC35 IIs or Sony's latest wonderphones. While the sound may be bigger, and certainly more enjoyable than Bose's boring, subdued soundstage, the noise cancellation isn't great and, despite folding up, they're quite bulky.
Sign up for Black Friday email alerts!
Get the hottest deals available in your inbox plus news, reviews, opinion, analysis and more from the Android Central team.
Daniel Bader was a former Android Central Editor-in-Chief and Executive Editor for iMore and Windows Central.