FCC approves broadband 'nutrition labels' to help you shop for internet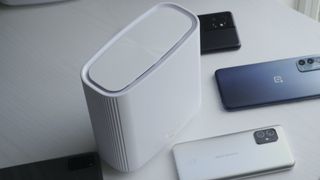 (Image credit: Samuel Contreras / Android Central)
What you need to know
The FCC has voted to move forward with new rules for ISPs to display nutrition labels.
The proposed rulemaking would mandate ISPs to display relevant speed and pricing information to consumers.
This should make it easier for consumers to make an informed decision on their broadband.
The FCC voted unanimously on a plan that would allow consumers to make better decisions about their broadband internet.
The proposal will require internet service providers (ISPs) - including many of the best wireless carriers in the U.S. — to display "nutrition labels" that display relevant service information for consumers at point-of-sale. This includes internet speeds, allowances, and clear information on rates.
"If you walk into any grocery store and pull boxes of cereal from the shelves, you can easily compare calories and carbohydrates," FCC Chair Jessica Rosenworcel said in a statement on Thursday. "That's because they have a common nutrition label. It's black and white, simple to read, and easy to understand. It helps consumers make good choices."
Rosenworcel says that this should also apply to broadband service so that customers can make informed choices and compare services to get what's best for them. For instance, customers will clearly be able to see if the offer they're being presented with is just an introductory rate and be able to see what they would pay after the introductory period has ended.
The proposal is based on a 2016 notice that approved the use of broadband nutrition labels. However, as Rosenworcel points out, "[i]t was also just voluntary."
The newly proposed labels are mandatory as part of the Infrastructure Investment and Jobs Act that was signed into law in November. This provides the FCC with more authority to mandate nutrition labels and spearhead other programs and efforts to expand broadband access.
Hopefully, this will make it easier to find suitable broadband service, particularly in rural areas where ISPs and wireless providers have largely failed to live up to their promises.
Get the Android Central Newsletter
Instant access to breaking news, the hottest reviews, great deals and helpful tips.
Derrek is a long-time Nokia and LG fanboy who loves astronomy, videography, and sci-fi movies. When he's not working, he's most likely working out or smoldering at the camera.
Don't people get that info before becoming a customer of a broadband provider or a provider of any service? Or are people really ignorant today? (That's rhetorical.)

I'm not sure what providers you've researched. Every time I've looked into different providers (Comcast Business, Xfinity, any other number of smaller local/regional carriers), they have only given the introduction price with the note that it will go up to the "normal price at that time, whatever that happens to be". As well as pulling teeth to find out what the actual speeds are. That 250mpbs is nice, but what's the upload speed, 1/2, 2, 5, 250? What's the data cap if any? Yeah, the information is available, but it's not readily available and one has to do a lot of digging to get the "basics", which this aims to standardize so the less savvy consumers can make an informed decision too. And of course, none of this is relevant if you live in a large portion of the US where there is only one viable broadband carrier. And yes, I'm aware that Starlink and the various 5g cell services are making a dent with this issue.

Prime example. We had Suddenlink for 20 years. We had their phone service for a while as well. Three or so years ago, we canceled the phone service. They absolutely could not tell us how much the service would be without the phone portion. They could only recommend we keep the phone service as the bundle we had could make the bill higher without phone. It was maddening. Luckily a new fiber service came into town this year and we switched immediately. They clearly state the service is $x for the first year, $xx for the second so forth. No fees for this and that that magically appeared. It was very refreshing.

You definitely have to do a lot of digging to find that information.

Good, people would see Crapcast's ridiculous datacap of a measly 2TB. In todays world of streaming, game downloads, WFH, etc... thats pushing it. And if you exceed that, they dont slow ypur speed, no, they have the balls to charge you.

2TB? Try 1.2TB. 2TB we would actually come under a few months of the year in my house...

I'm not saying you have a "home office", but if you do (and nobody is going to actually ask), Comcast Business is about the same price and doesn't have the data cap.
They also don't block ports in case your home business has a "server" running.