Everything you need to know about the ANT VR kit for the Lenovo VIBE K4 Note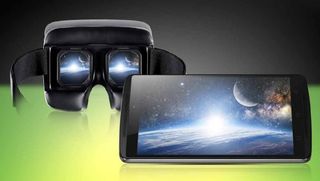 Earlier this week, Lenovo launched the VIBE K4 Note in India. The smartphone packs in an innovative technology, dubbed TheaterMax, that offers an immersive large screen experience on smartphones powered by Lenovo Virtual Reality (VR) technology.
The VIBE K4 Note is the first smartphone to be launched with TheaterMax. It allows you to convert any multimedia content on the phone to become immersive, giving users a virtual large screen cinematic experience when viewed through a VR headset.
The VR kit that Lenovo offers is made by ANTVR, a virtual reality startup dedicated to the development of virtual reality, augmented reality, and holographic reality with products like a VR headset for PC, VR glasses for mobile phone, and a VR camera.
Qin Zheng, the founder of ANTVR, is an avid science fiction fan and produced several sci-fi stories and movies during college. His interest in the field led him to the world of virtual reality. In fact, the first ANTVR KIT prototype was developed by Zheng all by himself. In 2014, ANTVR successfully finished crowdfunding for the first All-in-One universal virtual reality kit, the ANTVR Kit 1, on Kickstarter.
The ANTVR kit sold by Lenovo sports an aspherical lens in a compact package with a folding design weighing 160 grams. The VR headset provides a 100-degree-wide viewing angle, and works for those of us that wear glasses. The kit supports dual control modes – via earphone controller and Bluetooth controller.
While the ANTVR VR kit supports all new Lenovo phone with screen sizes from 5 to 6-inches, the company is undecided about bringing the TheatreMax software to existing phones in their portfolio.
The VR kit is available as a separate purchase for ₹1,299 ($20), or you can purchase bundled with the VIBE K4 Note for ₹12,499 ($187).
Register to buy Lenovo VIBE K4 Note with VR Bundle (opens in new tab)
YUP that just about covers EVERYTHING

Thanks for trying, but I'll stick with my GEAR VR! Posted via the Android Central App

That about covers it, indeed.
(cough GearVR for the win cough)

Sorry I didn't like VR bundle glass because its sliptting the image from middle and left protion of screen is seen on right side and vice versa. In handset as well their are not many option to organise or operate applications. I feel it is not user friendly .
Android Central Newsletter
Thank you for signing up to Android Central. You will receive a verification email shortly.
There was a problem. Please refresh the page and try again.