Everything Lenovo Smart Display does better than a tablet in the kitchen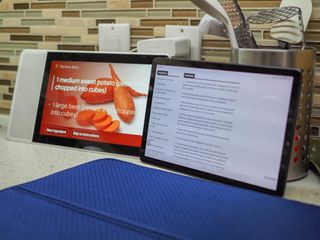 With the launch of Lenovo's Smart Display with Android Things onboard, we've seen one question, in particular, stand out above the others. Why buy this when you can buy an Android tablet? Wouldn't it be better to have something battery powered you could take with you everywhere? In some ways, sure, a tablet offers portability and functionality beyond the Android Things platform.
But as someone who has done exactly this for years, used an Android tablet around the house while cooking or folding laundry or working on my bike, I greatly prefer the experience I've had with the Lenovo Smart Display. And if you really think about it, there's a good chance you'll see an Android tablet just doesn't cut it. Especially in the kitchen.
Lenovo Smart Display is way, way louder
There are some pretty great Android tablets out there these days, but none of them can produce sound like the Lenovo Smart Display. And in the kitchen, especially my kitchen, volume is everything. You'd be surprised by how quickly the speakers on a tablet become inadequate when you've got a window open and an exhaust fan on your range hood running and three different pans sizzling.
The Smart Display, on the other hand, can drown out all of that noise well before hitting max volume. In fact, max volume on this thing is way too loud for any occasion in my house, which is great. I'll never be able to say the same for a tablet, and that all comes down to size. The larger body of the Lenovo Smart Display means it can hold bigger, more capable speakers. In much the same way Google Home does a better job delivering audio than a tablet, Lenovo Smart Display does a better job delivering video.
Lenovo's microphones make a big difference
Just like Google Home, Lenovo Smart Display offers far-field microphones and Google's voice imprint tech. I can get the Lenovo Smart Display in my kitchen to respond to me reliably from the living room. I've been using this model every day for the last two weeks, and so far have not had it miss what I was saying once. And like Google Home, it's very good about picking up when one of my kids ask to play for their playlists instead of mine.
I have never successfully done the same with an Android tablet. Even when I can reliably get "OK Google" to work on a tablet, the follow up is typically not as good because the microphones just aren't as capable. And if they work good enough to be considered reliable when you hold the tablet in your hand, you can never recreate that experience from across the room.
Android Things is a better interruption-free system
I get too many notifications. Between my work and home email, my social networks, messages on Slack, messages from friends, and the occasional game reminding me it exists, I pretty much live with some form of Do Not Disturb on at all times. If I didn't, when I wanted to do something full screen the notification drop down would constantly interrupt me. Setting this up takes time, remembering to turn it off when I actually need to get my notifications is something I don't do as often as I should, and frankly, it all becomes kind of tedious. I don't need this in the kitchen.
But it's not just the act of getting a notification. The ribbon UI in Android Things is an important way of delivering me information without touching the screen. From a distance, I can see my next calendar appointment, traffic details for that appointment, and notes I have left myself. If I'm cooking and my daughter isn't home, she can reach me through Google Duo and I don't need to use my hands to interact with any of this UI. When the call ends, I get right back to the recipe. This interface was purpose-built for these situations, and I can't recreate any of this on an Android tablet without needing to touch the screen in some way.
Android tablets kinda suck right now
While I used to love Android tablets, it's been a while since any particular version of one has been worth buying in my opinion. If you already own an Android tablet you love and enjoy carrying with you everywhere, congrats. You have a few more video streaming options, but you're still not getting anything close to the Lenovo Smart Display experience.
If your argument against Lenovo Smart Display is to pick up a similarly priced tablet, so you have even more functionality and portability, I challenge you to show me a $200 Android tablet worth buying today. Spoiler - they don't exist. The only company making Android tablets worth buying right now is Samsung, and not only does that mean you have to deal with Samsung's extra UI things but you're also paying way more than $200 for a good one. Not only is it impossible to recreate the Lenovo Smart Display experience with software alone right now, but trying to with comparable hardware is prohibitively expensive.
And unfortunately, this isn't changing anytime soon. Google has made it clear the current focus is Android apps on Chrome OS, like the Pixelbook. If you're waiting on a hero tablet from Google, you're going to be waiting a long time and possibly not getting what you want. Instead, get a Lenovo Smart Display, and you'll be a lot happier.
Get the Android Central Newsletter
Instant access to breaking news, the hottest reviews, great deals and helpful tips.