Everything Lenovo Smart Display does better than a tablet in the kitchen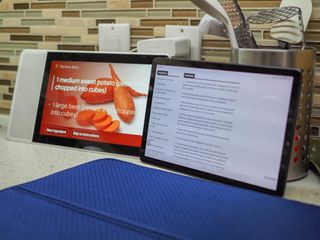 With the launch of Lenovo's Smart Display with Android Things onboard, we've seen one question, in particular, stand out above the others. Why buy this when you can buy an Android tablet? Wouldn't it be better to have something battery powered you could take with you everywhere? In some ways, sure, a tablet offers portability and functionality beyond the Android Things platform.
But as someone who has done exactly this for years, used an Android tablet around the house while cooking or folding laundry or working on my bike, I greatly prefer the experience I've had with the Lenovo Smart Display. And if you really think about it, there's a good chance you'll see an Android tablet just doesn't cut it. Especially in the kitchen.
Lenovo Smart Display is way, way louder
There are some pretty great Android tablets out there these days, but none of them can produce sound like the Lenovo Smart Display. And in the kitchen, especially my kitchen, volume is everything. You'd be surprised by how quickly the speakers on a tablet become inadequate when you've got a window open and an exhaust fan on your range hood running and three different pans sizzling.
The Smart Display, on the other hand, can drown out all of that noise well before hitting max volume. In fact, max volume on this thing is way too loud for any occasion in my house, which is great. I'll never be able to say the same for a tablet, and that all comes down to size. The larger body of the Lenovo Smart Display means it can hold bigger, more capable speakers. In much the same way Google Home does a better job delivering audio than a tablet, Lenovo Smart Display does a better job delivering video.
Lenovo's microphones make a big difference
Just like Google Home, Lenovo Smart Display offers far-field microphones and Google's voice imprint tech. I can get the Lenovo Smart Display in my kitchen to respond to me reliably from the living room. I've been using this model every day for the last two weeks, and so far have not had it miss what I was saying once. And like Google Home, it's very good about picking up when one of my kids ask to play for their playlists instead of mine.
I have never successfully done the same with an Android tablet. Even when I can reliably get "OK Google" to work on a tablet, the follow up is typically not as good because the microphones just aren't as capable. And if they work good enough to be considered reliable when you hold the tablet in your hand, you can never recreate that experience from across the room.
Android Things is a better interruption-free system
I get too many notifications. Between my work and home email, my social networks, messages on Slack, messages from friends, and the occasional game reminding me it exists, I pretty much live with some form of Do Not Disturb on at all times. If I didn't, when I wanted to do something full screen the notification drop down would constantly interrupt me. Setting this up takes time, remembering to turn it off when I actually need to get my notifications is something I don't do as often as I should, and frankly, it all becomes kind of tedious. I don't need this in the kitchen.
But it's not just the act of getting a notification. The ribbon UI in Android Things is an important way of delivering me information without touching the screen. From a distance, I can see my next calendar appointment, traffic details for that appointment, and notes I have left myself. If I'm cooking and my daughter isn't home, she can reach me through Google Duo and I don't need to use my hands to interact with any of this UI. When the call ends, I get right back to the recipe. This interface was purpose-built for these situations, and I can't recreate any of this on an Android tablet without needing to touch the screen in some way.
Android tablets kinda suck right now
While I used to love Android tablets, it's been a while since any particular version of one has been worth buying in my opinion. If you already own an Android tablet you love and enjoy carrying with you everywhere, congrats. You have a few more video streaming options, but you're still not getting anything close to the Lenovo Smart Display experience.
If your argument against Lenovo Smart Display is to pick up a similarly priced tablet, so you have even more functionality and portability, I challenge you to show me a $200 Android tablet worth buying today. Spoiler - they don't exist. The only company making Android tablets worth buying right now is Samsung, and not only does that mean you have to deal with Samsung's extra UI things but you're also paying way more than $200 for a good one. Not only is it impossible to recreate the Lenovo Smart Display experience with software alone right now, but trying to with comparable hardware is prohibitively expensive.
And unfortunately, this isn't changing anytime soon. Google has made it clear the current focus is Android apps on Chrome OS, like the Pixelbook. If you're waiting on a hero tablet from Google, you're going to be waiting a long time and possibly not getting what you want. Instead, get a Lenovo Smart Display, and you'll be a lot happier.
See at Best Buy (opens in new tab)
But can it run Android apps? That would be the game changer. For instance, I have all my recipes in ChefTap - it has an app as well as web based viewer, so to pull up recipes (as an app or web browser) would be huge. Otherwise, it's just pulling up what my phone does

I disagree that there are no good Android tablets. I have an Asus Zenpad 3s 10 (z500m) 64GB storage, and 4GB RAM--awesome display, with pretty good battery life. It's getting a little long in the tooth, but still chugging along

His point is there isn't anything being developed in that arena now. Asus still sells the tablet you have and haven't updated to OS since Marshmallow (6.0) and it still costs $20 more than the Lenovo Smart Display on Amazon. This is mainly because consumers are mostly uninterested in high end Android tablets that would push innovation. Since most people get Wi-Fi only tablets and don't upgrade their routers often, they're not pushed to upgrade by the introduction of new bands and generations, as much.

My 3s 10 is on 7.0, just throwing that out there

What about the Huawei M3 and M5? They are newly designed Android tablets. Nobody is buying new tablets because they already have one, and what works doesn't need to be improved or replaced. One thing that the M3 has that the Smart Display doesn't is STEREO speakers.

Well, there are good tablets built for Android ... but still, Android is terrible (on phone, but even more on larger displays). So yes, there cannot be any good Android tablets.

I ordered one yesterday should be shipping today.

Very Tempted to grab one of these for the kitchen. Waiting to see if Google releases one in October. I would rather get one made by Google for timely updates.

Anything running Android Things should get updates immediately and automatically regardless of manufacturer.

Visual shopping lists are also very useful in the kitchen. I'm very surprised how often we've used that feature standing in front of the cupboards and refrigerator...

It's a better cutting board!

Russell, for your kids accounts, do you use Google Family Link, or just a full blown account? Also, I saw the video of you with the Lenovo Smart Display, and was shocked at your weight loss. Good job, man!

Just saw the 10" version at my local Costco for $199. I'm tempted...

Pull that trigger! Then send me 1!

Sounds interesting, but not sure it's going to replace my tablet (also an Asus 3s 10!) just yet. Interesting to see how these progress and mature though. I like the idea of a Smart Speaker and a Display, I just can't see a need to replace anything current based on what they do and what I have, just yet.

It doesn't have to replace your tablet. I've been using my Lenovo Smart Display for sometime now and it's really useful with both audio and visual functions. (I do use my tablet for other purposes as well) Take it as a table top smart display that can be utilised by anyone in the family perhaps controlling your smart home, setting multiple timers or even setting a good ambience with the smart speaker!

My kitchen device is just my old Surface 3, combined with some Anker BT-Speakers ($30). Works perfectly as Family Planner, Recipes, shopping list (wunderlist) and Mediaplayer.

It would have been interesting to see this compared to the Amazon Fire HD with the Show Mode dock. You'd have the option of taking the tablet out of the dock to use in a different room.

Best Android tablet out there is a Fire HD 10 with Play Store added.

Huawei makes the best tablets as of now, much better than Samsung.
Android Central Newsletter
Thank you for signing up to Android Central. You will receive a verification email shortly.
There was a problem. Please refresh the page and try again.