Everything announced at Sony's February State of Play event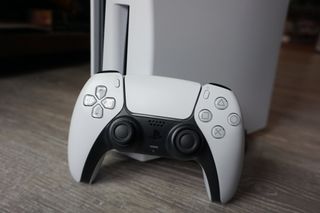 (Image credit: Jennifer Locke / Android Central)
Today's State of Play was strictly gameplay-centric, as Sony revealed new gameplay footage and trailers of its upcoming PS5 games.
Crash Bandicoot 4: It's About Time is getting a PS5 upgrade
Crash Bandicoot 4: It's About Time is coming to PlayStation 5, and it's getting a glow-up as well. Crash 4 on PS5 will have native 4K at 60 FPS, enhanced audio, and faster loading times. Players will be able to transfer their PS4 saves, and the game will support the DualSense's adapative triggers.
Returnal gets a cerebral gameplay trailer
Returnal, the PS5's strange roguelite shooter showed off some of its more horror-ish elements in this latest trailer. As it says, everytime protagonist Selene dies, the world changes and she'll have to face new challenges.
Knockout City beta coming in April
Knockout City, the colorful dodgeball game from Velan Studios, is getting a cross-play gameplay beta on April 2-4. Players on PS4, PS5, Xbox One and Series X/S, and Switch can play against PC gamers on Origin and Steam. You can sign up for the beta from the site here.
Sifu, a martial arts game, is revealed
Sifu, a Kung Fu-based third-person beat-em-up, was revealed at the State of Play show. Developed by Sloclap, the team behind Absolver, the game follows a young student for eight years of his life as he seeks revenge for his murdered family. The game is set for release some time in 2021.
Solar Ash gets a gameplay trailer
Solar Ash, the beautiful platformer from Heart Machine, just got a trailer revealing more about the gameplay. The game follows Rei, a Voidrunner who has ventured into a black hole called the Ultravoid to save her homeworld. The gameplay is all about fast and fluid motion. It's set to release later this year for PS4 and PS5.
Five Nights at Freddy's: Security Breach is coming to PS5
The latest entry in the indie horror franchise, Five Nights at Freddy's: Security Breach was originally revealed two years ago. Now we can finally see what Steel Wool Studios has been working on. It looks like your character will face off against multiple murderous animatronics in what appears to be a huge, indoor amusement park. It's set to release on PS5, PS4 and PC some time in 2021.
Oddworld: Soulstorm is coming to PS Plus
The continuing adventures of Abe is going to be one of the new games coming to PlayStation Plus. Alongside a gameplay reveal trailer, Sony revealed the game is coming out on April 6.
Kena: Bridge of Spirits arrives in August
Kena, the beautiful Pixar-esque third-person action-adventure game, finally gets a gameplay trailer and a release date. The new gameplay shows of several of the in-game enemies and environments, as well as how Kena can fight. The game is coming to PS4 and PS5 on August 24.
Deathloop gets a snazzy trailer with a Bond-ish theme
Deathloop, the upcoming timed PS5 exclusive from Arkane, showed off more of its stylish first-person gameplay in a new trailer. In addition to running at 4K 60 FPS on PS5, the game will take advantage of the DualSense's adaptive triggers. The gameplay is underscored with a great Bond-ish theme song.
Final Fantasy 7 Remake: Intergrade revealed for PS5
Final Fantasy 7 Remake is getting an upgraded definitive edition for the PS5 called Intergrade. The new version of the game will come with new story DLC starring Yuffie, and will receive a graphical upgrade to 4K 60 FPS. PS4 players will get a free upgrade if they transfer their game to the PS5. Intergrade is set to release on June 10.
Be an expert in 5 minutes
Get the latest news from Android Central, your trusted companion in the world of Android
Rachel Kaser is an Android Central gaming contributor, who's been writing since 2013 and gaming since the age of five. She's covered everything from gaming news, reviews, and analysis -- if it exists in gaming, she knows about it. She also contributes to Future's other sites, iMore and Windows Central. If you want to hear her opinions on games, pop culture, tech, and everything in between, follow her on Twitter @rachelkaser