The Elder Scrolls: Blades for Android — Everything you need to know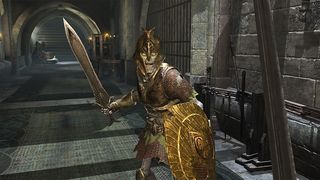 (Image credit: Bethesda)
The Elder Scrolls: Blades was first revealed Bethesda's 2018 E3 showcase and the beta version of the game has been live for Android and iOS for quite some time now — long enough for some players to have already maxed out their characters and completed all in-game quests.
Bethesda has absolutely delivered on the promise of a first-person RPG Elder Scrolls game with console-quality graphics that you can play on your smartphone, albeit with repetitive combat and a rather stark reliance on in-app purchases. The latest update has finally addressed some of the biggest issues holding the game back including the removal of time-locked loot chests and introduction of proper multiplayer features.
If you've been waiting to check this game out, now's a great time to dive in to see what TES: Blades has to offer!
The Elder Scrolls: Blades
TES: Blades is a new adventure set in the world of Tamriel where you play an exiled Blade agent who must quest for loot and supplies to rebuild his hometown from ruins. This first-person fantasy RPG has been developed from the ground up for optimized play on smartphones, either one-handed or two, and features console-quality graphics you can enjoy anywhere.
What's new with The Elder Scrolls: Blades?
Blades has been in early access for several months now, but in the latest version 1.5 update Bethesda addressed one of the more egregious aspects of the game that was a huge detriment since day one — there are no more timed loot chests! The devs also added more loot in general to alleviate some of the grinding nature of playing the game.
Another key focus of the latest update was multiplayer, with two long-awaited features added to the game. You can brawl against other players with PvP battles now available in the Arena. Each battle is a best-of-three match where you'll be able to change your equipment, spells, and abilities between rounds to try and counter what your opponent has equipped. Win or lose, you'll always earn some XP and gold, while winners earn trophies that allow you to climb the ranks, unlock tougher arenas, and earn more lucrative rewards.
Guilds are another huge feature introduced with the 1.5 update, which lets you create or join a guild with up to 20 other players. Guilds let you chat and discuss game strategy with your friends and also let you request and share materials with other guildmates. You'll also be able to visit your guildmates' town and buy from their merchants who have a separate inventory of good for visiting players.
All this, along with a ton of other balances and bug fixes which you can read about in the official patch notes.
Everything you need to know about The Elder Scrolls: Blades
Blades in the title refers to the Imperial empire's secret service, and the game has you play a Blade agent who returns to their hometown only to find it burnt to rubble. Part of the overarching quest of the game is learning just what happened to destroy your town, rebuild buildings and statues to restore its original glory, and attract the townsfolk back who fled during the chaos. Your adventure in Blades will take you on many quests and side jobs where you will do battle with goblins, skeletons and enemies of all sorts that fans of TES will surely recognize and appreciate.
The game itself runs really well on all the devices I've tested it out on, and looks quite amazing for a smartphone game. The combat system is simple enough to play with one hand for hack and slash warriors, although there are also magic skill trees to unlock and upgrade for those who prefer sorcery over brawn. All that said, the combat does feel quite repetitive at the start, however you will need to learn how to block attacks and link combos as you progress through the tougher quests.
A sizeable portion of the game is dedicated to city building, which is also your rationalization for all the quests and odd jobs you'll need to complete to collect all the supplies and gold required to rebuild your hometown. You'll spend the loot you collect from quests and chests to build brand new buildings, fun decorations, and more — or you can always buy gems with in-app purchases and just purchase yourself a whole new town. With the latest update, Bethesda has removed the controversial time-based chest system so you'll be able to collect more loot with less waiting.
Aside from the quests and side jobs you can complete for loot and XP, there's also Abyss mode which is an endless procedurally-created dungeon that you must battle your way through, collecting loot and XP along the way. This mode is designed to test your mettle and push your character and abilities to the limit so there are no health power-ups or secret chests to discover in this mode. However, it is a great place to level up your character and practice combat before heading to the Arena.
Players unlock the Arena at level 5 which is where you need to go to experience Blades' PvP combat. The game has matchmaking algorithms that should ensure that you're not matched up against someone who's just going to wipe the floor with you. This is the place to show off your best enchanted weapons and armor and you'll never know what tricks your opponent has up their sleeves. Another social element added to the game is Guilds, which lets you team up and chat with friends and visit each others towns to buy exclusive items from merchants.
Is The Elder Scrolls: Blades compatible with my phone?
Bethesda has confirmed the game is compatible with over 60 phones that includes most phones released in 2016 up to now. Here's the full list of officially compatible devices:
Asus ZenFone 3 Deluxe (ZS570KL)
Asus ZenFone 4 Pro
Asus ZenFone AR
Asus ZenFone AR (ZS571KL)
Asus ZenFone Ares (ZS572KL)
Asus ZenFone V
BlackBerry DTEK60
Essential Phone
Google Pixel
Google Pixel 2/2XL
Google Pixel 3/3XL
Google Pixel XL
HTC U Ultra
HTC U11/U11+ (HTC U11 "life" is not supported)
HTC U12+
Huawei Mate 20 Pro
Huawei P20/P20 Pro
iPad Air 2 and 3
iPad Mini 4 and 5
iPad Pro
iPhone 6s and newer
iPhone SE
Leeco Le Max2
Leeco LePro3
LG G7 One
LG V30
LGE LG G5
LGE LG G6
LGE LG Q9
LGE V20
LGE V20 PRO
Moto Z2 Force, Moto Z3 (Moto Z2 Play, Moto Z3 Play are not supported)
Motorola Moto Z
Nokia 8
OnePlus 5 and newer
OnePlus 6T
OnePlus OnePlus3
OnePlus OnePlus3T
Oppo R15/R17
Razer Phone
Samsung Galaxy Note 8
Samsung Galaxy Note 9
Samsung Galaxy Note Fan Edition
Samsung Galaxy S10/S10+
Samsung Galaxy S7 Active
Samsung Galaxy S7 Edge
Samsung Galaxy S8/S8+
Samsung Galaxy S9/S9+
Sharp Aquos R
Sony Xperia XZ Premium
Sony Xperia XZs
Tonino Lamborghini TL99G
Vertex BLK3D
Vertu Constellation X
Vivo Xplay6
Xiaomi MI 5s Plus
Xiaomi Mi 6
Xiaomi Mi Mix 2
Xiaomi Mi Note2
Xiaomi MIX
ZTE A2017G
ZTE A2018
ZTE Nubia Z17
ZTE NX531J
ZTE Z999
Zuk Lenovo Z2 Plus
Zuk Z2
Zuk Z2 Pro
If you own a newer phone — say a Samsung Galaxy S10, Pixel 3a or 4, or a Huawei P30 Pro — odds are that Blades should run just fine even though they haven't been added to the official list yet. After its initial mobile launch, Bethesda has said it plans to release The Elder Scrolls: Blades on all current-gen consoles and PC (including VR) with support for cross-platform play. The game will be free to play across all devices.
The Elder Scrolls: Blades
TES:Blades is a new adventure set in the world of Tamriel where you play an exiled Blade agent who must quest for loot and supplies to rebuild his hometown from ruins. This first-person fantasy RPG has been developed from the ground up for optimized play on smartphones, either one-handed or two, and features console-quality graphics you can enjoy anywhere.
Sign up for Black Friday email alerts!
Get the hottest deals available in your inbox plus news, reviews, opinion, analysis and more from the Android Central team.
Marc Lagace was an Apps and Games Editor at Android Central between 2016 and 2020. You can reach out to him on Twitter [@spacelagace.