eero 2nd-gen mesh Wi-Fi system: Everything you need to know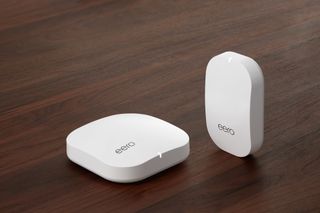 A little more than a year ago, eero burst onto the consumer market with a propitious offer: to solve the problem of messy, unreliable and dumb Wi-Fi routers that most people have in their homes. It would take a well-worn idea — mesh routing — and bring it down to an accessible, customer-friendly level.
Not only did Eero make it relatively easy to set up multiple access points, but the small base station and accompanying pucks were understated enough to fit into any environment. Eero also inspired competition, as we've seen from the likes of Netgear, Google and others.
Now, the company is back with its second-generation model, claiming double the power and tri-band support (the original was dual-band). At the same time, Eero is debuting a new Beacon product meant to subtly bolster Wi-Fi signals using any power outlet in the home, and a subscription-based network security software service called Eero Plus.
What's new in the second-gen eero?
Tri-band. That's the main improvement here, the ability to broadcast at 2.4Ghz, 5.2Ghz and 5.8Ghz at the same time, with 2x2 MU-MIMO beamforming antennas. Eero claims that the new system is twice as powerful as the previous one, meaning using the same setup in the same house you'll theoretically get twice the speed and twice the distance.
Of course, there are caveats there: the first-generation Eero was only dual-band, and didn't support the less-used 5.8Ghz frequency in the new system. At the same time, the extra distance is only accessible on the lower, noisier, 2.4Ghz band, which will likely encounter considerably more interference than the other two.
The other piece of hardware improvement is the addition of Thread support, which was originally a Nest-built smart device solution meant to simultaneously simplify and compete with Z-Wave and Zigbee. Right now, there are few, if any, products that support Thread, but Eero says that it is working with dozens of companies to help develop and promote them. Expect connected lights, doorbells, cameras and more to support Thread in the coming months. We hope.
What's the Beacon?
Beacon is interesting. It's an Eero hub, miniaturized, meant to plug into a two-prong AC outlet in the home. Eero says that there's no limit to the number of Beacons that can be installed and connected to the main hub, since its software is designed to intelligently route data.
Beacons are smaller than the traditional Eero hubs, and also include a 10 Lumen LED nightlight with automated dimming, which is perfect for dark passageways. Two birds, one stone.
By default, Eero ships its base package with one Eero hub and one Beacon, for $299. It's only when you get to the $499 Eero Pro bundle that you get three Eero hubs, which is important since the Beacon is only dual-band and doesn't support the faster 5.8Ghz standard.
Eero Plus — Amazon Prime for routers
Eero is also launching a new software bundle called Eero Plus, which touts itself as "premium protection for your network." That includes things like protection against malware and botnets, but also offers built-in, easy-to-use parental controls for your entire network.
Here's what it offers:
Anti-malware
Anti-virus
Anti-phishing
Anti-ransomware
Protection from Distributed Denial of Service (DDos) attacks
Protection from botnets
Parental controls
Priority support
The service costs $9.99/month or $99 for a full year, and the company says it will keep the price stable while continuing to add features.
How does it compare to Google Wifi?
Well, first of all, Google Wifi is much cheaper — a 3-pack of eeros goes for $499, whereas Google Wifi's three-puck offering costs $299. Even if Eero is slightly faster (and it likely is with its tri-band support) it's probably not worth spending the extra money on eero.
That is, unless you have a really big house. Eero promises better connectivity and faster speeds than Google Wifi, and with support for Beacon, you can have far more than just two additional access points. You can have five or six spread out throughout the home and blanket your house with high-quality Wi-Fi. Google Wifi is good, but it's not that flexible.
Then it comes down to software. Both Eero and Google claim to constantly update their routers with new features, but Eero says it expends considerable effort monitoring the way people use their devices and pushing performance and feature updates to accommodate those new products. At the same time, Google pushed out numerous sizeable updates for OnHub during its first year on the market, and there's no reason to believe it won't do the same with Wifi.
A Canadian launch
Eero says it will launch its second-generation system in Canada in August, which is nice for me, and for others who have been waiting for a good mesh Wi-Fi solution in the country. Google recently launched its own Google Wifi system in Canada, too.
It will be available at Amazon, Best Buy and eero.com.
U.S. pricing and availability
eero's second-gen solution is available for pre-order now and will be shipping in the next few weeks online at Amazon and Best Buy. It will also be available in store at Best Buy and many Walmart stores.
1 Eero + 1 Beacon - $299
1 Eero + 2 Beacons - $399
3 eeros - $499
That's a steep price to pay for good Wi-Fi, but according to our Jerry Hildenbrand, who loved the first-generation model, it's worth it.
What do you think? Are you jumping on the mesh Wi-Fi train? Let us know in the comments below!
Get the Android Central Newsletter
Instant access to breaking news, the hottest reviews, great deals and helpful tips.
Daniel Bader was a former Android Central Editor-in-Chief and Executive Editor for iMore and Windows Central.