EE launches limited edition 4G price plans - budget £31 contract and 20GB 'super-user' plans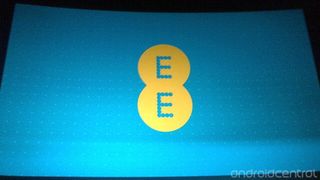 When EE (Everything Everywhere) first launched its 4G LTE service in the UK, two common complaints focused on the price of its subsidized smartphone contracts and the 8GB ceiling for data allowances. Today it seems the carrier's ready to test the water with some more adventurous price plans, as for a limited time it'll offer a budget-centric £31 per month, 24-month deal, along with a new "super-user" contracts with 20GB of data per month.
The £31 per month plan costs £5 per month less than EE's cheapest standard contract, and will be available to customers from Jan. 31 to Mar. 31. Like all of EE's smartphone-inclusive plans, it runs for 24 months and includes unlimited calls and texts. Phones offered on the £31 plan will include the HTC One SV (check out our review) and the Windows Phone-powered Nokia Lumia 820, so there's a clearly a focus on entry-level hardware here.
But it's the second limited edition contract that'll probably be of interest to Android Central readers. For £46 per month on a 12-month, SIM-only contract, EE's offering a whopping 20GB of data per month. Alternatively, customers can get the new 20GB deal with a subsidized smartphone on a 24-month, £61 per month contract. The 20GB plans will be available in stores from today until Feb. 28, EE says.
In addition, EE says it's introducing a new 8GB, 12-month SIM-only plan costing £41 per month.
Due to its current monopoly over 4G LTE in the UK, EE's prices remain higher than rival networks. But the company will be hoping that this diversification of its range of price plans will help it scoop up some additional customers before rival networks launch their LTE services later this year.
Any UK readers tempted by EE's new tariffs? Let us know in the comments.
EE ANNOUNCES NEW SUPERFAST 4GEE PRICE PLAN OFFERS
· £31 per month superfast 4GEE promotional price plan to launch on the 31st January
· New 20GB 'super-user' 4GEE plan also introduced from £46 per month on SIM only for a limited period
22 January. London. EE, the UK's most advanced digital communications company, today announced a range of new 4GEE promotional price plans. The new packages are designed to provide consumers with an even greater choice of 4G options to suit their needs.
As a special promotion from 31 January until 31 March, a range of entry-level 4GEE plans is being introduced. For only £31 per month on a 24 month plan, customers receive unlimited UK calls and texts, and 500MB of mobile data, as well as the option to choose from a range of 4G smartphones for a one off fee such as the HTC One SV LTE or Nokia Lumia 820 which are available from just £29.99 (a saving of £90 on existing EE deals). Customers on 24 month plans can also take their unlimited calls and texts abroad with them to select destinations for just £5 more per month1 while those looking for flexibility can get a 12 month plan for only £41 per month.
Additionally, after listening to customers, EE will be launching a new plan offering 20GB of mobile data. The plan addresses a small number of 'super-users' (currently fewer than 1% of 4G customers), who have shown a desire to use more than the 8G of mobile data that is currently available on EE's largest 4GEE plan. The 20GB plan, which is rolling out across retail channels from today, will be available on a 12 month SIM-only plan at a special rate of £46 per month for the full length of the plan if they sign-up between now and the 28 February2. The bundle comes with unlimited UK calls and texts and is also available with the very latest 4G handsets for £61 per month on a 24 month plan to customers who sign-up by 28 February3 . EE is also introducing a new SIM-Only 12 month 8GB plan for £41 per month.
Pippa Dunn, Chief Marketing Officer at EE, said: "It's our aim to offer consumers the most comprehensive range of 4GEE price plans. With these new options we're looking to not only make 4G smartphones even more accessible, but offer even greater value for the small number of super-users out there - ensuring EE really does offer a package that's tailored for all customers 4G needs."
EE's superfast 4G offers a revolutionary mobile internet experience, delivering speeds typically five times faster than 3G4. The power of 4G enables tablet users to push the limits of their devices even further, allowing them to download, stream and browse the content they want, even quicker than before. In addition to superfast speeds, EE customers will also benefit from:
· EE Film – the UK film service that combines 2 for 1 cinema ticketing, listings, trailers, film downloads and streaming in one place
· EE Wi-Fi – access to millions of wireless hotspots across the UK, at no extra cost
· Discounted superfast EE fibre broadband – so they can enjoy blistering speeds at home and on the move
EE's 4G service will be available in 35 towns and cities by the end of March 2013, bringing superfast speeds to even more consumers and businesses across the UK.
Full details on the new promotional plans, including terms and conditions, will be available shortly in EE shops as well as on www.ee.co.uk
Android Central Newsletter
Get instant access to breaking news, the hottest reviews, great deals and helpful tips
Alex was with Android Central for over a decade, producing written and video content for the site, and served as global Executive Editor from 2016 to 2022.
The idea of super fast 4G is surely to enable users to consume data on the go but EE price plan make that very expensive. I'll stick with downloading stuff at home to watch when I'm out and about. Very disappointing really.

The issue for me is that where I live, 3G runs at about 15-18meg and I have an unlimited contract for £12 a month - netflix, spotify all stream without problems - 4G would have to get significantly cheaper and have much bigger caps for me to be interested.

£46 per month for a whopping 20GB? Or on Three you can have DC-HSDPA and HSPA+ with unlimited data for £15.90.

Not to mention the fact their 4G network is pretty dire anyway at the moment, speeds are probably faster with Three!

Gotta agree with the other posters. I'm getting 15-20 down on 3 for £15 unlimited. In fact I had a speedtestoff.My nexus 4 V mates 4g I phone 5.He got 18 down. I got 19!

As an American, we have a similar problem.
Do I use Verizon or AT&T teired 4GLTE data plans for a little bit more speed or do I use Tmobile USA for slightly lower speeds and unlimited access. Or do I stay with Sprint for unlimited access data and high 4GLTE speeds (in some areas while Sprint continues to spread out is 4GLTE footprint)? When the UK gets affordable 4GLTE coverage, that's when will see Verizon and AT&T change their tunes in the U.S. I'm rooting for you guys across the pond.
You guys are the true world changers.

Trying to cut down on the +9000s, but I have to +9000 this comment. Totally agree with everything, especially the last 2 lines.

I rather stay with three all-you-can-eat data for now cuz I always stream movies and portable hot spot and that 20gb cap is not enough for me with EE, and why pay more money for less and with 3 u pay less for more.

UK here, wouldn't touch EE with a barge pole. Never mind the ridiculous expense (For those outside the UK, here's some perspective - I pay £15 a month for UNLIMITED data, unlimited texts and I think 300 minutes, compared that to EE's £31 per month!), I have heard nothing but bad things about EE's customer service. I've got one friend who was getting billed for 3G data usage because it wasn't part of his 4G plan - the catch? If his phone lost 4G connectivity, it would switch to 3G and then not switch back. Another friend got billed for making calls while on the Isle of Mann as "Roaming", despite this never being the case on his old Orange contract (Orange are part of EE). I've heard other horror stories as well. They'd have to pay me to go near them.

here in ayrshire about 30 miles from glasgow i just ran speedtest.net. on tmobile 600kbps download and 1 meg upload which is about the norm for where i live. there are only a few cities in the uk that you will see the 3g numbers being announced here.it will be years before anybody outside of the select cities will ever see the speeds being mentioned.just last week i was on 2g signal for a week.the only other network that even has 3g where i am is 3.the best part is somedays my phone is faster than my broadband lol.

Some perspective on EE and LTE versus DC-HSDPA. EE's prices *are* ridiculous, but it's a false comparison to measure unlimited HSPA on Three versus capped LTE on EE. In some places, particularly suburban areas, Three's HSPA scores 20Mbps or more down, but you always hit a hard limit of around 4.5Mbps up due to the limits of HSPA, whereas LTE offers much faster uplink speeds. Also, those crazy fast HSPA speeds almost never translate well into built-up areas. In most major city centers, Three's HSPA will routinely turn to shit (1Mbps or lower on the downlink). LTE copes better in these situations, and it's more reliable whatever speed you're getting -- 2Mbps on LTE always feels faster than the same speed over HSPA. And by imposing evil, restrictive data caps, EE has a way of keeping its backhaul clear of excessive traffic that Three does not. tl;dr: There's a reason besides corporate greed that unlimited HSPA costs £12 per month and 20GB of capped LTE starts at £46 :)

Is EE LTE real 4G? I understood real 4G was still being held up in the UK as it interferes with aviation radars. Maybe when we have real 4G and real competition prices will get real too.

It's real 4G. The thing being held up is the auction of additional spectrum so other networks can offer their own 4G services.

But so what? The feedback you are getting here are from those of us who *are* using unlimited three 3G and are happy with it, we aren't talking about an academic discussion but current real world usage - 4G gives me nothing more than I can do now - everything works and works without problems.

DC-HSDPA != HSPA != HSPA+ "2Mbps on LTE always feels faster than the same speed over HSPA." That would break the laws of physics - if it's a constant 2Mbs it's 2Mbs as long as the latency is comparable. When we're talking about mobile usage then a difference of a couple of Mbs in the 20Mbs range is not really noticeable. I was with Orange/EE right up to last month and have now switched to Three. Much better.

Try living in Canada. The prices here are insane, and data limited are pathetic.

"20 down will always feel faster on LTE compared to HSPA" Don't understand I was getting a better ping and a faster speed. Coverage is fine in built up areas. Agreed LTE is faster uploading but most people primarily want download speed and unlimited data.

As too whether LTE is "real 4G" is a bit of a moot point as this article explains http://en.wikipedia.org/wiki/4G#Technical_definition

I wonder what these 20GB plans translate into in U.S. dollars???

Google? http://lmgtfy.com/?q=how+much+is+46+pounds+in+dollars

They are budget compared to US plans, but a rip off compared to UK plans.
Android Central Newsletter
Get instant access to breaking news, the hottest reviews, great deals and helpful tips
Thank you for signing up to Android Central. You will receive a verification email shortly.
There was a problem. Please refresh the page and try again.