From the Editor's Discotheque: Thanks for coming out, y'all!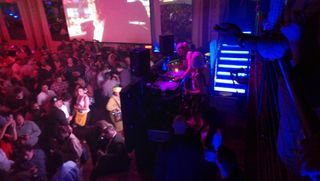 Holy crap, that picture is going to get annoying after a couple seconds. But I don't care. It sums up Thursday night's Talk Mobile 2013 Launch Party pretty succinctly. (And it's a great example of the Google+ "Auto Awesome" animated gif feature.)
A good 600 or so of our closest smartphone friends, from all platforms and all walks of life, at a little club off Times Square. An official recap video is in the works, I hear, but some quick thoughts for now:
Ask me what my favorite part of this job is, and you might come away surprised. It's not the gadgets. It's not the travel. It's not even the awesome friends I only get to see a few times a year. No, getting the hell out of the office (whether it's in my house or a conference room or whatever) and meeting all you folks is what makes this all worth it. It's the perfect reminder that we don't write in a vacuum.
The general consensus at the party was that most folks there rocked Android phones, and that a good number of them were BlackBerry converts. No great surprise, I suppose, and BlackBerry's sponsorship of Talk Mobile makes even more sense when you think about it that way.
That probably also explains why folks seem to be more excited about the Q10 than the Z10.
Spot the dude in the picture wearing Google Glass? He and Geek.com's Russell Holly were rock stars in their own right Thursday night.
Not usually my scene, but Mia Moretti and Caitlin Moe -- aka The Dolls -- kicked some serious ass Thursday.
Was having dinner Wednesday night with John P, Cali Lewis and Simon Sage when what do I spy with my little eye? It's Lloyd in the giant LG ad in Times Square. I might or might not have sqee'd a little.
Speaking of blatant name-dropping, I briefly got to meet heavyweight champ Evander Holyfield on the flight from Atlanta to New York. Very gracious dude to take pics with anyone who asked. (At least while I was there.) Told me the last time he was able to walk around unnoticed was 1983.
And very cool to meet WCBS' Lynda Lopez at the party Thursday night through another mutual radio friend. (Lynda, if you don't know, is the younger sister of this Lopez.)
But like I said, the coolest part of the event is meeting folks like eggylabs, derpingbear and supermario88, and e_kathy23 and Patrick Hill and Je-Andy, and everyone else who took time out of their week to come say hi. Thanks for being there. And thanks for reading.
Talk Mobile takes the week off this week as we prep the next round of content and fix a few hiccups. (Plus we don't want anyone to burn out.) "Week 2" as we call it internally takes a different focus, as well the eight weeks thereafter. It's been a blast seeing hundreds of comments from all of our sites in one place. Can't wait to get Week 2 out the door.
So, back to work we go.
Sign up for Black Friday email alerts!
Get the hottest deals available in your inbox plus news, reviews, opinion, analysis and more from the Android Central team.