Droid X2 in stores May 26, direct fulfillment May 19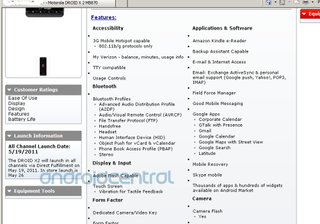 Staying up nights wondering when the Droid X2 is going to drop? Well, wonder no more, as we've gotten our hot little hands on Verizon's internal listings. The Droid X2 is scheduled for direct fulfillment on May 19, with an in-store launch on May 26. That's five short days to wait for the initial shipments, and 12 days until the dual-core qHD device hits stores.
That's a pretty big sign that Verizon's not going to make a huge deal out of the Droid X2 launch, kind of like the Droid Incredible 2. Not surprising, we suppose.
Oh, and if you want more confirmation on the full X2 specs -- including 512MB of RAM and a Tegra 2 processor, we've got 'em after the break.
Thanks, anon!
Nice how you cut off what android version its running

How can this come out months after the Atrix and have half the Ram? 512 mb for a summer 2011 device? Super Fail.

The reason the Atrix has that much RAM is due to it running WebTop. That is the only reason it has that much. If the RAM included in the DX2 is DDR2 you will have a great experience with it. Much faster than was is currently being used. You will still have a much better experience. I am really thinking about this as an upgrade to my DX, which I have had since launch.

When multitasking, you're still going to have apps being kicked out of Ram that could have been prevented with more ram.

Android does a pretty good job of handling the amount of memory available. For me it is a performance issue, not one of how many apps I can run at once and keep them all in memory. Just me though.

This is another verizon special..... 2010 dualcore 3g device this won't do too much on any benchmark test. Verizon is a dud

with all due respect, why will this not due well on benchmarks(and that is a whole other argument) with the vastly better processor, graphics and RAM? Samy Galaxy S2 seems to do great with same three. I am asking because I am looking at this as a possible upgrade from the X. Thanks for helping.

Me too. I love my X and think I would really enjoy this as well, at least until the fabled Bionic is released. :)

keep sucking Dan Hesse's schlong, this is better than the Nexus S on Sprint and that Kyocera Abomination Verizon LTE is Superior to WiMax

"Verizon LTE is Superior to WiMax" Maybe in the future as LTE coverage expands but as it stands now Wimax actually has higher theoretical speeds. "keep sucking Dan Hesse's schlong, this is better than the Nexus S on Sprint and that Kyocera Abomination" subjective statement is subjective.

Meh just another great phone
i want quad core

Gingerbread? No
Blur? Yes
Boot loader locked? Yes Zero outta three............

Why Blur still exists in beyond me, and a 2.2 phone in May 2011? Android needs to step their game up because this continued fragmentation is just stupid now

It's suppose to be coming with gingerbread... look at Droid Life's posting about it.

Anyone who has run the GB leak on their DX/D2, would tell you that the new blur is actually not bad. Dare I say good? We won't know about the bootloader until people finally get their hands on it.

If Blur had scrollable widgets I'd be using it right now. The new version has a lot of the same things I switched to Launcher Pro for, and a few things (app drawer, uninstalling features, profiles) it actually does better than LP.

Any word on a GSM version ? uh hell a World phone ?

I wonder with this news that Sprint will release EVO 3D near the same time..??
Hint Sprint.

Anyone else notice the incorrect Dedicated Camera/Video key? From all the leaked pics/videos there is no such key on the X2.
Android Central Newsletter
Get the best of Android Central in in your inbox, every day!
Thank you for signing up to Android Central. You will receive a verification email shortly.
There was a problem. Please refresh the page and try again.