Droid Incredible 2, Casio G'zOne Commando now available from Verizon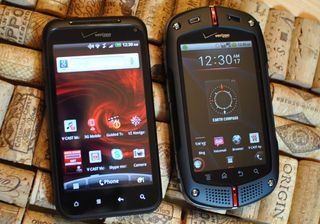 The time has come for anyone who may have been holding out for either the Droid Incredible 2 or the Casio G'zOne Commando. Yes, unsurprisingly -- both devices have now gone live on the Verizon website and are up for ordering. Either or will set you back $199 on a new 2-year contract but if you're opting to go with the no contract offering this is what you'll be looking at for pricing:
HTC Droid Incredible 2: $439.99
Casio G'zOne Commando: $449.99
The reason behind the Casio G'zOne Commando costing ten dollars more than the Droid Incredible 2 is shrouded with secrecy so, we can't tell you why that is. What we can tell you though is that, if you head on over to the Verizon Wireless website right now you can place an order for the device of your choosing.
Oh, and as for the Droid Charge? Word is it's delayed while we wait on the Great Daylong LTE Outage of April 2011. Stay tuned.
Source: Verizon Wireless (opens in new tab)
Droid Incredible 2 specs | Droid Incredible 2 forums | Droid Incredible 2 accessories
For those going the contract route for the Incredible 2, it's $99 at Amazon.

And a very reasonable $149.99 as an upgrade.

Liked the casio until I saw the price tag

Think I may pick up one of the Commandos just for the crazy days, Beach, Water Park, Mountain Biking... All of the Extreme things I would never take my precious TB to.... Oh and one other thing 4G back up in Philadelphia!!!!!!!!!!!! Wooo Hooooo

4g back up in dc metropolitan area as well.

I do like the Commando phone. It would be nice to not have to worry about dropping your phone.

Agreed, the phone does look cool and useful. However, a front facing camera would have been a nice addition.

i like that retail pricing for the inc2. all(read: most) devices should be priced this way.

All of the source for the Commando is available for download on the casio site. Seperate d/ls for system, kernel, bionic (not sure what that is), vendor, and external. They even have instructions on how to get started (ok, they are pretty much how to get the images on your comp, titled "how to build a build for the C771" ) Seems they want the dev community to go at it.

Casio's products have generally been utter crap..they can't even make a decent watch..why in the world would anyone want one of their phones??!

I used to think the same thing. Casio makes a phone??? And how good could it possibly be?? I purchased the original GzOne (flip phone) a few years ago. I needed a tough as nails phone that I could take anywhere with me. (fishing, camping, skiing, etc) After looking at every phone at the Verizon store the rep suggested the GzOne and said I wouldn't be dissapointed. I can honestly say it was one of the best phones I've ever owned! Got great reception even in the most remote places in the mountains, and I literally put this phone through hell. I dropped it in the lake, snow, on concrete, used it in the rain and even had it fall off the roof of my car doin about 20mph. This phone WILL stand up to anything you throw at it and than turn around and ask you, "thank you sir, may I have another"! lol I never thought I would give rave reviews about a CASIO product and believe me I don't work for them or am getting paid in any way. Just an extremely satisfied customer. If you need a tough phone, nothing can compete with the Casio GzOne I promise you.

Own an older G'zone flip phone for work, and the thing is unstoppable. On top of that, I only have to charge it once every week or two (depending on usage). Yea, no problems at all with their phones.
Android Central Newsletter
Get the best of Android Central in in your inbox, every day!
Thank you for signing up to Android Central. You will receive a verification email shortly.
There was a problem. Please refresh the page and try again.