Google Drive is an Android themer's best friend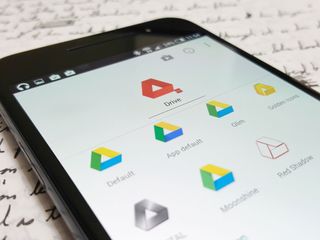 When developing a theme, you tend to gather a lot of elements. Wallpapers, widget configurations, sounds, custom icons, launcher layouts… they all add up. You need a place where you can keep things organized and access them across your devices. You need a place to sync up the custom icons from your desktop to the phone you intend to use them on. You need a place to share them when someone asks how you pulled your theme off.
You need Google Drive.
Whenever I assemble a theme, I start with a Google Drive folder where I can dump everything I find. There's nothing more annoying than trying to recreate a theme and finding out you lost that perfect wallpaper. I also don't have to hassle with plugging in my phone to get icons from my computer onto the phone they're meant for. Sometimes, you can even pull icons or wallpapers into your launcher without having to download them first as Drive is accessible in Documents or My Files for many phones.
For those who don't have a system for saving and organizing their theme, here's mine:
Come up with an idea, make a Doc saying what you want this theme to look like and what you think you might use
Make a new Drive folder inside my Themes folder, titled for the new theme
Add wallpapers, custom (non-pack) icons, sounds, and any other non-Play Store elements to the theme's folder
If not implementing the theme immediately, add Play Store theme elements to your Google Play wishlist (yes, it is good for something!)
Save backup of current theme or starting point and add to folder for previous theme, or to Themes folder if this is your first
While implementing and tweaking theme, take screenshots frequently and stick them in the Theme folder. This will make it easier when you're trying to compare elements/styles, both by yourself or asking friends.
Once theme is finished, back it up and add to theme folder in Drive
If you're a generous themer and share your assets, Drive is here to help, too. When sharing pieces of the awesome Star Wars themes we presented, there were several options for gathering and sharing the files, but in the end, we shared the same Drive folders with you that we shared amongst our team. Drive's dedicated share options give you control as you share your theme folder with a single person or a group.
Even if you're not intending to experiment with your layout, there's a reason you should include Google Drive in your launcher routine: disaster recovery. It happens to us all at some point, our phone breaks and we have to start fresh. If you're using a launcher that allows you to backup your layout, such as Action Launcher 3 or Nova, make sure that backup file gets into Google Drive. Nova makes it especially easy since you can backup and restore directly from Google Drive.
So, while you contemplate your next theme — and I contemplate mine — get a folder ready in Google Drive, for quickly storing that truly awesome wallpaper you stumbled upon or for backing up your current theme before you start messing around with a new one.
Ara Wagoner was a staff writer at Android Central. She themes phones and pokes YouTube Music with a stick. When she's not writing about cases, Chromebooks, or customization, she's wandering around Walt Disney World. If you see her without headphones, RUN. You can follow her on Twitter at @arawagco.
Great article. I love Google Drive. I handle lots of business with my Google Drive. Dam It Feels Good To Be A Google Gangster

One year ago I was thinking about to develop a walpapers app, but instantly I saw that it would be only one more in a million wallpapers apps. So i decided that it would be easyest for the people only to add a shared folder to their Google Drive.
Here it is: https://drive.google.com/open?id=0B0vo2Iuv-r7TMHhaOEt4d0lncVE

Thanks for sharing mate. Great Collection. Posted via the Android Central App

Thanks. Added them to mine... Posted via the Android Central App

Good article, but as an already active Android Themer, I've had nothing but frustrations with Google Drive. The UI is frustrating to use, and should be simpler to manage. With that said, there are a lot of options out there, but most are too similar. Wish there were other options with better UIs.

What frustrations do you find? The biggest one for me is when I'm downloading big batches on files (like music) onto a new device.

Ara, do you have themes in the Play Store available for download? Posted from my Asus ZenFone 2.

Nope. I have folders of themes in Google Drive, but I don't package and publish them for download. Everyone has their own layouts and preferences for widgets, and I usually rely on third-party icon packs and widgets apart from some custom dock icons.

As an android themer, my best friend is the layers manager app ;) Never really used cloud storage to organise all my theme related junk, I suppose it couldn't hurt to have another backup... Posted via the Android Central App

I like how the Google Now Launcher will restore the apps back to where I had them before as long as you select to restore from a previous device at the initial setup. That's really all I care about is the layout. Moto X 2014 XT1095
Nvidia Shield K1

I enjoy Drive. I have 1.07 TB of space thanks to Google Maps Local Guides. I'll never use it all lol Posted via the Android Central App

Would you mind taking the time to share your method? It sounds very interesting. :-) Posted via the Android Central App from my Nexus 6 or Pixel C.

Wow!! Really good article. Over my head, but definitely gives me direction. Education is a wonderful thing. Posted via the Android Central App from my Nexus 6 or Pixel C.

Great article. I use Google Drive just for this reason. Posted via the Android Central App

Lookin for vutr thick red head any wsny tosetext

Well done article Ara. I'm still mad at you for turning me on to Google+, I spend way too much time there. Yea...I'm one of those that enjoy Google+.

I really need to get into theming in my downtime from coding. It has always looked fun but I've never taken the time to learn it.
I use Google Drive for everything though. I save all my coding files, school files and assignments, work related things, apps, etc so I can access them at any of my computers or tablets or phones wherever I am.
I have tried OneDrive, Dropbox, and a few others but nothing seems to be as clean and well-organized and simple as Google Drive. I don't think I'll ever switch again.
Android Central Newsletter
Get the best of Android Central in in your inbox, every day!
Thank you for signing up to Android Central. You will receive a verification email shortly.
There was a problem. Please refresh the page and try again.