Dolphin Browser v7.0 launches exclusively on GetJar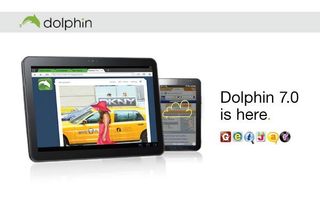 If you're not much of a fan of the stock Android browser, you've probably tried Dolphin Browser in the past and realized it offers quite a few extra features when compared to the other multitude of options out there. The latest release being v7.0 has now landed as a GetJar exclusive and is available for download and iintroduces a new feature called Dolphin Connect:
Dolphin retains all the great features from previous releases as well such as gestures, webzine and add-ons. If you've not taken Dolphin for a test drive in the past, now is a good time to give it a go. Full press release is past the break, you can hit the source link for the download.
Source: GetJar; Thanks, @fabyloso
HIGHLY ANTICIPATED RELEASE OF DOLPHIN BROWSER V7 FOR ANDROID LAUNCHES EXCLUSIVELY ON GETJAR
GetJar Users Get First Glimpse of Dolphin Connect
SAN MATEO, Calif., OCT 19, 2011 – GetJar, the world's largest free app store, and Mobotap, creator of the popular Dolphin Browser, today jointly announced the launch of Dolphin Browser version 7.0 exclusively on GetJar. Dolphin is a free, Gesture-based mobile browser offering fun new ways to explore, interact with and experience the Web.
Dolphin, the most popular third party browser on Android, has already been downloaded more than 9 million times. The browser's "Hot Apps" section will help users find the latest and greatest apps and it will feature over 25 of the top titles on GetJar.
Dolphin 7.0 is moving your mobile experience to the cloud by introducing Dolphin Connect. With Dolphin Connect your bookmarked sites and your browsing preferences will be kept in sync across all of your devices. No longer forget web addresses—Dolphin Connect remembers them for you. With Dolphin Connect, Dolphin will once again reshape the mobile browsing experience.
"We are very excited to work with GetJar," said MoboTap CEO Yongzhi Yang. "With over 2 billion downloads, GetJar is an amazing marketplace for discovering great apps. Now GetJar's users will have an exclusive opportunity to have more fun browsing thanks to Dolphin Connect.'
"GetJar is very excited to bring Dolphin Browser, the most popular independent browser on Android to our users." said GetJar CEO Ilja Laurs. 'We want to be the go to source for companies to launch their new products. Due to our openness, they can leverage on our customer base and our marketing channels.'
###
About GetJar
GetJar is the world's largest free app store with over 2 billion downloads to date. The company distributes more than 150,000 mobile applications across a variety of operating systems including Android, Blackberry, Java, Symbian and Mobile Web. In 2010, GetJar was named a Technology Pioneer Award Winner by the World Economic Forum and listed by TIME magazine as One of the 10 companies that will change your life. GetJar is headquartered in Silicon Valley with offices in the UK and Lithuania. For more information, please visit www.getjar.com and follow us @GetJar.
About MoboTap
MoboTap is a mobile technology developer that is committed to advancing the mobile revolution by improving the way people experience the web through their mobile devices. Founded and led by an international team of proven engineers and entrepreneurs and backed by leading venture capitalist firm Sequoia Capital, MoboTap has begun this revolution with the launch of Dolphin Browser HD, a free web-browser specifically created and optimized for mobile users.
To learn more about MoboTap, visit us at www.MoboTap.com, on Facebook at www.facebook.com/DolphinFans or follow us on Twitter at www.twitter.com/dolphinbrowser
Android Central Newsletter
Get instant access to breaking news, the hottest reviews, great deals and helpful tips
So does that mean Dolphin will no longer be available on the Market? I refuse to install GetJar just to gain access to an app that's supposed to be available on the Market.

+1 not available in the Market? no upgrade. unhappy customer. these exclusivity agreements are crap.

I fully agree. GetJar is a PIECE! The only reason that I have Amazon App market is because there is one free app a day and Free is good. The crap that comes with GetJar is garbage!

Android is really starting to piss me off.

How is this Android's fault?

No thanks.. if it's not in the Android Market I'm not going to bother with it. Go screw, Dolphin.

Get it to the proper market and I'll give it a go.

ummm... what's wrong with GetJar? (Sorry Im new to Android)

What's wrong with it is it's yet another market that you have to check to see if things have updated, and Getjar is quite a hassle. Go here, go there, enter this number. What a stupid PITA. I'd rather use stock than deal with another place to check updates.

It is coming to the standard market on OCT 23rd. Just hold tight a few days.

So they're moving my web browsing... ...to the internet... -Suntan

Tried the Dolphin browser and was not crazy about it. Sticking with stock browser in my HTC Thunderbolt!

Same here. I've checked out various other browsers, but nothing beats the stock browser for performance. =)

The Webzine feature is pretty handy. It's like having a little eReader right in your browser. Just wish we could add more feeds & add our own feeds. Hopefully Dolphin will build that in sometime.

While I agree Stock is usually better, HTC's Sense "Stock" browser is quite bad. 4 tabs max and it runs full screen all the time, forcing you to be without your status bar. I have 960 pixels to work with, I can spare 20 for the status bar, thanks. The 4 tab max though makes it quite useless. I guess they have to save the RAM for the 300+MB bloat of HTC Sense.

It is a decent browser, but still has no Adblock, and that is what I need. I can't stand trying to read something with any type of annoying animation junk going at the same time...

I'd rather check multiple stores for updates than one company have a monopoly on app sales.

love dolphin, but won't download this outside of the android market.

Getjar is pretty good, they have lots of free apps you have to pay for in the market. Sure it's a bit of a pain having multiple sources, but competition leads to the consumer getting free stuff, which is always good

yeah, i got beautiful widget and tapatalk from there. was about to buy it too. hopefully they will implement someway to upgrade the apps.

Everybody needs to relax. It's just a way for Dolphin to market their new product and make a little money. It'll be available in the regular Market in a few days, I'm sure.

I have used Getjar with no problems, got some apps for free that I would have had to pay for on the Android Market. The only drawback I see is they used to have swiftkey x and I changed phones and they no longer have swiftkey on their site. Also if you download the Getjar app you do not have to put any codes in.

yes, i agree. I just got the getjar app like 20 min ago. doesnt seem you are able to change device or update apps.

I wonder if dolphin realizes that it is pissing off a lot of dolphin license holders like me. I shouldn't have to install another market to get my update for an app I've purchased the license key to....

The Dolphin team is really responsive to users. They are not abandoning Android Market. Relax. :)

All of you use Amazon app store in addition to the Market, right? Dolphin is getting money from GetJar for a few weeks exclusivity, and that money allows them to survive. Its not like the Apple app store where every single decent app costs money, and the free version is crippled. So why the bitching?

I just downloaded Dolphin Monday on my new Samsung Tab 8.9. The stock browser was a bit lame. So glad to hear about an update on Dolphin. So far I like it.

Here's a question. Which does this upgrade, Dolphin HD or Dolphin Mini?

Maybe I'm reading this wrong, but is this saying that it will store all the webpages that I visit?
Android Central Newsletter
Get instant access to breaking news, the hottest reviews, great deals and helpful tips
Thank you for signing up to Android Central. You will receive a verification email shortly.
There was a problem. Please refresh the page and try again.