Does ExpressVPN keep logs?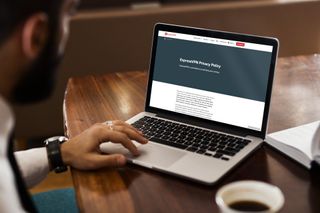 (Image credit: PlaceIt)
Best answer: ExpressVPN is quite explicit in stating that the company does not collect or keep any logs of your activity, browsing history, data content, or DNS queries. Most companies bury this in the Privacy Policy, but ExpressVPN offers up the information as the second sentence so it's easy to find.
Encrypt your connection: ExpressVPN ($6.67 per month at ExpressVPN)
ExpressVPN, which happens to be our best VPN top pick, is very clear about its logging and that states that it doesn't log your data. That's a very top-line answer to the question, but one that's immediately reassuring. Since these policies are often far too long to actually read, we've done that for you.
The result is that we've got a clear picture of what data is and isn't recorded by VPNs, in this case ExpressVPN specifically. First, a little background so we can explain this clearly.
A VPN uses a proxy server to give you an IP address which makes you appear to be somewhere and someone else. These servers are largely owned by ExpressVPN, meaning it has access to the data going through.
In the past there have been cases of governments demanding that VPN providers give out customer information so they can be found and, potentially, prosecuted. It can also be a potential breach point for hackers to get in and find out your identity. That's why it's important you know what a VPN has on you.
Does ExpressVPN keep logs?
Unlike many providers, ExpressVPN keeps its information about any logging super simple to find. When you navigate to it, in a few clicks, it states that the service doesn't keep any logs of your IP address when you connect to ExpressVPN.
It also doesn't keep track of the time you've logged in or the VPN IP address you're assigned. In fact, any information on the websites or pages you're visiting (including via DNS requests), or any of your traffic, are not recorded or tracked.
Of course that doesn't mean there is no tracking at all, some basic data points are used to keep the system running. This means the date you connect and the server you use will be logged. However, since your IP address and connection times aren't logged, you can't be identified.
ExpressVPN will also keep track of the version number of the client you use – likely to help it offer better updates in the future. It also keeps track of the total amount of data you've used. Once again this appears to pose no threat to your privacy or security.
Where is ExpressVPN based?
Since ExpressVPN is based in the British Virgin Islands, it is able to regulate its own affairs. That means that the US and UK governments and agencies don't have any jurisdiction and can't legally force ExpressVPN to reveal any data – not that anything revealing is kept anyway.
The only exception would be where the government body raised a complaint, with evidence, at the BVI High Court. This would have to prove it is based around a serious crime that's punishable by a year or more in prison. How ExpressVPN's super minimal records would help anyway isn't clear.
Is ExpressVPN audited?
ExpressVPN won't have you take its word for it on security and logging, instead it gets privately audited too. It has its TrustedServer technology and backend systems audited by PricewaterhouseCoopers, to confirm the privacy promise is accurate.
That TrustedServer tech uses RAM for memory meaning nothing is ever stored but rather passed through that memory to keep it, and you, even more secure.
Our pick
Best in class
ExpressVPN cares about protecting you and that means that the company does not collect any logs or information about your sessions. Be sure to give it a try today!
We test and review VPN services in the context of legal recreational uses. For example:
1. Accessing a service from another country (subject to the terms and conditions of that service).
2. Protecting your online security and strengthening your online privacy when abroad.
We do not support or condone the illegal or malicious use of VPN services. Consuming pirated content that is paid-for is neither endorsed nor approved by Future Publishing.
Be an expert in 5 minutes
Get the latest news from Android Central, your trusted companion in the world of Android