DODOcases for the Nexus 7 (2013)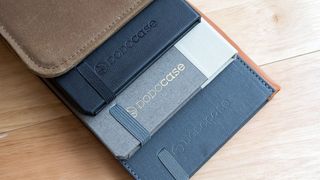 DODOcase may be best known in the past for making beautiful book bound cases for the iPad since 2010, but in more recent years this San Francisco company has been branching out to phones and tablets from all manufacturers. The case maker prides itself on making its products with that old hand-crafted quality and timeless look, and its selection of cases for the Nexus 7 (2013) are no exception.
While these DODOcases may be more expensive than you're used to paying, you won't feel like you're not getting something for that money. Each of the following four cases seem painstakingly well made, built with quality materials and designed to take the edge off our technology and make it feel a little more friendly. Hang tight after the break and see the entire collection of DODOcases for the Nexus 7 (2013).
DODOcase Color Block
Made with the quintessential DODOcase styling, the Color Block is a book binding-style case available in a variety of color combinations that gives off a fantastic look whether opened or closed. Holding the tablet in place is a bamboo inlay that is carved out in just the right places to accommodate ports and buttons, where small patches of leather grab onto the corners securely. When the cover is closed you could slide your Nexus 7 on the shelf in your library and no one would be the wiser — this case really adds a level of sophistication to an otherwise unapologetically "tech" device.
The cover flips open — turning on the tablet in the process via a magnet — just like a finely-crafted book and even folds all the way back to make it easier to hold in one hand. A flexible nylon strap keeps the cover on the tablet when not in use or pins the cover back when it is, and adds that little bit of contrasting color that just makes the whole case look exquisite.
Buy DODOcase Color Block for Nexus 7 (2013) from DODOcase
DODOcase Durables Sleeve
The Durables Sleeve is probably best comparable in terms of price (both being expensive) and form factor to the official Nexus 7 Sleeve from Google, but past those two points these cases are nowhere near the same. The Durables Sleeve is primarily made of a waxed canvas material (available in three colors) that is amazingly well-stitched and lined on the inside with an orange cotton lining. A hand-stitched leather wrap on one side gives you a nice place to grip the pouch when it holds the Nexus 7 and an extra bit of flair to boot.
You get the feeling that the Durables Sleeve really is deserving of the name and will keep the tablet safe from regular bumps whether its just tossed around the house or in and out of a bag. We wish that there was some sort of clasp or strap to guarantee that the tablet didn't accidentally slide out of the pouch, but it sits snugly enough on its own that we weren't worried about dropping it.
Buy DODOcase Durables Sleeve for Nexus 7 (2013) on Amazon (opens in new tab)
DODOcase Folio
For those who have no limit to the extreme level of pampering they're willing to give their Nexus 7, the DODOcase Folio will fit you perfectly. This ungodly expensive ($125) case goes far beyond what most would be willing to spend for a case on their tablet that costs less than twice as much, but you're going to get something for that hard-earned cash. You can think of this as a Color Block case taken to the extreme.
Functionally the Folio is very similar to the Color Block, with the same bamboo inlay and styling. But instead of a standard book binding you're getting a hand-tooled leather one, externally you have a higher-quality stitched casing and inside flanking your Nexus 7 is a honest-to-goodness paper notepad — tastefully embossed with "dodocase" at the bottom. The leather spine doubles as a pen holder, and underneath the paper pad you'll find two matching leather pouches to hold business cards, cash or credit cards.
This is what we'd call an "executive" case for your Nexus 7. And while we honestly don't think it's the most functional case in the world since it adds a considerable amount of bulk to an otherwise thin and light tablet, we wouldn't blame you for drooling over this one for a little while.
Buy DODOcase Folio for Nexus 7 (2013) from DODOcase
DODOcase HARDcover Classic
Of all the DODOcases on offer for the Nexus 7 (2013), we think the HARDcover Classic is our favorite of the bunch — and at $35 is the cheapest as well. Rather than wrapping around the sides of the tablet and holding it in place by the corners, the HARDcover attaches to the back of the tablet with three sticky pads. These sticky areas are made of a completely reusable material that holds onto the tablet extremely well, and with a wet towel regain all of its stickiness to use again and again.
Because the case just sticks to the tablet instead of wrapping around, the buttons and ports aren't obstructed by the edges and there's nothing getting in your way from using it. The extremely thin profile gives just the right amount of protection and has the same stretchy strap to hold it together, but folds back and away nicely to let you still hold the Nexus 7 in one hand for reading or anything else you want to do. It's a great case to protect the tablet, add a nice bit of style but not get in the way.
Buy the DODOcase HARDcover Classic for Nexus 7 (2013) on Amazon (opens in new tab)
As a group, the DODOcases for the Nexus 7 (2013) offer you style and quality that you just don't find anywhere else. While they may be a bit on the spendy side, you know that you're going to get great protection for your device and get a look that will impress no matter which one you choose.
Andrew was an Executive Editor, U.S. at Android Central between 2012 and 2020.
It'll make your Nexus look like a journal.

Cool variety. But they are a bit expensive.

They are all equally ugly!!!

Lovely things. Is open to wake included in the Classic? And can the tablet be propped up in anyway when in the case? Posted via Android Central App

Yes, it should be noted that magnet wake/sleep is in all of the hard cover ones. The tablet can't really be propped up at all, other than at a slight angle in landscape when you fold back the hard covers.

Their website suggests it should sit upright for movie viewing by using the elasticated strap. Either way I've ordered a Hardcase Solid in fog grey. Posted via Android Central App

I have their sleeve for the Motox, on the very expensive side of accessories but the quality is about as good as it can get.

Agreed, the sleeves are great.

These are pretty much like the ones portenzo make. Might even be the same pricing as them. Still overall both companies make great cases! Posted via Android Central App

Just got a case for my N7 (2013). Cost me 6 pounds.
It's perfect. Looks good (professional even), feels good, and does what it's meant to. Why pay over the odds for an expensive case ?? Some people have tooo much money.

I bought a cheap one too. It is cheap though. Crappy feel and suspect fit. Quality costs and I'd be happy to pay for something that feels good and lasts. Posted via Android Central App

There are certainly cases out there that offer more quality than they're asking at every price range, but what DODOcase is doing is a step above in quality from anything else that I've personally touched. Yes, they're expensive, but you're getting something much better than your random $10 case.

But, this one I've got is perfect. Fits a tiny bit loosely if you push the power in (but, once in, no problems), holes on right places., back stand for it, magnet shutoff. Why pay any more than that. Confuses me..... (ps, i don't work for the manufacturer. I'm a normal human, paying a lot of money for a device, who doesn't want to spend a fortune on a case)

You have got lucky then. Do you have a link yo the case in question? Posted via Android Central App

This is the item. I'm happy, and that's all that matters really. :) http://cgi.ebay.co.uk/ws/eBayISAPI.dll?ViewItem&item=151127512403

That is an attractive price but it would not work for me. I dislike having a case that extends over the edges of the device. It serves its function at those prices though. Posted via Android Central App

I agree. Obviously, for that price, it's not 100% perfect. A bit awkward to get to the volume buttons as well. But a sacrifice I can live with. :)

That is an attractive price but it would not work for me. I dislike having a case that extends over the edges of the device. It serves its function at those prices though. Posted via Android Central App

Nice adult colors. Search for tablet cases on ebay and you'll see the most ridiculous colors- everything looks like unicorn poop.

The sleeve looks very nice, but the total with taxes and shipping to Norway comes out at $87. Does anyone know of any similar good quality sleeves that's not this costly?

If you want a 10% discount add the product you want to the cart and go through the ordering process, but stop before placing the order. You will get an email within a couple of hours with a discount code.

I can't wait for my folio case to arrive.

Does the sticky part on the original harcover leave a mark on the actual tablet?

I just got my wife a Nexus 7 2013, and the Google Wireless charger. It seems to be impossible to find a case that purports to support the charger, other than the Google stock bumper case. Anyone else have any luck?
Android Central Newsletter
Get the best of Android Central in in your inbox, every day!
Thank you for signing up to Android Central. You will receive a verification email shortly.
There was a problem. Please refresh the page and try again.