Do you wish there were more compact Android phones?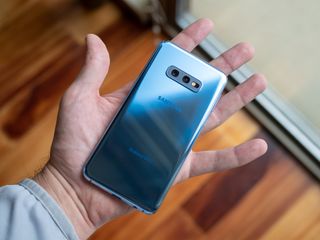 (Image credit: Andrew Martonik / Android Central)
Over the last few years, there's been an ongoing trend of smartphones getting bigger and bigger. Display sizes increase, bezels keep shrinking, and handsets continue to eat up more space in our pockets.
Large phones are great for playing games and watching movies, but when it comes to easily using them with one hand, it's a different story entirely.
Recently, someone in the AC forums asked for recommendations for a compact Android phone — something that's easier said than done. Here are some of the devices that were recommended to them.
This conversation got us to wondering — Do you wish there were more compact Android phones?
Android Central Newsletter
Get instant access to breaking news, the hottest reviews, great deals and helpful tips
Joe Maring was a Senior Editor for Android Central between 2017 and 2021. You can reach him on Twitter at @JoeMaring1.
Nah, I enjoy trying to cram something the size of a laptop into my pocket. Phrasing.

The Pixel 3 is definitely the size I'd like to keep for as long as possible. I can easily maneuver around the phone. I wouldn't even mind slightly smaller so that when I put on a case it will be perfect.

I have a s10e and I love the size of it and the features it has. I hope more companies make similar size phones with good features

Yes! Yes! Yes! There's absolutely a market. I'm hoping the SE will make Samsung reconsider next year and release an S21e.

I love the s10e size and was hoping there would be a s20e. There was an Xperia Z1 Compact that was even smaller that I loved using til it slowed down.

Yes, I think phones are getting too big in the form factor department. I get people like big displays but for someone who doesn't use their device for media consumption, there is no reason I should walk around with a 6" and above display in my pocket. I will hold on to my pixel 3 (5.5") for a long as possible for this reason. One camera and all. Dear manufacturers, Please think about individuals that would love a small form factor with a display under 5.8" Thanks,
Consumers

I prefer larger screens. But companies should give people the option of smaller screen sizes. Not everyone likes 6.5 inch screens

By all means, YES!
Thanks Google and Samsungs for the a-line and S10e.
Hoping that more will follow suit.

Yes there should be more choices.

I like choices for everyone...but it all comes down to sales. The "cost" of tooling and manufacturing and profit is the end all. The OEM's need to sell phones. If they make a big one and a small one and only one size sells...then they're not going to make two sizes the next time. We may not like it but it all comes down to what sells the most.

Every time I pick up my old Z3 Compact, a part of my heart cries. Give me sub-5" phones with flagship specs again, please.

Im on my feet all day and need to keep my phone in my pocket. Those phablets are just not practical for me. I could see if you have a desk job.

Definitely yes! I have petite hands and the sizes of these phablets are getting ridiculous. I love using samsung note phones but they keep getting bigger every year and frankly I'm tired of lugging them around. I always need to have a purse as they cannot fit into my pockets. Give us a choice. The smaller size was the reason I picked the note 10 over the note 10 plus. Choice is important. Let the macho men lug around their 6'8 screens. I just want a note phone that's not larger than 6" 🙂
Android Central Newsletter
Get instant access to breaking news, the hottest reviews, great deals and helpful tips
Thank you for signing up to Android Central. You will receive a verification email shortly.
There was a problem. Please refresh the page and try again.