Do you think we need more small phones in 2021?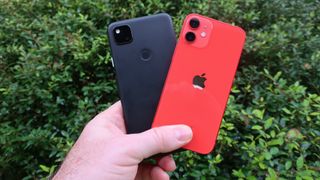 (Image credit: Jeramy Johnson / Android Central)
Looking back at 2020, there was a surprising comeback of small phones. While large handsets are still the norm for the vast majority of the market, releases like the Pixel 4a and iPhone 12 mini were breaths of fresh air.
We've talked about our undying want and need for more small phones countless times here on AC, but when it comes to our readers and forum members, are they on the same page as us?
A few of our fourm members got to talking about this very recently, saying:
Now, we want to hear from you — Do you think we need more small phones in 2021?
Android Central Newsletter
Get instant access to breaking news, the hottest reviews, great deals and helpful tips
Joe Maring was a Senior Editor for Android Central between 2017 and 2021. You can reach him on Twitter at @JoeMaring1.
I think we need phones with screens that are 6" or less so that the majority of the population can use mobile devices as intended with one-hand. Being an individual that 6'6" I by no means have small hands but a smaller phone feels really good in the hand. Now that I am much older I do lean to larger phones not because of my hands but because my eye site has change so a larger screen is more a necessary requirement. I loved my Galaxy S10e and S10 for one hand operation. I find my Note 20 Ultra a little large and not comfortable with the square corners. The new S21+ is ok with the rounded corners in my hand but can see why people feel these screens are a little too large.

I feel that I've found my sweet spot with the Pixel 3 size, which means I would probably like the Pixel 5 or regular iPhone sizes. I can operate the phone with one hand and that makes my phone a much more useful tool. I had the OG Pixel XL before this and the big screen was nice but I immediately felt at home with the smaller Pixel and I disliked going back to the larger size just for the font difference. Yes I would gladly welcome smaller phones that pack similar performance and above average battery life.

I don't think hands are getting bigger. On the other hand a whole industry has started over peripherals to help you hold a phone.

A 6 inch screen on a phone with modest bezels is perfect for me. Unless my options are severely limited I try to stay as close to that size as possible.

I prefer longer phones because they are much easier for reading. I will never go back to a smaller phone. Currently own a S10 plus.

My main phone currently is still the One Plus 7 Pro and while I love the screen size when playing a game or watching something, it is at my limits for phone size. Sadly I think since my phone was released they've only mostly gotten a bit bigger. My work phone is one of the newer iPhone SE models and everytime I use it I am reminded of how a bit smaller of a phone actually feels nice to use. Admit it's a bit harder to text on but it feels good in the hand to use. I have not had a chance to go look at the new Samsung's but I'm thinking the S21 regular model might be the actual perfect size phone for me. Of course you lose all the newer fancy camera tech.

Back in the days when I had the first HTC Incredible with its 4.5" screen bigger phones started to pop up. I was making fun of them and ridiculing them wherever I saw one. Then came the LG g3 and I fell in love with that phone and its screen size. Now I can't go big enough! 🤣 My 6.7 Note feels small sometimes. I wanted to like the pixel 4a but it's simply too small. But I do admit I liked hokding my wife's S10 and now S21. So light, so "maneuverable". 😁

I have a Pixel 4 and 3. I won't own anything larger than the 4. If I wanted to carry around a tablet, I'd get a tablet.

Yes, I would like for smaller FLAGSHIP phones to be available along side the bigger models. 5.8" and lower is my ideal size. At least keep one option around for those who want a smaller device. I personally left the Google Pixel 3 for the iPhone 12 mini. I simply had to get my hands on this device and Apple delivered with the mini IMO. The fact that it's a true flagship in mini size is what sells this device. I know people are freaked by battery, however, my experience with mini's battery has been more than my needs. I seriously have no issues with battery life. Small flagships for the win!!!
Android Central Newsletter
Get instant access to breaking news, the hottest reviews, great deals and helpful tips
Thank you for signing up to Android Central. You will receive a verification email shortly.
There was a problem. Please refresh the page and try again.