Do you have a backup smartphone?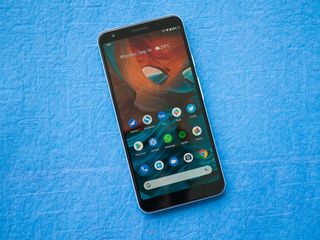 (Image credit: Apoorva Bhardwaj / Android Central)
In 2020, our smartphones are often our go-to devices for just about anything. Whether it be sending an email for work, doing a video chat with family members, or just doom scrolling on Twitter, chances are you do most everything on your phone.
With that being so, it makes sense for some people to have a backup phone lying around just in case something happens to their main one. It's not a luxury everyone can afford, but if you can, it's a good idea.
Some of our AC forum members recently started sharing what they have for a backup phone, saying:
Now, we want to hear from you — Do you have a backup smartphone?
Joe Maring was a Senior Editor for Android Central between 2017 and 2021. You can reach him on Twitter at @JoeMaring1.
I picked up an Essential PH-1 back when it had a fire sale a couple of years ago. It's sitting pristinely in its box.

I generally use my previous phone as a back up.

I have two a pixel XL that is used mostly as a video player for my son in WiFi and an blu phone

Yes, my S8 backs up my S20.

Me too. I worry about this because the phones are so damn expensive that I'll likely trade the one I'm using to bring the price of the new one down. The S8 will get too old to be a decent backup, in short time.

I have a Moto G7 and a Moto X4 as backups. The G7 is a true backup in that I have cheap service on it with US Mobile. Costs less than $10 per month.

Yes have a backup, the OG Pixel. It's 4 years old but its good for emergencies incase something happens to my primary.

My Nokia 7.1 is now the backup for my 7.2

My backup phone is an iPhone 7 Plus.

I just got a 4a 5G. I'll use that while my OnePlus 7T gets a break. I also have an Essential PH-1 too

Just curious. Why would you have gotten a 4a5G if you already had a 7T. The 7T is a more powerful device than the 4a5G, so unless it's got a shattered screen - or you've finally decided that big phones like the 7T are just too unwieldy, I'd have been more inclined to get a cheap non-5G 4a, and use *that* as a backup to my 7T. Oh, by the way, the backup to my 7T is an Axon 7 - with a shattered screen ;-)

I carry two phones, Pixel 3a for personal and iPhone SE (2016) for work. My backup phone was my OG Pixel but after my wife's iPhone 6 broke down, I gave her the Pixel. I have another iPhone 6 that I keep "updated" as a backup (as much as possible given it's no longer receiving updates) and my wife retains an iPhone 5s as a backup. But it looks like the primary phones in my household wouldn't even serve as most people's backup here.

Why don't you use a dual SIM phone instead?

Multiple reasons. Like to keep notifications (calls, text, emails, etc.) separate, prefer Android but also like some things that iOS does, use AirDrop, iMessage and FaceTime for some contacts, individual batteries, can use one phone while kids are using the other, etc.

Yep, my trusty galaxy S7 is my back up.

I have a S8+, LG V20 and an OG Pixel XL. I never trade in my phones and they all sit in a drawer waiting to be used.

Our three cars have old smart phones as a back.

yep. ASUS ROG 3 is my main phone but I have a pixel 4a for photos and as a backup. (and also so that if I ever get mugged, I won't lose my ROG 3)

I kept a backup device by my bed ever since I upgraded from an iPod Touch gen 2 to a Samsung Stratosphere. It was always the previous phone until my Nexus 5X went in for a warranty repair and I ended up buying a cheap ZTE from Walmart for $30 and a Family Mobile $25 unlimited card for the month it was away. When I upgrade from my 5X, I traded it in, so the ZTE is now the backup. I'll probably trade in my Moto G6 when it's time too.

My phone has a backup.
My backup phone has a backup.
My backup's backup has a backup.

I still have my Nexus 4 if i really need it, but the battery is not very good. I do have an old Motorola, not a smartphone, but it will be fine for text and calls.
Android Central Newsletter
Get the best of Android Central in in your inbox, every day!
Thank you for signing up to Android Central. You will receive a verification email shortly.
There was a problem. Please refresh the page and try again.