The Division 2 for PlayStation 4: Everything you need to know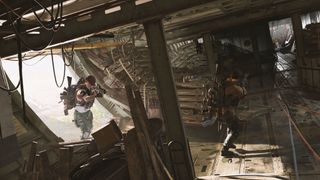 One of Ubisoft's most-anticipated new titles is The Division 2, the sequel to the now very popular first game that launched back in 2016.
The current game has over 20 million registered players, a passionate community and is still being supported with updates and new content in the form of Global Events. While the fresh content won't be coming for much longer, agents will have an entirely new world to save soon enough. Here's everything we know so far about The Division 2.
Fight for justice
Take back Washington.
Civil war has fallen upon Washington D.C. after the pandemic. Shaping up to be an excellent sequel, gear up with friends or alone, and reclaim the nation.
March 8, 2019: Install size revealed
It looks like the final install size of The Division 2 will come in at a whopping 88-92GB, a dramatic increase over its counterpart on Xbox One and PC, which should only take up around 48-52GB. It is unknown what has caused such a large discrepancy, but these numbers do include the game's day one title update.
The new story and world of Washington D.C.
Tom Clancy's The Division explored a world struck by bioterrorism, with a dangerous virus sweeping the globe, throwing society into peril. And dropping players into a harsh concrete jungle, the snowy streets of New York set a bleak backdrop for a disease-swept nation. Tom Clancy's The Division 2 is next set to make its arrival, set several months later.
The Division 2 shifts 200 miles to the south, promising a "1:1 representation" of the seat of American government: Washington D.C. While tensions remain high after the outbreak, Washington D.C. shows a city in recovery, with flora and fauna now littering the streets in the summer heat. It means a title-wide palette refresh, slightly larger world, and increased variety in locations.
A new setting also means new faces in The Division 2's post-apocalyptic world. Fresh factions fight for their place in the urban wasteland, each with backstories and unique gameplay traits. True Sons, Outcasts, and Hyenas are among the additions, with similarities to existing groups from its predecessor. The Black Tusk also makes its arrival during later hours, boasting advanced fighters and technology for a true end-game challenge.
Gear up for the challenges ahead with skills and loot
For those familiar with The Division's early offerings, a similar foundation returns for this second installment. As a Division agent, players will build their character throughout the campaign, completing story missions and earning loot along the way. Its open world also houses side activities, catering for various playstyles. And when hitting higher levels, it's all about grinding for that next color-coded loot drop.
Much of Ubisoft's effort with The Division 2 focuses on the end-game experience and deliver content beyond the core campaign. As a service title with regular post-launch content planned, it's designed around replayability to keep players returning.
A new class-based system arrives in The Division 2 known as "Specializations," directly tied to high-level gameplay. The three-class system craves unique player roles beyond Level 30, providing further depth, seemingly providing further depth for end-game systems. Each class has accompanying skills and "signature" weapons, forging new gameplay around the classes. Below are all three Specializations and what they entail:
The Survivalist specialization overcomes the wasteland's challenges with trap and status-altering abilities. Equipped with a signature crossbow, agents pack a punch no matter the situation.
Bringing in the heavy guns, the Demolitionist leverages the power of heavy-hitting explosives and the signature grenade launcher.
As its name indicates, the sniper-wielding Sharpshooter can kill from afar.
We expect Specializations to deeply tie to end-game activities and how challenging content is approached. When playing in groups, finding synergy between roles should be crucial.
The Division 2: What can I play solo?
The Division 2's end-game is bigger and better
With the end-game lineup a key focus of The Division 2, Ubisoft has naturally scaled its replayable content offerings for top-level players. Staples of the past return like the player-favorite Dark Zone, alongside the promise of new challenging modes.
The Dark Zone, the city's free-for-all hub, returns more brutal than ever. With menacing foes, player-versus-player (PvP) combat, and top-tier loot up for grabs, it's the game's centralized spot for high-stakes warfare. This time the Dark Zone encompasses three locales, split into East, South, and West. Zones have a story and biome, with gameplay variations attributed to each.
The areas now have a reduced capacity of 12 players, offsetting a heightened AI faction threat. However, the PvP combat that remains will be refined, normalizing gear for more enjoyable encounters. This aims to foster a competitive playfield based on gunplay skill, rather than countless hours of grinding.
The Division 2 also plans to grow its player-versus-environment (PvE) offerings, headlined by the first dedicated raids. These eight-player challenges serve as the pinnacle of combat, requiring high-level tailored loadouts and a lot of communication. It will also serve as a more creative playground for the studio, experimenting with bespoke enemies and challenges.
The Division 2 release dates and editions
The Division 2 is currently slated for a March 15, 2019 release date on Xbox One, PlayStation 4, and PC. However, buyers of premium editions can play from March 12.
While served through Ubisoft's own Uplay PC client, the game will forgo Steam in favor of an exclusivity deal with the Epic Store. Following a Private Beta in February and open beta in March, Ubisoft now is gearing up for a full release.
The Division 2 is available in three core editions, spanning the Standard Edition, Gold Edition, and Ultimate Edition. While the $60 Standard Edition provides basic game access, the $100 Gold Edition stows three-day early access, and the Year 1 Pass. The Ultimate Edition provides a further upgrade at $120, packing similar contents alongside exclusive in-game player gear. Physical collector's editions are also planned, although preorders are out of stock as of publication.
Fight for justice
Take back Washington.
Civil war has fallen upon Washington D.C. after the pandemic. Shaping up to be an excellent sequel, gear up with friends or alone, reclaiming the nation.
Updated March 8, 2019: We've added information regarding The Division 2's install size on PlayStation 4.
Get the Android Central Newsletter
Instant access to breaking news, the hottest reviews, great deals and helpful tips.