Did your LG G3 recommend you delete the Downloads app? Here's how to get it back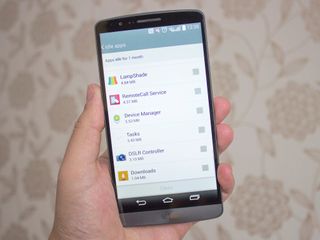 LG's smart clean might see an accidental deletion of the downloads app, here's how you get it back
We've already looked at how Smart Clean on the LG G3 can help you reclaim some of your storage space, but did you know that it's also quite easy to delete the Downloads application from the phone with it, too? If this happens to you you'll still be able to get to everything in your downloads folder through File Manager, but fret not, because getting the Downloads app back is easy. So long as you know where to look for it.
The problem lies with Smart Clean recommending idle apps for deletion as part of it maximizing the space you can reclaim. All apps are included in this, including LGs own and things like File Manager and Downloads. If you're not paying close attention it's easy for one of these to disappear, but there's a simple way to get it back again:
Head into Settings > About phone > Update center > App updates
Here you'll find a list of all apps LG shipped on the phone. Scroll down until you find the list of currently "idle apps"
Any of the apps you deleted, in this case Downloads should be listed here with a "Download" button next to them
Hit "Download" let the phone do its thing and you should be all set.
Next time you go into the app drawer you'll see your Downloads app shortcut back where it belongs. On one hand it's nice that LG will let you delete some of the pre-loaded applications, but it's also a little careless recommending you delete some of them which are useful but only occasionally used. In any case, following the steps above will get you out of a jam.
For more, see our LG G3 help page, and swing by our G3 forums!
Sounds like they should have named it Sort Of Smart Clean.... Posted from my Nexus 5 via Android Central App

+1 Posted via Android Central App

I think it's awesome you can delete pre loaded apps. The downloads app has always been a waste of storage for me.

You can't. I thought that as well but read on and it says smart clean just makes them "idle". Posted via Galaxy ace plus running Speedmod 2.5 with Xposed

I need some help deleting my downloads app

You don't need it. You can still navigate to the download folder without it Posted via Android Central App

As mentioned in the post Posted via Android Central App

Just reiterating the important parts....

Yep. You really don't need it. File manager works! Posted via the Android Central App

Some of us like having the downloads app. It takes less steps than using File Manager... Posted via Android Central App

It takes legit two seconds. Lol Posted via LG G3.

Maybe LG devices are different, but on my Nexus ones I have found the downloads app doesn't show everything that has been downloaded (despite the downloads being in the download folder). Maybe it was due to how Firefox or whatever I was using handled downloads, but whatever the reason, not showing all my downloads makes it useless. Posted via Android Central App

I noticed that as well. I regularly use firefox on my OnePlus One, and some downloads did not show up in the downloads app. A work around is using the file manager to access the downloads folder. Chrome doesn't seem to have this problem, but I really just prefer firefox.....

That's pretty cool they give you the option to delete the shit you don't want. Is all the bloat included or just select apps? I wish even my nVidia Shield Tablet had this ability. All those stupid google apps that get installed along with Trine 2 would be nice to delete to free up space. If an app can be found in the app store it should be able to be removed by the user in my opinion.

Where is this update app on vzw lg g3 please? Posted via Android Central App

Should be in the same place.

Nope vzw removed it, that's why i was asking. Posted via Android Central App

I don't see any update center on Verizon lg g3. not in apps nor in that about phone setting.

It's also in the App drawer...

I don't see any Update Center under About Phone on AT&T G3. ...Joe K.

Question, are you able to delete these LG apps manually? Or is this a cool workaround to do something you normally can't?

Does anyone know how to delete videos off an iPad in order to free up storage space?
http://www.leawo.org/tutorial/how-to-delete-movies-on-ipad-to-free-up-st...

You might want to check out imore for that. At least on android, anything to do with files, just use file manager

Mine only has LG backup in there.

So here's the problem (from India) the stupid Smart Clean function erased a bunch of preloaded LG apps like Quick Remote (don't quite care about the rest). I know the post says to to go to Update center > Idle Apps > and just re-download them, but in my case, they're all grayed out and although I see a colored download icon, nothing happens. What now?

Thanks so much for the information. I had deleted LG Smart World by accident and this helped me greatly in restoring the app. Posted via the Android Central App

Thank you so much! I really appreciate your help this came in handy thank you thank you thank you I can't thank you enough
Android Central Newsletter
Get the best of Android Central in in your inbox, every day!
Thank you for signing up to Android Central. You will receive a verification email shortly.
There was a problem. Please refresh the page and try again.