Dial directly from your home or lockscreen with Simple Dialer Widget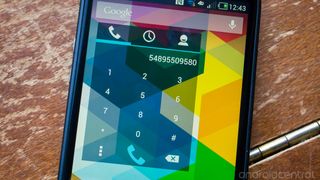 Here's a great time-saving tip and way to show off the power of Android all in one -- use a widget to dial contacts directly from your homescreen. Widgets are one of the most powerful and customizable parts of Android, but most people relegate them to simply displaying weather or offering music playback toggles. With Simple Dialer Widget, you can put that homescreen space to good use by having a fully functioning phone dialer front and center on the phone.
The dialer works just as the proper dialer does, with a full call log and favorites list (although some of us are having issues with favorites) accessible with tabs on the widget. There's a crazy amount of customization available when you make the widget -- from colors to date format and text sizes -- as well as the ability to resize it to your liking. It also works on the lockscreen of devices running Android 4.2, which is a nice plus.
Interested in taking a look? Head to the Google Play Store link at the top of this post to grab a download of Simple Dialer Widget -- it's free and certainly worth a try.
Via: ComputerWorld
Android Central Newsletter
Get instant access to breaking news, the hottest reviews, great deals and helpful tips
Andrew was an Executive Editor, U.S. at Android Central between 2012 and 2020.
What's the wallpaper? Thanks!

http://www.behance.net/gallery/iPad-Retina-Wallpaper/3516257

These are awesome, thanks!

Thats standard functionality. Or at least on my nexus. There is a stock widget that allows one touch dialing. Plus it is just a small 1x1 square of the persons icon.
Cool background though.

Having a shortcut to a contact =/= having a Widget with a dialer, full contacts list, and call log.

All well and good, but who makes calls on their phone? -Suntan

A dialer widget on the lockscreen sounds a bit nutty. I wouldn't want it dialing in my pocket. I used to own a blackberry that had an emergency call function when locked and it called 911 a couple of times in my pocket... not cool...

Yeah, why bother to have a lock screen at all if you are going to allow locked dialing, not to mention pocket dialing.

Well, it's easy... If you don't like it, don't use it? I personally don't like lock screens at all, so I disabled them, but I know for those that do, the new features on Android 4.2 are worth looking into.

I have no lock screen either, but the guy above has a good point. Why have a dailer that has access to your call log and contacts on the lock screen? At that point, what use does the lock screen serve? -Suntan

Sh!t Android Users Say: WIDGETS!!! WIDGETS!!! WIDGETS!!!

I'm sorry, but I don't see how this saves time. The only way this saves time is if it's on your default homescreen which I doubt most people would want. It takes the same amount of time to swipe to the homescreen the widget is on as it takes to tap the dialer button from any homescreen.

Downloaded and installed instantly. How is this widget not helpful? When I want to reach someone quickly, having a lockscreen widget for it speeds the process up enough for me to install this. Probably one of the most useful apps I've downloaded, actually. Thanks AC

What is the purpose of having a lock screen? To prevent unauthorized use of the phone. Having this widget enables just that- if your phone is lost or stolen, it is useable (if only to make calls)! I'd hate to think I enabled a thief by providing an avenue to use it!

I just don't understand why anyone needs lock screen widgets. Especially one that dials out. I am pretty sure the point of the lock screen was to keep all that locked up to prevent accidental calls, text etc.
Having lock screen widgets kind of just makes a lock screen pointless.

Who dials numbers enough to need a widget for it? I probably dial a number manually once a month tops.
Android Central Newsletter
Get instant access to breaking news, the hottest reviews, great deals and helpful tips
Thank you for signing up to Android Central. You will receive a verification email shortly.
There was a problem. Please refresh the page and try again.