A decent Pixel XL leather case — with a fatal flaw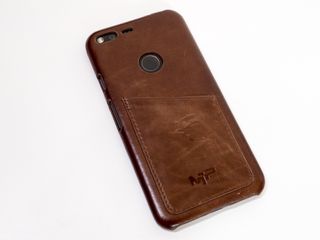 A quality leather case for a Pixel phone can be a little hard to come by. I spent a good long while with this one on mine, but it's starting to show signs of age. (Hey, you get what you pay for, right?) So it's time for something new.
I snagged this leather deal from Mugen ($30 at Amazon) and at first glance it's not too bad. Looks good ... Feels good ... Has that little pocket with just enough room for a credit card or some cash, if you're still into paper money. (You can stick a business card in there, but it's going to get torn up pretty quickly.)
There's just one problem, though.
https://twitter.com/mdrndad/status/848988037149323265
Those cutouts. The areas for the power button and volume rocker. What happened there? That's certainly not the "perfect fit" the product's Amazon description promises.
I'd hoped that it was just a manufacturing error. That happens. And so I brought it up when Mugen did that thing Amazon retailers do, where the follow up after a sale to make sure everything's OK.
I replied back, asking if the buttons were supposed to be that far out of alignment with the holes. Mugen's reply:
Image 1 of 5
So they sent me a new one. And nothing has changed. That's a shame, really. Half-decent leather cases aren't as prevalent as you'd think for Android phones. And I'm digging the little pocket on the back. The whole thing makes an already big phone feel a little bit bigger, but it also makes it feel better. Until you need to adjust the volume, anyway.
That said, if you don't mind the buttons being shoved up against the side of the cutout to the point that they're very difficult to press — have at it.
Get the Android Central Newsletter
Instant access to breaking news, the hottest reviews, great deals and helpful tips.