A decent Pixel XL leather case — with a fatal flaw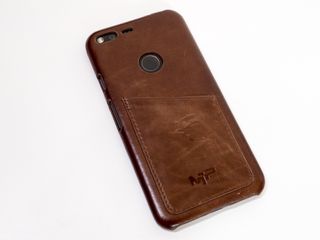 A quality leather case for a Pixel phone can be a little hard to come by. I spent a good long while with this one on mine, but it's starting to show signs of age. (Hey, you get what you pay for, right?) So it's time for something new.
I snagged this leather deal from Mugen ($30 at Amazon) and at first glance it's not too bad. Looks good ... Feels good ... Has that little pocket with just enough room for a credit card or some cash, if you're still into paper money. (You can stick a business card in there, but it's going to get torn up pretty quickly.)
There's just one problem, though.
https://twitter.com/mdrndad/status/848988037149323265
Those cutouts. The areas for the power button and volume rocker. What happened there? That's certainly not the "perfect fit" the product's Amazon description promises.
I'd hoped that it was just a manufacturing error. That happens. And so I brought it up when Mugen did that thing Amazon retailers do, where the follow up after a sale to make sure everything's OK.
I replied back, asking if the buttons were supposed to be that far out of alignment with the holes. Mugen's reply:
So they sent me a new one. And nothing has changed. That's a shame, really. Half-decent leather cases aren't as prevalent as you'd think for Android phones. And I'm digging the little pocket on the back. The whole thing makes an already big phone feel a little bit bigger, but it also makes it feel better. Until you need to adjust the volume, anyway.
That said, if you don't mind the buttons being shoved up against the side of the cutout to the point that they're very difficult to press — have at it.
X-level makes a pretty good one. Feels great, fits well.. Under $10.. (it's fake leather, but doesn't feel that way)

You mean the one I linked to in the first graf? That one? =D

Did the G4 ruin you? I keep buying thin cases that kinda feel like the Nexus 5.

Heh ... Nah. But the leather case on the iPhone ... That's a good one.

Slickwraps has genuine leather skins (in natural series), though they don't cover the sides. They also have Alcantara skins, which I am interested in trying.

Never left. Modern Dad on YouTube. Still doing Mobile Nations stuff. Just not exclusively on AC anymore.

Thanks for the write up Phil. I've been looking at these on Amazon too for weeks. Glad I didn't bother. One day I might pull the trigger on one of these: http://www.tetded.com/home/en/pixel-xl-htc-pixel-xl/13032-tetded-premium...

I ordered a Tetded from eBay for my LG G6. Nice cases are hard to come by for this phone. I also ordered one like Phil's. Hope they got the cutouts right for the G6. That's one of the few things I miss from my iPhone. The case selection is amazing.

The very top listing when you search pixel XL leather is this same case but with a long ***** instead of 2 small ones and it's $16.

The case has a long what? :)

I tried as well. I've had such good luck with leather products from Noreve in France. However, they have sent me 2 Pixel XL cases and both didn't fit the phone. I couldn't even get the top part of the phone all the way in the case. They are going to remake one for me yet again and see if it fits. I won't hold my breath. And the funny thing is I have sent them numerous pictures and told them what they need to do to fix it and they have struck out. It's too bad because the materials and craftsmanship are top notch.

I always really liked Sena Cases. Started with them in the Palm Pilot days. Unfortunately, they are nearly exclusively iPhone/iPad anymore. That last decent Android cases I got from them were for the Nexus 4 and 7 (2012). I guess they make some stuff for Samsung, but that seems to be about it for the Android world.

Android phones need more premium material cases. What's the point of a super expensive shiny metal/glass phone when all the cases available are just cheap plastic? I have a leather case on my Galaxy S7, before that I had a mostly metal case for my Xperia Z5 Compact and I'm never going back to crappy plastic cases.

Phil, take it to a good old-school shoemaker. They have the leather tools and experience to fix it up for you.

I thought Android Central staff don't use phone cases

I didn't used to because I had to take pics all the time, and because I'd change phones so often. ... Obviously, that's changed a little. :)
Android Central Newsletter
Get the best of Android Central in in your inbox, every day!
Thank you for signing up to Android Central. You will receive a verification email shortly.
There was a problem. Please refresh the page and try again.