Death Stranding Directors Cut coming to PS5, gets a Metal Gear Solid shoutout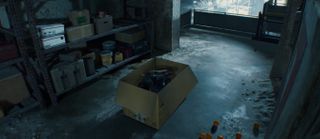 (Image credit: Kojima Productions)
What you need to know
Hideo Kojima made an appearance at the Summer Game Fest, and dropped the teaser trailer for the Director's Cut of Death Stranding.
Death Stranding Directors Cut is coming to PlayStation 5 "soon."
The entire teaser trailer is one big Metal Gear Solid-inspired joke.
An expanded version of Death Stranding is coming soon to PlayStation 5, as Hideo Kojima revealed during a first look at the Summer Game Fest. We don't know anything about it yet, other than that Kojima Productions is apparently not above poking fun at some of the auteur's previous creations, as the whole teaser trailer is basically one big joke at the expense of Metal Gear Solid.
Kojima appeared during the Summer Game Fest during a pre-recorded interview with Geoff Keighley. Initially, he responded to Keighley's questions with only vague hints about his future projects, only to drop the trailer for the new release of Death Stranding at the very end of the interview.
The trailer doesn't reveal much, but it does show Sam Porter Bridges infiltrating some kind of underground base. He looks around and spots a Fragile Express box, then takes it off the shelf and empties it of its citrusy cargo. He proceeds to climb inside of it, climb immediately back out, and put it back on the shelf. We're not exactly sure why Sam -- or Kojima for that matter -- would want to take shots at Solid Snake's favorite hiding spot, but that's undoubtedly what's happening in the trailer.
No other details about the game were revealed. We don't know if there will be any more content added to the director's cut release, but that would seem to be implied by calling it such. We will hopefully learn more about the game at later summer events -- if not E3, then hopefully whatever summer State of Play Sony has planned.
Get the Android Central Newsletter
Instant access to breaking news, the hottest reviews, great deals and helpful tips.
Rachel Kaser is an Android Central gaming contributor, who's been writing since 2013 and gaming since the age of five. She's covered everything from gaming news, reviews, and analysis -- if it exists in gaming, she knows about it. She also contributes to Future's other sites, iMore and Windows Central. If you want to hear her opinions on games, pop culture, tech, and everything in between, follow her on Twitter @rachelkaser