Deal: Grab the LG Watch Style for a crazy low $108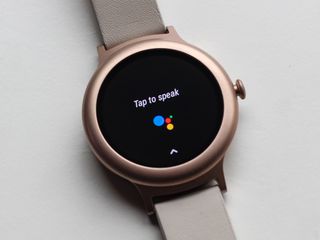 (Image credit: Android Central)
For those that have yet to hop on the smartwatch bandwagon, eBay has a pretty compelling deal on the LG Watch Style, one of the launch devices for Android Wear 2.0. Right now you can get the watch for $107.99 (opens in new tab) by using coupon code PSCHOOL20, which saves you $27 from its listed price of $134.99
Flo noted in her review of the LG Watch Style that the device was the first smartwatch she felt comfortable wearing since most smart watches are bulky and not particularly well suited to smaller wrists. She also noted the 240 mAh battery inside the watch was enough to get through a single day or two days with lighter use. One key downside for the Watch Style is the lack of NFC, which means users can't use the watch with Android Pay. That's a hard pill to swallow at the suggested retail price of $250, but much easier at $108.
Are you interested in picking up the LG Watch Style? Let us know down below!
See at eBay (opens in new tab)
Android Central Newsletter
Get instant access to breaking news, the hottest reviews, great deals and helpful tips
GIven the lack of features that is probably what is should have been all along, with the Sport coming in at about 250. That being said, after owning an Android Wear device there isn't a price that is low enough as far as I am concerned.

I hear you on that my last Android ware was my gear live the UI is just to confusing an the battery suck . People just get yourself a gear S3 frontier are classic

Agreed, I've reviewed a few Android Wear watches as well as the Gear S2 & S3 (on my blog: TheCanadianTechie) and I always found Tizen on the Gear S2/S3 to be a more enjoyable experience than Android Wear

Except there's zero Google integration on Gear S which is a complete pain in the butt

Not if Google is nothing to you. :)

Okay, fine. What I really want is basically a larger Style with GPS Andrew NFC, but I've spent $100 on stupider things, and I can finally give AW 2 a spin.

Have this watch. Bought it for $150 from best buy to replace my moto 360 sport. I absolutely love this little guy. No nfc or speaker, sure, but I only use my smart watch as a notifications and dictation device, and this fits the bill - while looking stylish. And I gotta say, the no flat tire screen is a big win. Note - battery lasts all day, though won't go beyond midnight with any heavy use.

My stainless steel huawei watch still looks better.

Looks an style will always be subjective. But what's not all that subjective is that the gear s watches are just a better watch functional .it just does more an last soooomuch longer

It truly is a matter of taste. This, in all earnesty, is not a bad looker, either.

Nope. Give me a deal on the LG Watch Sport and I'll consider it. The Style isn't going to get me to stop wearing my Pebble.

I would probably say the same - except, I do not own a Pebble. Which model is yours?

I owned a Pebble Steel until giving it to a friend late last year.

Andriod ware has completely dropped the ball . There's zero promo work ,no adds an no street cred . The brand is to fragmented to catch hold . Other then peeble all I see in the streets is apple and Samsung . You have to spend money to make money business 101
Android Central Newsletter
Get instant access to breaking news, the hottest reviews, great deals and helpful tips
Thank you for signing up to Android Central. You will receive a verification email shortly.
There was a problem. Please refresh the page and try again.