A deal with Amazon lets local police request Ring footage directly from home owners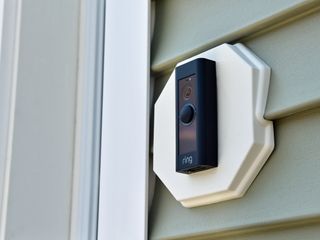 (Image credit: Android Central)
What you need to know
Amazon has partnered with some local police departments to push Ring products.
In return for promoting Ring, Police departments get free doorbells for residents.
Police can also access a special portal for requesting footage without a warrant.
Ring, the Amazon-owned company behind some of the most popular smart video doorbells, has come under fire once again for privacy concerns. This time around, a report from Vice reveals that Amazon's been partnering with local police departments around the country in an effort to get officers to promote Ring products to citizens.
In return for this promotion, police departments have been receiving free Ring products for residents of their areas and access to Ring's Law Enforcement Portal — something that allows officers to request access to footage from Ring cameras without the need for a warrant.
While it's been known that Ring was partnering with police departments, Vice's report offers a lot more insight into how this partnership works thanks to a leaked agreement between Ring and a police department in Lakeland, Florida. In the contract signed between both parties, it notes that the department is:
A big part of the agreement revolves around officers encouraging people to download Ring's "Neighbors" app. For every person in the area that downloads Neighbors, departments are given a $10 credit that can be used towards buying a Ring Video Doorbell (opens in new tab), though this deal is available to anyone using the Neighbors app. As a catalyst for the program, Ring gives each department 15 free video doorbells to get started.
In addition to free doorbells, police departments are also given access to the Ring Law Enforcement Portal. This is a free service exclusively for law enforcement, and according to Ring, gives police all of the following:
Access to the videos and crime/safety related posts on the Neighbors app.
Ability to post geographically specific, hyper-local alerts to Ring owners and users of the app.
A map of Ring devices in your community (exact locations obscured for privacy).
Ability to request videos directly from Ring users.
Management of videos shared by users.
Ring users are under no obligation to share video footage with police when asked, though any publicly available footage is free for law enforcement to peruse.
In response to this, a Ring spokesperson said:
How the Ring Floodlight Cam helped me catch the guy who kept peeing on my car
Joe Maring was a Senior Editor for Android Central between 2017 and 2021. You can reach him on Twitter at @JoeMaring1.
Sounds like you're jumping to a conclusion. I think the real use is to request a copy of a video in the case of a crime possibly having been observed, not that they will be looking in your house without permission.

Thanks for changing the headline. And the copy.

So I'm not sure why we should be upset on some of these that the author says are the "dirtiest part" Access to the videos and crime/safety related posts on the Neighbors app. - If you post it it becomes public domain right? Why would access to anything on the Neighbors app be something the police shouldn't have? Ability to post geographically specific, hyper-local alerts to Ring owners and users of the app. - Don't we do this with weather alerts? Isn't it a good thing if you get notified that someone that assaulted someone is loose in the area? Or maybe that the police are responding to a crime and need everyone to stay indoors for safety? A map of Ring devices in your community (exact locations obscured for privacy). - This one seems suspect but if they aren't showing a map with houses and the types of ring devices they have is it really a problem. I mean, almost all of the houses in my neighborhood with a ring camera has a sticker on the door or window telling you as much. Ability to request videos directly from Ring users. - So how is this any different than them knocking on your door asking you if your camera caught anything when a package thief stole something from across the street. Instead they just email you, hell I'd rather they just do that. Management of videos shared by users. - So the video was shared willingly on a public forum but now you don't want them to be able to use those videos in any meaningful way? I'm confused. Non of these points seem to cause a problem with me. Unless I'm misunderstanding what the big deal is about. I mean, any law enforcement agency can request anything without a warrant. For example, my nest doorbell caught the mailman hit my neighbors car and just drive off. Did about $1k worth of damage. The local police cam over and asked if they could have the video. They didn't have a warrant. I could have told them no, go get one if I wanted. I gave them the footage. This is click bait.

I'd gladly take a free Ring doorbell with this agreement. I'd rather a Nest Hello, so maybe Alphabet can do something similar? Ball's in your court, Alphabet... Edit: and as the post above pointed out, Law enforcement already can request footage without a warrant. They can request whatever they want. It's dictating that you hand it over that would be a problem.

I honestly think this is great. This isn't law enforcement taking videos,it's giving them an option to request it. Coming from someone that is a first responder you wouldn't know how many people don't know how to operate their security system or export a video. For example after a rash of car break ins police went door to door seeing if they had footage of the incident,some were home and some just didn't know how to export the files. If police can push a video request for all videos that had cameras in the area they can get more footage faster.

I live in Lakeland! Has anyone heard of a "neighborhood watch". Same thing in video form.
We had a problem with kids going in the community pool at night. Not only a risk but a possible lawsuit. The police said.,.when you see them call.
So how much better is it that now a neighbor can capture the kids faces and have them be fined for vandalism for all the broken locks!
I am all for it. I see regularly how all my packages are delivered, my mail is placed in it's box and even when my trash is (or isn't) picked up. Can I make a stink (no pun intended) about it? Sure, but I will most likely provide any footage I have if asked by law enforcement. It only benefits us...the residents.
The argument that we are handing over too much to law enforcement is really not well thought-out. How can law enforcement patrol every corner of every neighborhood? Not possible. So yes, more dependable means need to be found. Video never gets tired or takes vacation. It does not need to be paid and it will not be needed all the time.
Keeping cops honest with body cams was needed, now a home is a "neighborhood watch".
Android Central Newsletter
Get the best of Android Central in in your inbox, every day!
Thank you for signing up to Android Central. You will receive a verification email shortly.
There was a problem. Please refresh the page and try again.