The Crew 2 for PlayStation 4: Everything you need to know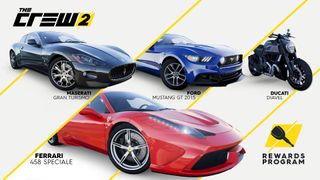 Ubisoft's The Crew 2 aims to build on the original with a wide array of vehicle types, another beautiful representation of America, and expanded online features to make racing with your friends a most enjoyable experience. Here's everything you need to know about The Crew 2 for PlayStation 4.
What is The Crew 2?
With the original The Crew, Ubisoft set out to make a racing game that brought us back to the days of PlayStation 2 classics like Midnight Club: Dub Edition and Need For Speed: Underground. Those games were less about hardcore motorsports and more about the thrilling dramatics of the street racing scene. It emphasized driving with your "crew," and eventually going down other troubled roads with your mates that ultimately have you swimming in a world of crime.
The idea was solid, but the execution wasn't all that great, and a smorgasbord of bugs at launch also marred the game. Ubisoft took a ton of player feedback in their quest to make a sequel that everyone would enjoy, and thus The Crew 2 is taking the series in a completely different direction. It's still a game about racing with your buds, but it's so much more than the linear, cliche club-racing game it once strived to be.
Race across America
As with the original game, The Crew 2 has you racing across a scaled down version of America. You'll be able to check out several cities, and judging by the first game they'll be beautifully represented here. You obviously won't be able to hit every road of every city and state, but the areas Ubisoft decided to put time into are well done.
Cities we've seen featured so far include New York City, Los Angeles, the Grand Canyon, the Rocky Mountains, and some areas near the Mississippi River. Iconic locations such as Lake Tahoe, Wolf Territory, Sequoia Park, Harlem West, and Jersey City are all confirmed.
The Crew had one of the biggest maps we've seen in all of video games, and certainly the biggest we've seen in a racing game to date, so it's nice to see that element expanded on in the sequel. In fact, the world is so expansive that you can go coast to coast without seeing a single loading screen. We're not sure how they'll be able to explain going from the mountainous terrain of the Rockies to the concrete jungle in such a short amount of time, but you'll need to suspend your disbelief just a tad.
Every vehicle you can imagine
The Crew 2 is all about racing, and while the original game was mostly limited to cars, this one is embracing a much wider range of vehicles. We've got offroad rally cars, dirtbikes, and maybe even monster trucks to get into. And then there's stuff you don't even drive on a road, such as boats, planes, and helicopters.
And it's not enough to let you use such an insane variety of vehicles. The fact that you can seamlessly switch between them at any time during any point of a race is quite interesting. We're not sure how Ubisoft will handle that transition in-game or how they'll explain the phenomenon, but it's happening.
Secure your bragging rights
The Crew 2 is an experience that's entirely online. That's because the game no longer confines you to a strict story mode. While you can now create your own character, Ubisoft instead wants the player to write their own story. It's your typical "Race to the Top" affair, with your lone end goal being to get to the top charts of each racing scene.
There are four such scenes in the game, all of which have their own themes that'll dictate the sort of racing you'll be doing. There's the Street Racing hub, Pro Racing hub, Freestyle hub, and Off-road hub. We're not sure how some of the more exotic vehicles will fit into these categories - perhaps all the non-car activity goes on in Freestyle land - but you're free to take on whichever you fancy according to your playstyle and interests.
Aside from the good feeling you'll get from advancing through the ranks, getting top honors will net you recognition from your peers. That's thanks to a new social system that broadcasts your achievements to your friends and other racers in your vicinity. What's more, those who do well can earn themselves in-game cosmetics to show off their road superiority.
You'll also be followed by LIVE, a multimedia corporation who captures your musings across the country. They'll broadcast your racing to millions of viewers, and it's your job to impress enough of them to earn a following. Getting more fans allows you to compete for higher stakes, which ultimately means you can buy more of your favorite cars and customization items.
Get started with the open beta
Good news: there's an open beta for The Crew 2 taking place at 4 AM Eastern on June 21st, and lasting all weekend. The track will close June 24th at 4 AM.
You'll be able to go through the entirety of the game world in the beta, either through free drive or by checking out specific races for the following categories:
Aerobatics
Drift
Jetsprint
Motocross
Powerboat
Rally Raid
Street Racing
Touring Car
You'll also be able to use all photo and video editing tools, as well as access the Live Replay menu to take screenshots and create short movies. Those who participate in the beta and are also part of the UClub will unlock an exclusive gold helmet that your character can wear in the full version of the game.
The beta will be about 15GB large on the PlayStation 4 and PlayStation 4 Pro, but you'll need 30GB free to begin the download. To participate, head to the PlayStation Store and search for The Crew 2 Open Beta. You won't need a PlayStation Plus subscription to play it, either.
Pre-order deals
Pre-ordering The Crew 2 opens you up to some nice bonuses. All standard pre-orders will net you the Legendary Motors Pack featuring the Mercedes-AMG C63 Touring Car 2016, as well as the Harley-Davidson Iron 883 2017.
There's also a $70 deluxe edition that comes with the Motorsports Deluxe Pack, adding in the Ford F-150 Raptor Race Truck 2017, the Abarth 500 2008 Monster Truck Edition, the Pilatus PC-21 aerobatics plane, and three racing outfits for your character. This is in addition to the aforementioned Legendary Motors Pack.
Finally, there's the Gold Edition of the game. You'll get the season pass to go along with the Legendary Motors Pack and the Motorsport Deluxe Pack, as well as a digital steel book for $110.
Also, note that players who played the original game for even just a second will unlock the Ferrari 458 from the very beginning. You can expect up to 19 additional cars if you put even more time into the game.
When can you play it?
The Crew 2 is launching for PlayStation 4, Xbox One, and PC on June 29th, 2018. Buckle up and let us know how you'll be racing to glory once the game finally arrives.
Get the Android Central Newsletter
Instant access to breaking news, the hottest reviews, great deals and helpful tips.