Creating Auto Awesome Videos in the new Google Photos app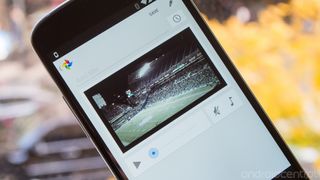 A little bit of work and a lot of Google magic lead to wonderful results
The latest version of the Google+ app brings with it another new app on your device: Photos. That's Google+ Photos to be exact, and it's an app that gives you access to all of your pictures and videos, both on-device and online, in a single place. Along with providing a system for managing your pictures, the latest version of this app also provides an interesting way to display your art, called "Auto Awesome Videos."
Incredibly similar to HTC's "Video Highlights," Auto Awesome Videos combine your pictures and videos into an artistic short film, adding filters, cuts and some background music to an otherwise run-of-the-mill set of pics. The end result is quite impressive as well — stick around after the break and see how it's done.
Although it is powerful, creating Auto Awesome Videos in the new Photos app is actually incredibly simple if you're willing to poke around through its features. The basic process, covered in the video walkthrough above, starts with tapping the small video button at the top of the app and selecting the photos and videos you'd like to use. Then swipe across on the auto-generated video to select your video theme.
You can go right ahead and accept the video Google has made for you, but if you want to spend a few minutes you can customize things a bit and get something much more personalized. Tap the edit button (a pencil in the top right) to rearrange your pictures and videos, and tap the music note to choose from dozens of different songs of all genres.
With a little bit of time, and some help from Google's tools, the end result will be an Auto Awesome Video that is something you can be proud of. Give it a title, save it and export that file to any service that suits your needs.
Andrew was an Executive Editor, U.S. at Android Central between 2012 and 2020.
I don't see the icon to actually start creating the videos on my Moto X, but it is there on my wife's Nexus 4.

You need 4.3 for it and Google + 4.2

Don't see it here either. VZW S4 running 4.3. Posted via Android Central App

It's not on my Moto X either.

I can't see it either on my Galaxy Nexus running 4.3 and the latest Google+ app. That's why I watched the video to see if I was doing something wrong!

Does this still not work? I have a Droid maxx running 4.4, and I can't get it to work.

Don't have the icon on my Samsung Note 3 anymore. Used to work.

Great !! But i can't select my music !!!! Why google ? Posted via Nexus 4 !!

Yes you can and even the effects and how long each clip will take

I have the same problem. It seems impossible to change the default music. Click on another. It plays. Hit the tick/check to select. Go back to the movie. Same old music. Strange. Am I doing something wrong?

i have the same problem. it allows me to change the video effects but cant change the audio..... is it a bug or am i doing anything wrong?

It may be "Auto Awesome", but also an "Auto-Focus Nightmare"

I like the new G+ Photos, but I wish it was built into my Gallery app and not its own app separate from G+.

Why ya gotta be so negative, Jerry?

Hmm. I don't see that option in my Photos app either. All I have is a search icon, no movie icon. My Google+ version is 4.2.2.55951696. I'm running OmniRom based on 4.3, I wonder what it's missing that Photos needs to show me the option.

Not showing up on mine either. GNEX 4.3 with the new Google+ app.

Anyone notice how much this photo icon looks like the old icon for the Miren browser?

The Google+ app always force closes when I try to save using Samsung GALAXY Note 3. I can make the movies but can't seem to save or export to anything. Posted via Android Central App

It's funny how you capitalized galaxy. StealthDroid - Working in the Nexus Lab

HTC One. Android 4.3. Google+ 4.2. No icon or any other way to create AA videos. Please help.

I though Gallery was Google's photo app? It automatically uploads my photos to Google+.

Hangouts: i hate 16.9 Posted via Android Central App

It is not showing up on my 1st generation nexus 7 either.

Why it's not available for everyone? It's just sw function. I have cm 10.2 and don't have this function.

Seems like this needs to be available through the web interface also. Like the other Auto Awesome features. I don't always upload from my phone only.

Not working on my Note 3 either Posted via Android Central App

I wonder when they will let the chrome browser do this?

To everyone wondering why they don't have the icon, on the announcement page there was small text that said the video awesome feature was available on a limited number of phones. Why this year's flagships weren't on that list, I don't know. It didn't even list the phones that are compatible.

To everyone wondering why they don't have the icon, on the announcement page there was small text that said the video awesome feature was available on a limited number of phones. Why this year's flagships weren't on that list, I don't know. It didn't even list the phones that are compatible.

Awesome animations and it looks like new overscroll feedback, too.

I had to reboot my sprint note 3 and it was there, it's pretty darn cool Posted via Android Central App

So you just simply rebooted and it was there?

Works perfect on the Nexus 4. Made a few short movies out of random pictures. You can set the style of the movie and the music to go with it and the choices are extensive. Can't wait to take an entire vacation album and convert it to a personal movie and tag everyone that was there. Sweet job Google!

I tested it on my nexus 4 and it works great except when I change the audio it does not play.

did you ever figure out the audio issue? I have the HTC one and have the same issue

Same on Note 3.
Anyone figure this out yet?
Seems like a bug Google!

Would be nice if the writer of this article, or AC, whoever, added an update and say something like "By the way, only my phone, and about 5 other people, are able to do this". A joke that I have an htc one and I don't have the AA capability.

That's funny. I have a crappy tmo galaxy s blaze 4g, but last night while putting on charge my son's new Nexus 7, I saw that there was an AA video pending.. Opened it up and saved it, didn't really play with that, but bottom line, my videos backed up in G+ and the AA video appeared on the Nexus 7 that runs on the same google account.. LOL

The most piss taking app, every time I wont to play a video or see a photo it keeps asking me do you want to use the photos app or the gallery. Is their any way I can remove this app ? Posted via Android Central App

I have no icons showing on my htc one 4.3 google + 4.2 no help out there at all on this ??

What was the phone the video was captured? It simply could not hold focus on the video part, awfull.

Am I the only one getting "error saving movie" on the note 3?

It gives the same error for me too with my exynos version of note 3. Hopefully there will be a fix soon

Hii Scots. ...
I have the same problam that you had with my note 3...
How did you fixed it. .?
Thanks....

the auto awesome is awesome! However, once i save it and try to save it, there is no sound.. anyone else have this problem?

everything was pure happiness till i realized my device isn't fully supported. i have a Samsung Young 6210L ... the picture filters works perfect ... the icon to create video is missing... so... google photos for me is just another photo editor. i would like to learn how to create a video app that records on 360p.

Mine either. I have HTC Evo 4G LTE and would love to use Auto Awesome. I'm glad I am not the only one.

(Auto Awesome movies are currently only available for some devices running Android 4.3 and up, including the Nexus 4, Nexus 5, Nexus 7 (2013), Nexus 10, HTC One, Samsung Galaxy Note 3, Moto X, and Moto G.) from google+ support site very disappointed galaxy note 2 owner expecially since you can't do it on the site either

I've played with this for the first time today and I liked it, in particular I liked the fact that it existed at all. However, some features (or lack thereof) wasted a lot of my time so I hope it will improve with time. In case anybody's reading: The number one time waster was ordering the photos. By default the photos came in a random order whereas a chronological order was closer to what I intended. Reordering a large number of photos (my project was a bit ambitious I guess) takes a lot of time and patience. Unfortunately the sequence got scrambled again various times for no appearant reason (on one occasion it happened when I got interrupted by a Skype call. I'm not sure about the other times). Then, while I think all the themes provided have some use, it lacks "neutral" themes, that would take my photos as they are (because I try to take decent pictures) and avoid cropping them (sometimes there's a good reason why the characters appear small in the landscape) Some control over panning/zooming/cropping on a picture basis would be nice. Last an option to save the project in progress would be incredibly useful.

I'm running on the Galaxy S4 with 4.3 and newest Google+ app and I don't see the icon. I've already seen that people on here are complaining of the same issue. Can someone please answer our questions as to why we don't see the icon?

I'm using moto g. still can't save vids, both Google generated or my own. sometimes photo app crash during saving. sometimes musics can't be downloaded or don't change. lol. any fix on this??

I am on a nexus 7 2013, and it does a similar thing. I can save, but when it saves, it botches the video. It turns it into wavy horizontal lines, like on the old tvs. I tried it 5 times, each save was garbled. Now trying to find the folder it saves the temp to, maybe I can move it and edit on my pc.

Awesome! But How could I delete those videos???
I cannot select them neither delete them!!!
If I choose "select" from menu then I tap on a thumb and open it, cannot select it for deletion!
Please help me!
Thanks. NEXUS 5

I love the auto awesome feature. Do you know if there's a way to remove some of the pics or videos that Google put in automatically. Occasionally Google automatically puts in pics that don't go with the rest of the theme/movie. Ideally I'd like to replace them with a different pic. Any help would be appreciated.

Does this App can be activated from the computer rather than the phone? the photos are already backed up and valid in the web and it is more comfort to work on the computer ...?

ITS REALLY AN AWESOME FEATURE TO HAVE AUO AWESOME MOVIE CREATION IN GOOGLE APPS PLUS....I WANT THE SAME IN MOTO GEN 2ND XT 1068....HOW TO GET IT ..PLEASE ASSIST

Any one got any idea how I can completely remove the backing track on videos that have been created. The app has compiled some videos from gigs, so now I have the music of the gig playing, as well as the awful music the app has overlaid. Can't seem to see a 'none' option in the music/audio settings when editing the video.
Android Central Newsletter
Thank you for signing up to Android Central. You will receive a verification email shortly.
There was a problem. Please refresh the page and try again.