COVID-19 can survive on phone screens for almost a month, says new study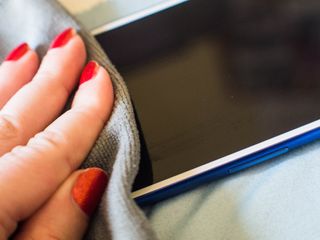 (Image credit: Android Central)
What you need to know
A new study by researchers in Australia claims the SARS-Cov-2 virus can survive for almost a month on phone screens.
A previous study had claimed the virus that causes COVID-19 could survive on glass surfaces only up to three days.
It underscores the importance of sanitizing your phone on a regular basis.
A study published in April this year had claimed that SARS-COV-2, which is the virus that causes COVID-19, could survive on glass surfaces such as smartphone screens for up to three days. New research published in Virology Journal by Australia's national science agency suggests the virus is capable of surviving on glass surfaces for a much longer period of time (via Gizmodo).
Australian researchers found that SARS-COV-2 can remain infectious for 28 days on glass, stainless steel, vinyl, and paper notes at 68° Fahrenheit. The influenza virus, in comparison, can only survive up to 17 days on these surfaces. At higher temperatures, however, the lifespan of the virus is significantly reduced. When the temperature was increased to 86° Fahrenheit, the virus could only last up to seven days.
According to Professor Ron Eccles, former director of Common Cold Center at Cardiff University, the findings of the study are causing "unnecessary fear in the public." Speaking to the BBC, Eccles said:
Even if the findings of the study aren't completely accurate, you should still clean and disinfect your phone regularly. There are many UV phone sanitizers available, which make it easier than ever to eliminate all the germs and viruses on your phone.
HoMedics UV Clean Phone Sanitizer
The HoMedics UV Clean phone sanitizer can easily be collapsed flat, making it extremely easy to carry around in your purse or backpack. It uses 2 UV-C Germicidal LEDs, which can sanitize your phone in just 60 seconds.
Living on a surface and being able to transmit into the body are two different things. I'd like to see the research of how many cases have transmitted via contact with a contaminated surface. Either way, do NOT use alcohol or alcohol wipes on the screen of your phone. You will ruin the oleophobic coating.

If you read the article, it can survive for that long under very specific, controlled conditions such as being kept completely in the dark with temperature & humidity controlled. The take-home is that the Coronavirus can last longer than the flu virus under those conditions, so by extension it will last longer than the flu under "normal conditions" which would have a "half-life" measured in terms of a day or two. We still need to clean things and mask up, but this article doesn't really change things.

In AZ, it wouldn't last 5 minutes. 100+ degree temps actually doing some good. ;)
Android Central Newsletter
Get the best of Android Central in in your inbox, every day!
Thank you for signing up to Android Central. You will receive a verification email shortly.
There was a problem. Please refresh the page and try again.