Control for PlayStation 4: Everything you need to know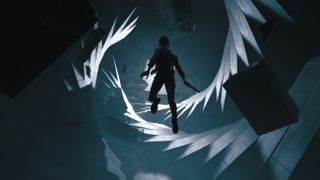 Remedy Entertainment is back with another intriguing game, and this time it's on the PlayStation 4. Control is a game that will be both familiar, yet strange. We've seen many of its gameplay elements at play before in games like Quantum Break, but there are other things at play that will make it one game to keep an eye on. Let's dive into all we know about it.
What's new with Control?
Remedy says it'll be plenty vocal about the game leading up to its launch, so stay tuned for more updates as they come in!
March 22, 2019
After a listing on Microsoft's website seemingly leaked its release date, Remedy Entertainment has confirmed that Control is indeed set to release on August 27, 2019 for consoles and PC.
What is Control?
Control is a third-person action-adventure shooter, but it won't be all about the guns. Remedy is using the Northlight engine developed for Quantum Break to bring us yet another fresh experience. You'll be shooting guns, but you'll also be manipulating time, space, and gravity thanks to your telekinetic abilities.
What's the story?
You'll be playing as a woman named Jesse Faden, played by Courtney Hope. Jesse becomes the new Director of the Federal Bureau of Control (FBC), a secret government organization that deals with the supernatural.
Of course, Jesse herself has such powers after experiencing a traumatic incident as a young child, and her intention is to use them for good. Not everyone is keen on following those intentions, however, with a corrupt entity known as The Hiss infiltrating the Bureau and manipulating other agents to carry out dirty work.
The game seems to feature a cult-like structure, with Jesse and presumably other Control agents having undergone ritualistic processes to obtain their powers. Taking place in New York, Jesse first discovers something isn't right when people at the Bureau headquarters — also known as the Oldest House — are spotted floating above their workspaces.
Unexpectedly thrust into the role of Director of the FBC after The Hiss invades, Jesse must traverse the sprawling building using her powers to uncover its secrets, all the while being haunted by its previous Director.
That's all we'll be getting from Remedy on plot details at this time; however, we do know they won't be following conventional storytelling practices. We also know this will be a fully single-player experience despite earlier rumors that there is a cooperative mode.
Exploration, powers, and more
Instead of being inundated with a barrage of cinematic cutscenes placed between pockets of exhilarating gameplay, Remedy wanted Control's story to be told through the world itself. That means the narrative will be driven by pure exploration.
As Remedy puts it, "It's a supernatural third person action-adventure with a cast of memorable characters and that twisted story you expect from Sam Lake and the rest of us at Remedy. Control is also a more gameplay-driven experience that gives players a lot of options on how to approach combat by giving you some cool supernatural abilities to upgrade, as well as the transforming Service Weapon that you can customize and develop. Control is a lot less linear of an experience compared to our previous games and offers more of a sandbox for players to enjoy and plenty of secrets to find in the Oldest House."
This would seem to sound like the same sort of lazy storytelling we've seen in games like Destiny where plot details are scattered throughout the world on info cards, but we're told that the world acts as a true storytelling component. In fact, the Oldest House will transform greatly throughout the course of the game, giving you new secrets to discover as you continuously explore the ever-changing building. A quick-witted oracle doesn't tell you the secrets of the building, the building tells you the secrets of the building.
Remedy describes it as a sandbox game in that regard. You'll use Jesse's various powers of levitation, telekinesis, and more to find your way to new areas of the building as it continues to evolve. It begins with her service weapon, which is no ordinary firearm. It'll tweak and contort and do all kinds of weird things, and it'll gain more abilities as you upgrade it.
With the interior of the building constantly changing and shifting, you'll need to keep on your toes at all times. You will be able to upgrade your supernatural abilities and modify your loadouts to best fit your playstyle or whatever situation you find yourself in. It's dynamic environmental destruction only gives you even more ways to explore and take down enemies.
By completing side quests and through general exploration players will be able to earn items called Objects of Power, which will allow players to unlock new supernatural powers like the ability to levitate or throw objects. Only by unlocking new abilities will you be able to progress through the world.
This focus on using raw gameplay as the primary means of advancing the plot makes Control a refreshing reminder that interesting gameplay mechanics can still be the driving force in AAA video games, and not over-the-top cutscenes or other forcible forms of storytelling. That's not to say those other forms aren't sweet in their own right, but we wholly applaud Remedy for trying something different.
When can you play it?
Control is slated to launch on August 27, 2019 for PlayStation 4, Xbox One, and PC.
Updated March 2019: Remedy has confirmed that Control will release in August.
Be an expert in 5 minutes
Get the latest news from Android Central, your trusted companion in the world of Android