Comparing Android Auto to Hyundai's infotainment system in the 2015 Sonata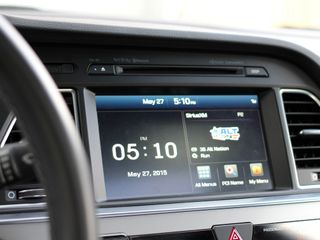 Having owned the 2015 Hyundai Sonata for a few months already, I find their in-dash infotainment system to be pretty easy to use, and highly functional. While enjoying the experience, the tech lover in me was super excited when Android Auto was announced. I was thrilled to check out the new features, and to play around with something different, but then I got to thinking. While all of this new-fangled tech is great, will I remember to plug in my phone when I get in the car in order to actually use it?
Most times, when we get in the car I sit in the drivers seat, since I've lived in New Jersey for 28 years, and my wife only just moved here a few years ago. My normal routine once I was in the car was either to just keep the phone in my pocket, or put it in the cup holder, and if anyone was plugging in a phone it was my wife with her iPhone. Without plugging in my Android device, it's impossible to gain any of the functionality that Android Auto brought to the car, so I needed to make some changes.
As with anything new, it takes a little bit of time to break the old routine. For me, it meant unplugging the Lightning Cable that's plugged in already, and replacing it with a micro-USB cable — no big deal. Sometimes I would remember, sometimes I would forget. When comparing the in-dash infotainment system from Hyundai to Android Auto, there are some pros for each, as well as cons.
Music
I had previously uploaded my music library to Google Music when it first came out, and since then I have kept it up-to-date with new music as well. Currently, I am storing my music locally on a microSD card in my LG G4. This way I don't eat up data when I want to listen to an album on the go. With Android Auto the input sources are limited for music, giving you Google Music and a handful of third-party apps to select from.
The option to pull locally from my device, like when you plug in an iPod or something would be great, but seeing as so few devices have SD slots these days, I guess the push towards Google Music makes more sense overall. With Hyundai's infotainment system I am able to pull music off the SD card, though the interface doesn't look quite as pretty. Sure, I could download the music I want from Google Music and keep it locally on the device as well, but what's the point in doubling up the music on my device?
Navigation
Like I previously stated, most of the time when I am in the car I don't need to look up where I am going, but that doesn't take away from how awesome the navigation is. Phil previously stated that he found himself putting in the destinations just to see traffic conditions and such, and I have started doing the same thing.
When using Hyundai's infotainment system, I normally leave a split-view on the screen which shows you a small map on the left, and the media information on the right. Maps are something that I have looked at for years, being a trucking dispatcher I am very used to them. Sometimes when you hit an unexpected traffic patch, you can quickly identify connecting streets and avoid it all easily, without even having a destination in the system.
Searching for destinations is great. Sometimes we go out and want to eat something new, or check out another place that may be close by. Being able to voice search, as well as type in the location, works very well. It is often times more accurate, and includes more results than Hyundai's built-in system does. Additionally, since it picks up the business names better, it makes getting to places easier as I don't have to struggle through the address input. While it may seem silly, some roads are named US 1, or Route 1, or Highway 1, and if you don't go with the right one then the GPS can't find it.
Android Auto blows the Hyundai infotainment system away in my use, and when we are going somewhere that I need to put in an address for my phone always gets plugged in.
Phone Calls and Notifications
With the package we purchased in our Hyundai, the car has the ability to make and receive phone calls once it is connected through Bluetooth. These calls can be initiated right from the steering wheel by pressing a button, and using voice commands from there. The system is a bit clunky, and can take a few tries for it to understand what you are saying. With the pre-existing system, there is no option to receive notifications for messages or anything else, just phone calls.
Phone calls through Android Auto seem to work easier. The contacts that I call — of which there are very few — are marked as favorites in my Google Contacts. Once the phone icon is tapped, these icons come right up. While it isn't hands-free entirely, it only takes a second and I can be calling my wife, instead of fumbling through clunky voice-commands.
Android Auto brings additional notifications to plain view, which is great. I've not always been the best with keeping my phone out of my hands, but Android Auto helps improve that. I can see if the notification is from my wife, or a family member you can tap on it for it to be read out loud, and if I feel as though it is important I can then pull over to safely reply to it. Some will be annoyed that they can't see their Twitter, Facebook, and other nonsense notifications on the display, but it is designed that way. Drivers don't need those distractions on the road.
Summary
Hyundai has done a great job overall with their in-dash infotainment system in the 2015 Sonata, but Android Auto enhances that experience. What I like most about the implementation of Android Auto is that when I am not in the car, or my phone is not plugged in, the user experience for my wife doesn't change at all. You are not forced to live within Android Auto if you don't want, but you can take advantage of all of its great features by plugging the phone in.
It isn't perfect, though no technology really ever is. Android Auto is still new, developers are still trying to figure out what to do with it, and Google is still learning what users want from it. While there are some features I would like to see added, overall the experience is a positive one. Google has done a great job of presenting a nice clean interface that give some, but not too much, interaction with the head-unit, keeping the focus in the car on safety — where it should be.
Android Central Newsletter
Get instant access to breaking news, the hottest reviews, great deals and helpful tips
Jared started off writing about mobile phones back when BlackBerry ruled the market, and Windows Mobile was kinda cool. Now, with a family, mortgage and other responsibilities he has no choice but to look for the best deals, and he's here to share them with you.
Yupp. That's what it says. :)

Hah. Glad I'm not the only one who has that Term of Endearment in their vocabulary.

The Wifey lives in Manville, apparently!

But does she, or was that just where the picture was taken?! The mystery!!!!!!!!

why do u have to plug in ur phone, what abt Bluetooth?? Posted via AC app on my X 14

Always wondered the same. It seems Apple Carplay is going wireless, I really hope that Android will be the same. Having to plug in cables seems to old-school these days.

I don't think CarPlay uses Bluetooth for its wireless connectivity with CarPlay, but I can't find any documentation either way. To cast a screen onto the head unit at the same time you're playing music, taking calls and using navigation, I would assume Bluetooth would be far, far, far too little bandwidth and something like WiFi Direct would be needed.

I believe CarPlay wireless was announced during the iOS 9 announcement.

Yea, they announced it then, but it was actually included in iOS with the 8.3 release that's already out. I kinda of hate that they are adding features to CarPlay (and maybe Android Auto). You buy a $30k car and within months your stereo is out of date? Kinda sucks. This should have been better thought out.

I believe the reason why both Apple and Google couldn't go the Bluetooth route was it would drain your battery quite fast. The second generation of Android Auto should be able to address the battery issue... Hopefully... Posted from the Nexus 6, Nexus 5, or Surface Pro 3

Nothing can adress it
Bluetooth simply takes lots of power Posted via My G2

That doesn't make any sense. I connect (well it actually auto connects upon entering) my Nexus 6 to my Kia Sorento SX via bluetooth ALL the time and then I simply plug it into the car charger to keep the battery going. Plays all my music, voice texts, and even makes.. dunt dunt dunnnn.. phone calls. Yep..car chaaarger. Latest thing since before Blackberry was relevant.

When I use navigation and plug my phone in my battery drains by the time I get to my destination. Imagine screencasting as well.

Navigation, calls, maps, screen casting, app casting. Bluetooth likely couldn't handle all of that. You'd need WiFi Direct. Also, your phone battery would die in an hour. You'd have to plug it in anyway, I'd think, unless your trips were short.

Doesn't Google Play Music incorporate downloaded music into the library any way or you can tell it just show downloaded music which also music on the memory card. Posted via the Android Central App

Spotify used to, but doesn't. But yea, I am pretty sure that any local content should be available in GPM if you add it to a playlist so it's then visible in Android Auto. Heck, it might be available other ways, too.

Yeah, it does, and it's pretty granular too... for any playlist, artist, or song, you can tap on the 3-dot menu and then tap download, and the content is then stored on your phone until you tell us to not be. If you download a playlist, it will even automatically download new songs that you add to the playlist in the future. The downloading feature works for ANY music (not just music you own) if you are subscribed to Google Play Unlimited, which I think is pretty killer.

I REALLY hope Hyundai makes this available on the 2014 Genesis, even if it's a paid update. I heard they will on the 2015+. The infotainment system on the 2014 Genesis is only "fair" and that's being generous. The Nav system is very hard to use compared to Google Maps, which is why I still use my Nexus 6 as the car's primary navigation.

Nice write-up. I can't wait for a compelling head unit to install in my '09 Civic Si. I like the Pioneer ones, but I am not going to pay over $500 for a resistive screen. I'm literally in a "SHUT UP AND TAKE MY MONEY" situation, but there's nothing yet to buy.

I've had a 7000NEX (resistive) and I currently have an 8100NEX (capacitive) installed in my 09 Civic EX. My other half has a 4000NEX (resistive) in an 09 EX-L and my son has a 7100NEX (clear resistive) in his 08 Civic Si. Both screens types suck due to the 8th gen Civic radio mounting location. The resistive screen washes out completely and the capacitive screen becomes a finger print smudged mirror. Using an anti glare screen protector on the capacitive screen helps with the finger prints & glare, but cuts down of the sharpness of the display. Posted via the Android Central App

Not sure if you would know this, but is the mounting any different compared to the 2013 Civic EX? That's what I currently have and am thinking about getting an aftermarket head unit in the future for Android Auto. It looks like (at least from a quick google search) that they're pretty similar with the 9th gen dash having a bit more noticeable angle towards the driver.

>"The option to pull locally from my device, like when you plug in an iPod or something would be great, but seeing as so few devices have SD slots these days, I guess the push towards Google Music makes more sense overall." Are you kidding? You can't play locally stored music from the headunit nor the phone??? That is a TOTAL FAIL! I am actually shocked people will accept that. Some of us don't want to use Google Music and don't want to have unreliable music and waste tons of bandwidth.

I've read a few articles now about Android auto, and I'm still failing to see what it offers over a car dock and Bluetooth, except for a cleaner "factory-installed" look.

I wonder if this will be available to car makers that people actually buy soon

I am glad to see articles like this. I just bought a new 2015 Chrysler 300, so I definitely won't get a Hyundai, but I was interested in how it works Posted via the Android Central App

Why can't they use WiFi. Its what it is for!? --- This message brought to you via the sarcasm keyboard available for download at the Google Play Store.
LG-G2 on Lollipop.

One issue that is still very prevalent.. crappy power support from the in car supplied USB ports. My phone can't get enough power to actually charge unless its off when connected to vehicle supplied USB power. run anything including music, etc and the battery drains even when connected to power. S5 says the power mode is "USB" which means .5 amps. most phones these days need 2 amps to charge. 2017 elantra with joke usb power. This power cable seems to be the answer. black to car usb and red to additional power socket USB charger.
Android Central Newsletter
Get instant access to breaking news, the hottest reviews, great deals and helpful tips
Thank you for signing up to Android Central. You will receive a verification email shortly.
There was a problem. Please refresh the page and try again.