Community Review: SCOTTeVEST Knowmatic Hoodie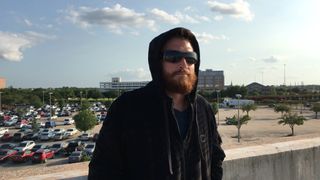 Editor's Note: Welcome to our first ever Community Review! This is a full product review created by a member of the Android Central community, and it's the start of a new program here. We're going to be slowly opening this program up to community members and companies interested in participating. Please reach out to our Community Manager if you have any questions or would like to join the program!
SCOTTeVEST is a company the seeks to bring fashion and technology together in a unique way. Most company's these days are trying to find new and different ways to integrate technology directly into the clothing, but SCOTTeVEST's philosophy is simple: Just bring the tech with you! Their vision is for a wide variety of fashion sensible jackets, vests, hoodies, and even lab coats, that will comfortably allow you to bring all, and yes I mean all of the things with you.
Smartphone? Check.
Headphones? Check.
Wallet and keys? Check.
Pop-tarts and Hot Pockets? Check.
iPad? (Yes, I know.) Check. You can bring both a 7-inch and your 9.7-inch tablet with you safely within the pockets of your SCOTTeVEST Knowmatic Hoodie.
SCOTTeVEST wants you to forget about computer bags and backpacks, but the question remains, can you really carry everything in it? Even the kitchen sink? Let's find out.
Soft-wear
The Knowmatic Hoodie is firstly just that, a hoodie. So how does it stack up next to its other hoodie companions? Well, as far as hoodies go it's amazingly comfortable. It is made out of a micro-fleece material that is oh-so-soft, and keeps you warm as well. Although being in Texas in the middle of summer, everything is hot. Like ridiculously hot. Aside from that, the Knowmatic Hoodie is very easy to wear and is certainly fashionable enough for even your most hipster-est of friends.
As the name suggests, the Knowmatic Hoodie does have an adjustable hood — go figure. But they've added a fun little feature to it which, depending on your friends and family, some may find more useful than others. Tucked away inside the hood is a flap that you can fold down to cover your eyes for all those little power naps throughout the day. It can be used for flights, train rides, or maybe just to politely tell someone that you are otherwise occupied at the moment. To ensure that those around you are getting the message that you don't want to talk to them right now, a simple "DO NOT DISTURB" is printed on the flap. Thank you SCOTTeVEST for finally coming up with a way for me to tell the world to go away without me having to say anything!
Oh, and one more fun little tidbit on the outside of the hoodie — cuts into the cuffs of both sleeves is a hole for your thumbs so you can look like all the cool kids around town and, secondarily, to keep your hands warm. We don't have to tell them that cool can be functional, too.
Hard-wear
This Hoodie claims to have 13 pockets. I say claims, because no matter how many I use, I keep finding more! They just keep appearing out of nowhere; it's magical!
Let's start with the ones on the outside. As you would expect on a hoodie, there are two pockets at the bottom where your hands would normally fit, pockets one and two. But don't for a second think that these are just regular pockets; for starters, both pockets can shut with a small magnetic clasp. On the inside of both pockets, there is an extra little tiny pocket for all your spare change, pockets three and four. However, this is 2016 so I'll just over-pay for my coffee with my watch and be on my way, thank you. Aside from the change pocket, the inside of the right pocket hides two more surprises for you.
The first is a strong elastic strap designed to hold your water bottle. However, it seemed to be a little more trouble than it was worth for me to get the bottle in and out quickly. I'd rather just set it in the pocket. The second hidden gem is a small key holder. This is a little more intricate gadget which involves a key ring on an extendable plastic band with a quick-release clasp on the end. This is all held in place by a snap button at the bottom of the pocket. Confused yet? It's really not that bad and actually is a very convenient way to carry your keys without them falling out or getting pulled out by a quick-thinking thief.
Lastly, on the left sleeve is another pocket, which is perfect for a small wallet. It won't fit anything massive but as long as it isn't too big or stuffed with 20 different credit cards, it should fit without issue.
Things really start to get interesting on the inside of the hoodie. Both sides are symmetrical so that makes it a bit easier. At the top, we have a pocket big enough for any smartphone with some extra room for sunglasses or whatever else you might need (Pop-Tarts on the go for instance). These pockets (six and seven) clasp together magnetically as well so it's easy to get in and out of quickly while making sure nothing falls out.
Beneath these pockets are even bigger pockets (eight and nine). These are designed for your larger gadgets like phablets, tablets, and kitchen sinks. This pocket is technically one large pocket that is divided down the middle with three small velcro patches that can transform it into two smaller ones. Turning these two pockets into four brings us to a grand total of 13.
Now at this point you're probably saying, "Wow, that's a lot of pockets", and you're right. But with a lot of stuff in there, it can become quite heavy. Luckily, SCOTTeVEST had the same thought you did and came up with a mostly functional solution. They have built a Weight Management System into the material to help distribute it more evenly throughout the hoodie. How it works is pretty simple: they design the shoulders and upper half of the clothes with extra material and place the seams in such a way as to help lighten the stress on your neck and back.
This, coupled with the strategic placement of the pockets, ensures that the hoodie won't have any adverse side effects. Each new design is also inspected by a licensed chiropractor to ensure its safety. In my own use, since I don't have another hoodie that can hold all the things, I wasn't really able to asses how well it is compared to others, but in short, the system works. Now it's not gonna let you fly, but it doesn't feel as heavy as it might without it. I say mostly functional because I'm honestly not sure how much lighter it will really feel. And keep in mind, the system cannot change the laws of physics, so if you add 10 pounds of gear to the hoodie, you'll still be carrying around an extra 10 pounds. After a while it will still feel heavy, but it makes traveling, or even those Sunday afternoon coffee shop sessions much more bearable.
But SCOTTeVEST wasn't done there. Oh-ho no. Because now that we've gotten all the gadgets in there, what about my headphones? How am I going to jam out to the latest Bieber album while rocking out in my super fly hoodie? Don't worry, friend. You can still pretend to be cool with all the other kids. SCOTTeVEST's solution for this is called the Personal Area Network or PAN (don't ask me, I don't know why they call it that either. It is patented, though, so there's that.). The PAN is a series of small holes and elastic bands all throughout the hoodie that will let you wire it up just like an undercover super spy. They start from the bottom-most pockets and weave their way up into the collar so your ear buds are never far from your ears. You can weave the plug end into pretty much any pocket you want, inside top, outside bottom, inside bottom, one of the invisible pockets, wherever you want. The end result is having your headphones within easy reach without having to wrap and unwrap them constantly or stuffing them down your shirt awkwardly. The earbuds live right by your ears and the rest of the wires are hidden out of the way so you don't have to worry about them. It's honestly probably the coolest part of the whole hoodie (aside from the pop-tart pocket, of course).
All About the Benjamins
Unfortunately, like all of Bond's other gear, this product isn't cheap. One of SCOTTeVEST's biggest aims is to stay fashion sensible and as with most things fashion, that comes at a price. SCOTTeVEST is aimed at the business traveler crowd who maybe have a little extra money to spend in the name of convenience and looking professional. As such, their prices are a bit high. The absolute cheapest thing on their website is $25 but that's a hat and a pair of boxers. If you are looking for a jacket, hoodie, shirt, or vest, things get a little pricier. On sale, you can find some for around $60 but they quickly go up from there.
The Knowmatic Hoodie that we've been talking about here is a cool $110. SCOTTeVEST also attempts to meld fashion with the ability to leave your computer bags behind, so depending how often you actually end up leaving your bag at home and how much your bag costs, things might balance out a little better. For example, the bag that I use the most cost me about $100 but now I have a cool hoodie that allows me to leave my backpack at home, so for me it evens out. The other good news is that there are plenty of options for all kind of business professionals. Even bodyguards get some love with a jacket that will let you conceal your firearm right next to your iPad.
All in all, it's a good chunk of change to drop on a piece of clothing. It will really come down to how much you really need extra pockets, aside from the ones in your pants.
Final Thoughts
In my time with the Knowmatic Hoodie, I came away very impressed. For starters, the material is very soft and comfortable to wear. The size I ordered was correct and fit me perfectly well without being too baggy. It kept me warm, but was also breathable enough that I wasn't sweating while wearing it.
Not only was I impressed with it as an article of clothing, but I was also impressed with how it lived up to its claim. When I go to work, I take with me my two phones, my iPad, wallet, keys, charging cable, and sunglasses. I used to take my backpack with me, but after using the hoodie for a while, I was able to fit everything I needed comfortably in the pockets without feeling overburdened. So I left the backpack at home. The harder part for me is not melting from sweat while wearing a hoodie in the 100 degree South Texas summer heat. Maybe I'll start rotating the bag and the hoodie.
Should I Buy It?
Well, it depends on your needs.
SCOTTeVEST products are great for a wide variety of people. Almost everyone would be able to use the features of the hoodie. If you are a business traveler who wants to get away with an extra carry-on, or someone who needs to carry everything with you all the time, or if you have a bad relationship with your backpack and have been hurt, then SCOTTeVEST is perfect for you.
It's incredibly comfortable, allows you to carry everything you might ever possibly need right on your chest, and look great doing it. Also, if you're a more safety-conscious person, another great thing about the hoodie is that no one else can see what your packing. Everything is concealed well enough so that those unsavory types would have no idea what you've got on you.
If you don't really carry that much tech with you, or you don't travel a lot, or if you just prefer to carry a bag with you, then honestly it might be better to save your money and look elsewhere for fashionable outerwear. But if this is your sort of thing, you can find them for sale right from the SCOTTeVEST site.
See at SCOTTeVEST (opens in new tab)
Android Central Newsletter
Get instant access to breaking news, the hottest reviews, great deals and helpful tips
Awesome review, wrote like a professional Posted via the Android Central App

I hope this becomes a thing because this is great!!!!! Yall don't want to see me review something tho. Posted via the Pokémon Central App

Oh it's a thing. More coming :)

ZOMG Posted via the Pokémon Central App

Cool concept, I sent in some of my stuff from Medium

Great review. This guy is a pro!

That looks perfect for travel. Great look at a cool product, JC. I really like how you covered all the bases. This Pop Tart is hoisted in your honor!

Love the review, not sure I'm buying one buy I also really do like the hoodie. Posted via the Android Central App on Nexus 6 Assassin Edition. Android Central Moderator, Gonfaloniere.

I really like the review and the product.This is very nice and would be great once fall weather arrives.The cargo pants on the website also have great possibilities.For me,this is an article to save for a little later in the year.Good job. Posted via the Android Central App

Awesome review! We need more of these! From my Nexus 6P or 5 via the cooler than cool Android Central App

$110 is a little steep for my needs, but they are selling on their site for $68 with a promo code. For that I may need to pick one up! Posted via the Android Central App

This is an amazingly well written review and it's also caused this hoodie to get on my wish list. This is a great idea for reviews! Posted via the Android Central App

Good job team! This is awesome. Posted via the Android Central App on the Moto X Pure Edition

Good review! One request, though: If you (AC) plan to continue this program, please, please, please proofread and edit them prior to posting them. It makes the reviews so much easier to read. There were a few places in the article that i had to reread because of a grammar, spelling or punctuation error. I think the reviewer did a great job. However, he, not being a professional writer, could have used a little help from the editing department.

Here's an example of your point: "Weather for flights, or train rides, or maybe just to politely tell your significant other that you are otherwise occupied at the moment." First of all, it should be "whether" and secondly, this sentence has no subject. A good editor can make a good article, a great article.

Really agree here. I thought he was talking about the weather before I realized the sentence didn't make sense and it should be "whether". He also wrote a$$es rather than assess. That was a hoot. And the usual apostrophe issues that plague Jerry's articles as well. Only Phil, Kevin, and perhaps Andrew seem to understand that its is possessive, and it's is a contraction of it is or it has. Forgetting the moments of confusion in this article though, it was written with great humor and was very well thought-out! It keeps you engaged and interested in the product the entire time. As an editor, I wonder if AC would be interested in giving an avid Mobile Nations reader a trial run to edit the authors' articles before they're submitted. I would love to do so for free on a trial basis and show them what I can do for them. No one types perfectly, myself included, but when it comes to online publishing, these articles should be going through a good editor first, shouldn't they? :-) Posted via the Android Central App

Now, if only we could perfect photo-voltaic material and charge our stuff in the pockets... Posted via the Android Central App

Well done! The DND flap would be awesome while on a flight.

Fantastic review, but from looking at the SCOTTeVEST website this model (Knowmatic Hoodie) only seems to be available in Red XXL on the outlet page. The hoodie you linked to, the Hoodie-Microfleece, doesn't have the same pockets as the Knowmatic - its missing the tablet pockets and the sleeve pocket. It also doesn't seem to have the eyeflap. However, if you like the red & black stripe pattern and need an XXL you can get this from them for $44.

I would love to see a review of their ultra light vest. It might be wearable in warmer weather.
Android Central Newsletter
Get instant access to breaking news, the hottest reviews, great deals and helpful tips
Thank you for signing up to Android Central. You will receive a verification email shortly.
There was a problem. Please refresh the page and try again.