UK's CMA is concerned over Google and Apple's 'vice-like grip' over mobile devices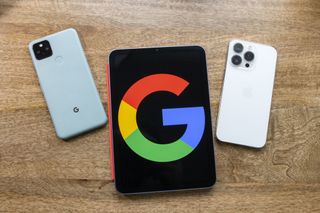 (Image credit: Andrew Myrick / Android Central)
What you need to know
The Competition and Markets Authority (CMA) has published its interim report in connection with its market study into mobile ecosystems.
The report claims consumers are losing out because of Google and Apple's duopoly.
A final report on mobile ecosystems is expected to be released by the CMA in June 2022.
The UK's Competition and Markets Authority (CMA) on December 14 published its interim report on mobile ecosystems, expressing concern over the "vice-like grip" that Google and Apple have over mobile devices.
Andrea Coscelli, chief executive of the CMA, said in a statement:
The report has provisionally found that the two companies have created "largely self-contained ecosystems" by leveraging their market dominance. This has made it almost impossible for other companies to enter and compete with them. While Apple doesn't allow any alternative app stores on iOS, Google has agreements with device manufacturers that "encourage the pre-installation" of Play Store and Chrome on the best Android phones.
Developers are also made to comply with Google and Apple's rules to be able to access their app stores and pay up to 30% commissions on purchases. Both Google and Apple have argued that the rules are in place to ensure the security of its users. The CMA is concerned that the restrictions favor their own services and also severely limit choice for consumers.
The CMA's report sets out a bunch of actions that could be taken to encourage competition in the mobile ecosystem and give consumers more choice. These include enabling users to easily switch between iOS and Android phones without losing their data, making it easier to choose alternatives for services like browsers, enabling users to install apps through methods other than the App Store or Play Store, including "web apps." The report also suggests users should be allowed to make in-app payments through alternative billing systems.
The CMA expects to issue its final report on mobile ecosystems in June next year.
Android Central Newsletter
Get instant access to breaking news, the hottest reviews, great deals and helpful tips
Well the obvious solution is to ban both companies products and services from the UK and start building your own stuff. Yes I'm being sarcastic.

June next year...
Nothing moves slower than frozen molasses than the "legal" system! SMH

It's a tricky conundrum. Having multiple OS's as we know them today means exclusive content that you can only get in one ecosystem. Just look at all the streaming services as a weak example. The interconnectedness of our digital worlds requires common accessibility. You would need agnostic devices with agnostic stores with apps that were also device and store agnostic. It would still require a common programming language, but that would solve this conundrum as long as the owner of the programming language wasn't also a device maker or store owner. It's when all the parts are owned by one company that monopolistic tendencies become an issue.

In the PC market what do we have? Windows 87.6%, Mac OS 9.5%, Linux 2.3%, Chrome 0.4%. On mobile we have Android 72.8%, iOS 26.3% and Kia OS 0.2%. Why are the calls not the same for Windows which has a much greater monopoly than the moblie OS world. Also, yes Android is 7.2*% but a big chunk of that is in China where GPS is not a thing. And you can sideload other stores onto your Android device and get apps and services from there. Look at the huge number on Android manufacturers as well.

Bring back Windows Phone.
Android Central Newsletter
Get instant access to breaking news, the hottest reviews, great deals and helpful tips
Thank you for signing up to Android Central. You will receive a verification email shortly.
There was a problem. Please refresh the page and try again.