Chromecast support looks destined for some British TV apps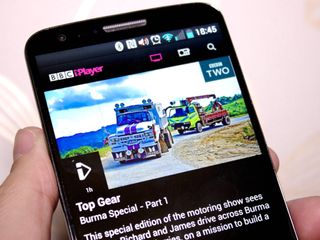 BBC iPlayer and BT Sport apps have Chromecast references buried within
While still unofficial, Google's Chromecast looks set to launch this coming week in the UK. Folks are rightfully excited and wondering which of our local apps might be updated with support for it. Android Central Forums member SmItH197 has been digging around inside the BT Sport application and found multiple Chromecast references within.
This follows a similar report from the folks at Android Police who've reported on some similar digging, this time within the BBC iPlayer application. As with the BT Sport app, there were references found that match with other applications that already have Cast support. Neither app has had support turned on yet, so if you've a U.S. import like I do we'll still have to wait. But if all goes according to what we've seen so far, we might be enjoying some local Chromecast action pretty soon.
Source: Android Central Forums, Android Police
Get the Android Central Newsletter
Instant access to breaking news, the hottest reviews, great deals and helpful tips.
Good news! I couldn't care less about BT sport, but well done to the fellow that dug it up. I'll be interested to see if 4od gets support, given that it gives a snotty message if you connect your phone to your TV to try and watch. Posted via Android Central App

Your welcome ;) Posted via Android Central App

I did a quick scan of the android manifest file for 4od and couldn't see anything. But I didn't dig too deep. Posted via Android Central App

Still hasn't launched in Canada.
Pretty sad we continuously get the shaft from Google,

It hasn't launched anywhere besides the U.S. yet...

Good news about BT sport. Be great if sky do the same. Although pretty certain they won't Posted via Android Central App

Sky will never support Chromecast. They want you to buy their now TV box or get multi room - CC would be a revenue loss for them. Posted via Android Central App

If you want something Chromecast-like to view Sky on you're going to have to buy the new Roku Streaming Stick. Sky have invested in Roku (I guess their Now TV box is one of the older Roku boxes re-branded). I plan to buy both the Chromecast and the Roku stick - best of both worlds!

Yes the now TV box is a roku 2 with sky branded firmware and a limited selection of channels (sky approved only). Posted via Android Central App

But even if you subscribe to everything on Sky you are unable to view ANY of it via NowTV without another subscription. Sky Go let's you watch many of your already subscribed channels on a digital platform (eg phone, tablet, PC) but prevents casting. Hence why a Sky Go App for Roku or Chromecast is needed. Posted via Android Central App

Makes sense. I used to be able to start a stream from a device behind a VPN, now I can't. I was able to tell my CC to stream something from Chrome on my PC behind my Work VPN, and now I can't. Seems they're checking the initiating IP vs the CC IP now, to prevent people from getting iPlayer and alike outside the UK I guess.

Awesome! Posted via Android Central App

BBC iPlayer support would definitely be a killer app for this - fingers-crossed! (I've got the one I bought in the US already attached so good to go when they want to switch on support!

It's available for bbc iPlayer now, just waiting on BT sport and ::) will be happy :)

Talking of local support, the web page (not phone app) of swedish state television now supports chromecasting all clips, news broadcasts and shows. No live channel feed though. So support is most likely gonna explode soon in many countries. Note that Chromecast is not sold by google in Sweden either.

It's coming out for UK tomorrow to begin its international release. I assume the EU will be next on Google's list very soon.
Posted via Android Central App