Chromecast and BT Homehub might not play nice, but there is a fix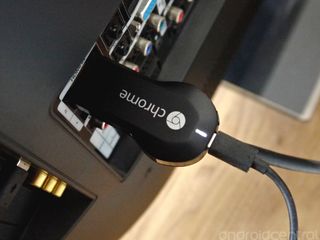 Smart Setup needs to be turned off first
A quick heads up for new UK Chromecast buyers that might be using it with a BT Homehub. The two might not initially play nicely together, with the Homehub prompting a "Smart Setup" wizard to display on the TV. There's no way to deal with it on the TV, but as the folks at Pocket-Lint point out, there's an easy fix.
You just need to jump into the admin menus for the Homehub and find the option to turn off Smart Setup. Once you've done that, you shouldn't have any more issues and be free to cast away to your hearts content. If you need a little direction on how to do this, hit up the source link below.
Source: Pocket-Lint
Get the Android Central Newsletter
Instant access to breaking news, the hottest reviews, great deals and helpful tips.
Oh dear. Loads of normals have these hubs and will just assume the chromecast is broken. Even if you told them there was a fix they wouldn't have a clue how to access the home hub admin page. I think Google need to get this info out Posted via Android Central App

Agreed. I've just set my Chromecast up and encountered this issue. I knew what to do but most wouldn't. Chromecast is brilliant by the way. Posted via Android Central App

Absolutely. I know it's not Google's fault but I've been recommending this device all over the place and could be a little embarrassing.... Posted via Android Central App

Nice to know, I've just ordered one from Amazon and I have a BT Home Hub 3. At least there's a way round it :-) Posted via Android Central App

Just got mine from Curry's.... Set up no problems with BT homehub 3. Posted via Android Central App

I have still not received my shitty Homehub after 5 months so no problems here! Posted via Android Central App

Picked one up last year in states. Youtube didn't work til I reinstalled it several times. Maybe this was why? Netflix worked. Posted via Android Central App

Using mine with home hub. Had to run set up and ensure it was set to UK then it was ok. Posted via Android Central App

The other one, is the Samsung auto switch network settings in 4.4.2 stop the initial setup, remember to switch it off in advanced wifi if you keep getting disconnected from the Chromecast WiFi AP before setup finishes. The_ape on an N9005

I have a US chromecast from when Amazon were shipping internationally. Had loads of problems with it losing connection to the home hub and/or phone. Eventually turned off 5ghz completely on the home hub and it worked fine after that. Posted via Android Central App

My imported Chromecast works fine with my BT Homehub, always has. But the Homehub is a few years old so that might be why...