Chromecast to allow casting without being on same WiFi network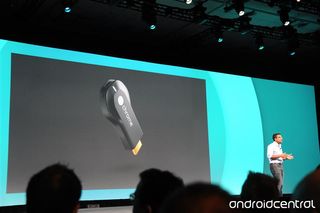 Google today introduced at Google I/O an impressive new feature coming to Chromecast in the future, where you'll be able to cast content without having to worry about being on the same WiFi network. It's all done through the cloud but allows you all the same functionality as if you were connected over WiFi.
The new technology can authenticate the users via the cellular connection to the cloud, or there'll be the possibility to use a PIN should this not be possible. This will be available to all Chromecast users and app developers later this year and looks to make using Chromecast a more social experience.
Away from the tech, we also heard a few facts and figures. There are now 6000 registered developers building 10,000 applications that hook into it. Chromecast is a top selling electrical product on Amazon in the UK, U.S., France, Japan and Canada and usage is up an impressive 40%.
Get the Android Central Newsletter
Instant access to breaking news, the hottest reviews, great deals and helpful tips.
love using all 3 of my chromecast devices at home.

10,000 applications... Isn't that about 9,980 more than what's out now?

+1 Posted via Android Central App

No, there are at minimum a few hundred apps currently. I stopped counting after the 300th app came out so I can't give an exact number anymore.

Will the chromecast be able to tether to a phone, while being controlled by that phone? That would be a business tripper's dream package for staying in a hotel. -Suntan

Im really looking forward to this if it works as suggested. I spend over 250 nights a year in hotels.

You and me both. This was the biggest disappointment about the Chromecast at launch. If they sort this out, I'll buy a second one to keep in my travel bag. Posted via Android Central App

Yeah. I continue to dink with hooking up an MHL adapter to connect my phone directly, and it works, but it is a PITA to get up to pause/stop/start/etc. (First world problems I know.) I should just pack a spare Roku in my bag... -Suntan

I use this to control my tablet when it is connected to my TV. https://www.androidcentral.com/e?link=https2F2Fcli...

Yeah, that's what I need. A way to hook up the Chromecast without getting on the hotel wifi Posted via Android Central App

Get yourself a wifi router, configure it at home with your phone and your chromecast and voilà, you've got your personal wifi network you can use in hotels.

That means very little when the hotel wifi is chugging along at .2 mbps and you want to stream some Netflix... -Suntan

Will this allow cell companies to "push" commercials or "related" content to my Chrome Cast? Posted via Android Central App

I doubt that'll happen mid-playback, but I'll bet we end up seeing sponsored content in the screen saver, where we see pretty nature photos now. Posted via Android Central App

But I like the pretty nature photos :(

Here's to hoping it will allow Chromecast to connect to stubborn Hotel WiFi that you have to click agree to on your phone.

That means that I could control one remotely from elsewhere?
Posted via Android Central App

??? Wish I can control and stream without wifi at all ??? Phone to chromecast--- samsung galaxy note 3 4G lte to chromecast will be dope Posted via Android Central App

I don't know if this is supposed to be working already, but I actually had this happen the other day. A buddy of mine came over and was streaming some stuff to my Chromecast from YouTube. After he had left, I came back into the room to discover a YouTube video playing on the TV. I mentioned it to my buddy a couple of days later and he said "Really?! I didn't expect that to work!" He had gotten home and discovered that his phone was still showing connected to my Chromecast, so he tried playing a YouTube video, just to see what would happen. Apparently he was able to send the "Cast" command to my Chromecast over his cellular connection, from 12 miles away. I don't know if that means that Google has already rolled out some of what is necessary for this to happen, or if this was just a weird fluke.

lol, I can see this creating some really comedic, or even inappropriate, situations for people. Pranks and all.

Yeah. Luckily my buddy wasn't too "creative" and just played a Mighty Morphin Power Rangers video. Also, luckily, no one else was there. Had either of those two things been different, it could have been... embarrassing ;)

Looks like it's time. Time to get a Chromecast.....or Android TV.