Chromebooks becoming more popular, shipments rise by 67 percent in Q2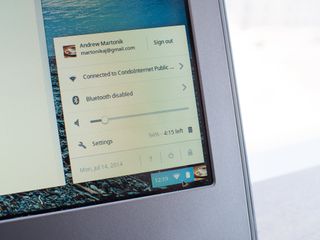 Chromebooks are on the up, according to latest data from ABI Research. Shipments of laptops running Google's OS increased by 67 percent in Q2, and it's being projected that total shipments in 2014 will double that of 2013.
Not only are home users purchasing and enjoying new Chromebooks, but the education market is also looking into more affordable hardware. ABI's analyst Stephanie Van Vactor notes that consumers are seeking for cost effective products:
ABI Research also concluded in the report that the US remains the largest market for Chromebook sales, accounting for 78 percent of the Chromebook market in 2014. Analysts expect this to change with growth occurring in other important regions. It's interesting to see that Chromebooks have enjoyed a surge, given that the general notebook segment is witnessing a decline.
Have you purchased a Chromebook recently, or are you still on the fence?
Source: ABI Research
Love my chromebook, it's my daily driver. The first gen Samsung was trash but the newer HP 14 in screen chromebook is a champion. Battery lasts forever. Posted via the Android Central App Galaxy Note 4 T-Mobile

How old is that model? I really want one, just can't decide.. 4GB RAM is a must though Posted via the Android Central App

I'm not sure what model he has or the one I have but the screen is terrible on mine. It's the only reason why I can't use it as a laptop replacement.

I've had the Chromebook 14 with free T-Mobile data and 4GB of ram for a year now. I got it right when it came out. It's a fantastic laptop. Best I've ever owned.
Screen is somewhat bad (old TFT), as Ant34 mentions but for $299 you can't really complain.

Maybe 8 months or so? I'm not sure, it's called the HP chromebook 14. I lucked out bc best buy had them on the HP chromebook 11 rack (11 inch screen) and gave it to me for that price when I bought it but I love the feel of it way more than the Samsung 1st gen which was trash. Posted via the Android Central App Galaxy Note 4 T-Mobile

I see a good bit of them where I live Posted via Nexus 7 2013 or verizon Galaxy S5 or maybe one day through my moto 360

I'm starting to wonder where the gains are coming from. Macs gained, most Windows PC makers gained, Chrome books gained. Is there a new market somewhere? Posted from the amazing whatever device I can afford because I'm a broke college kid.

Mostly schools. Chromebooks are pretty much perfect for schools. Posted from the Avengers: Age of Droid Ultra

I'm thinking the gains are coming from iPads. Schools are tossing those out in favor for Chromebooks. I'd rather send my child to school (college or below) with a Chromebook over an iPad

Yes Chromebooks are loved by the students while iPads are loathed.

I think you meant teachers. The kids probably prefer the iPad because it's a toy and gaming rig. Every teacher I've talked to loves their Chromebooks in the classroom.

While obviously a sarcastic response and the way it's viewed you have validity. But, students are looking for affordable solutions that they can bring to class and take notes with and handle the tasks assignments. Tablets aren't ideal for that, aren't as handy for students in this realm.

Windows didn't gain.. windows is loosing but its just a drop in the bucket.
also the gain in mac and chromebook is narrowing the PC shipment decline

And tablet sales are down....

That's right! ... ( 0ppo F5) ...

Did finally buy an HP one 4 months ago and so far it's been the best first time experience I've had outside Windows. I tried going all Mac and quickly came back to Windows in 3 months. Was tough doing certain business operations with a Mac. Was very skeptical about trying something new, but after weighing pros and "coins", I realized that most of the stuff I do Chrome could handle and I was right. Google's services for docs and etc are perfect so far. I'm thinking of getting a desktop version as well and having my Windows kept as a backup for just in case. Posted via Ash William's Boomstick

if you have an Intel chromebook you can run Ubuntu on it parallel. That means you can run all Linux applications. see if that fits your need

I wonder if this is why the iPad isn't doing well.

The numbers are too small to really impact iPad sales. IPad sales are in the 60mm per year range. Chromebook are in the 3mm range. Posted via Android Central App

I bought a C720 11 inch and it's been one of the best tech purchases I've made in a long time. Fast, SUPER LONG battery life, and does everything I need it to do. I was looking for a couch surfing machine with an actual keyboard and the Chromebook fits perfectly.

I second that. Posted via the Android Central App

I third that. Posted via the Android Central App

Fifth... Of vodka Posted from the Avengers: Age of Droid Ultra

Actually, my big hold back on chromebooks has been price. I cannot justify spending more than 200$ for one. Not with what I am planning on using it for. But I still want 4gb of ram and a full Intel Chipset. At least 32gb of storage and a niceish keyboard would be nice too. I realize that may be too much to ask at this point in time, but that is how much it is worth to me. When a manufacturer can provide that, I will look at them more seriously. Posted via the Android Central App

Really? I got my Acer C720 for less than $200. That's cheaper than a decent 7in tablet. Clearly we've become too spoiled in 2014 with cheap electronics.

They're around $120 on groupon.

I have 30 Acer c720's for my high school social studies classes, what a phenomenal product, totally changed the way I teach. My teacher machine is a Samsung Chromebook 2, and I love it also, great keyboard and battery life.

Interesting. Where are the sales coming from? I have yet to see one in real time out outside of Best Buy? Posted via Android Central App

Amazon, Newegg, other Internet sites. When buying a new device I usually can't wait and buy in store but sometimes surf the Web looking for whoever has the best sale price at the time. Posted via the Android Central App Galaxy Note 4 T-Mobile

We bought an Acer C720 for our HS junior last year, now senior, when he was clamoring for a notebook "to use for school work" (and Netflix, and Twitter, and...you get the picture). He's used it a LOT for all of those things over the past year, and since I tried it and fell in love with it (I'm pretty heavily invested in the Google apps stack), the two of us were increasingly competing for the use of HIS laptop. :) My wife and I have been delaying the replacement of our 8-yr old iMac workhorse, and I convinced her to let us try an experiement -- to see if we could use the 2013 HP Chromebook 14 as our almost full-time daily driver. Picked up that model from Walmart (the 4MB RAM version w/ the free 200 MB of T-Mobile data every month for the life of the machine), and we haven't really looked back. My wife is no techy and simply wants to get to her Gmail, Google Calendar, Google Drive and various banking/bills websites daily...and Chromebook excels at that. We've only accessed our iMac (still sitting gathering dust next to the Chromebook) only about 2-3 times since going full-time Chromebook six months ago. I only need to do a final upload of our entire music collection from the Mac to Google Play Music to complete the transition process. If your computing needs are light to moderate, you can likely use a Chromebook for your daily driver...especially with some of the newer models coming out with better screens (looking at you, Toshiba Chromebook 2).

I will seriously consider buying a Chromebook once they start making 17" screen models. For small screens I prefer an Android tablet...

Agreed. Once you use a 17" laptop it's hard going back to something smaller

I am the opposite... i was using a 15.4 and then went back to 13 mac. love the size

I have a 17 inch Asus spec'd to the rooftops and bought the 11 inch C720 and it has been a delight. They are different machines for different uses so their differences don't bother me.

Good point!!!! And bump up that screen resolution...

Last year, it seemed like everyone used MacBooks with a few Windows laptops sprinkled around, but now I see so many Chromebooks on campus. I think Google's college tour, which loaned students free Chromebooks for a week, really had a positive impact on sales. Hopefully these numbers continue to increase. I know I'll be getting a Toshiba Chromebook 2 soon. Posted via AC App on HTC One

Why are you hoping the increase, do you own Google shares?

No, I'd like to see Chromebooks become more popular because I want continued support, more of my peers willing to try Hangouts rather than FaceTime, and more great inexpensive laptop options. Why are you questioning me about what I own? Posted via AC App on HTC One

Have the larger HP pavilion Chromebook. Looking at that Lenovo for next year. Bit I have to say I also like what Windows is doing. But ultimately I am sticking with Chrome because I haven't had a moment where I was wishing for a more powerful computer. Posted via the Android Central App

We have had an Acer C720 for about a year and we love it. Totally replaced a Windows 7 laptop for us with very few drawbacks. And for $200 it's a bargain. We are thinking about adding a second machine, either a Chromebook or Chromebox, since we have a extra monitor laying around. If it's a Chromebook then we are looking for a better quality and bugger screen than the Acer. Posted via the Android Central App

Same boat as my household. I had an old Samsung that the kids always wanted so I got the C720. Then they fought over those 2 so I got a Chromebox, strapped it to the back of an old 22in monitor and put it on the kitchen counter. We'll almost exclusively ChromeOS at our place. The old windows desktop is gathering dust.

if i have to buy a windows laptop I would buy a Chromebook. Its cheap and can run Linux. Dont have to pay Microsoft license. I usually look for PC that run linux but its hard to find(mainly due to Microsoft) well build and cheaper Laptop other than the windows machine. This will change that.

This is great news. I love ChromeOS but for the life of me, I don't see how they are selling any of these. The retail displays at most stores are old and broken down and generally have last LAST year's models on display. Then if there's no WiFi, it's nearly impossible to see what it's capable of. Posted via Android Central App

I purchased a Chromebook recently and, by and large, I've discovered that I have little need for a traditional laptop or desktop. Posted via the Android Central App

I purchased a CTL education Chromebook and LOVE it. Standard with 4GB and an Intel quad core processor (still only 16GB storage, though.) The only thing I miss on ChromeOS? The ability to use iTunes to sync audiobooks from my library.

Upload them to google music for free

Can you get virus on the chrome book? Posted via the Android Central App

If you try hard enough you can get a virus on anything. But whenever you restart a Chromebook it does a verified boot that checks for stuff like that. It also doesn't allow .exe files to be installed or run, so, while not impossible, it's extremely difficult to get a virus on a Chromebook. Posted from the Avengers: Age of Droid Ultra

I have two (Acer c720's), one for me and for the rest of my family; we have a few laptops too so there's no shortage of electronics. What's interesting to me is that my daughters school, a charter that covers K-12, has switched to Chromebooks most most computing use; they are also fully using Google Apps for Education. She does some of her homework there and then sends direct to her teacher... As slick there as any business use, and it's far more cost effective.

I got a C720P to replace the Samsung Chromebook I accidentally dropped (turns out it isn't concrete proof...) and I love it - light, long battery life, and more pleasant to do things like my flight school work on then my N7 3013. Mine is just the 2GB model but for $260 new I can't ask for more Posted via something running software it isn't supposed to

I would seriously like a chromebook... As don't need a PC. Except for using Lightroom. Now if that was available for chrome os that you would make me switch Posted via the Android Central App

You might soon be in luck. Adobe recently unveiled Photoshop for ChromeOS and I would say more adobe products could very well be en route. Posted via Android Central App

Where all the haters at? lol. Mum

Yep, was wondering that myself earlier in the comment stream. it's quarterly sales stats like these that shoot holes through that tired "the Chromebook is a useless brick" meme that the haters love to perpetuate.

Or you can go the expensive route like I did and get a Galaxy Note 12.2 with a Logitech 12.2 keyboard case.... Best purchase I have made
Android Central Newsletter
Get the best of Android Central in in your inbox, every day!
Thank you for signing up to Android Central. You will receive a verification email shortly.
There was a problem. Please refresh the page and try again.