Chrome for Android exits beta, first stable channel release available now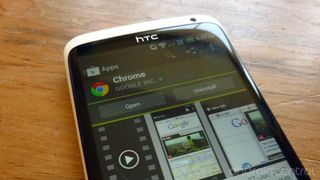 Fresh from the news that Chrome will be the stock browser on the new Nexus 7 tablet, today also sees the release of the first stable channel version for Android. The beta tag is no more.
The update is live in the Google Play Store as we speak, and is available for devices running Android 4.0 and above. Along with its first stable channel release, Chrome receives some important stability and performance fixes. Additionally, there are some small adjustments to the browser's UI. especially on tablets.
Interestingly, we're also told to "stay tune for more information" regarding other release channels of Chrome for Android. Could we be treated to some canary builds of Chrome for Android in the future? Sounds intriguing.
Source: Google Chrome Releases
Download: Chrome for Android (opens in new tab)
Android Central Newsletter
Get instant access to breaking news, the hottest reviews, great deals and helpful tips
Can we please get the ability to rearrange bookmarks? That is the one feature that I really miss while using Chrome.

Since they sync with the desktop Chrome you can arrange them there, and they will replicate sorted on the phone. If you are unfamiliar with it you get three options when you sync bookmarks. Desktop Bookmarks, Other Bookmarks, and Mobile Bookmarks. All three have their own folders, so you can have what you want where you want.

That's awesome. Too bad I can not install any other apps that are not made by Google right now. Every free app not made by Google is giving me an error. The error is "error processing purchase [DF-BPA-09]". I have cleared my data on the Google Play app as well as the Google Services Framework.

Honestly, I use Chrome, Firefox and IE interchangeably since some links or functions work better in IE than the others (example - I can't get some work web conferences to work in Chrome or Firefox). The differences seem pretty minor at this point - maybe I'm missing something?? Why is Chrome so much better than these two alternatives? At least on a desktop version. Thx.

Chrome updated...and Play Books, Play Movies, Maps, Street View, Youtube!

Nice!! I use Chrome on my tablets and love it! GLad it's finallt out of beta.

It seems that everything google got an update... The offline feature on maps is live.

Yessss!!!! http://i0.kym-cdn.com/entries/icons/original/000/005/742/sweetjesus.jpg

It's noticeably smoother. Thanks Google!

Just had about every Google app updated from the Play Store lol

It really needs a Full Screen Option.

Is anyone able to download any other free app? Any app not made by Google?

Just downloaded facebook (free app) with no error message. I am using a Nexus s running 4.0.4

Netflix updated for jelly bean 4.1 just saying

Great week carrier change from Verizon to Tmobile. Great Google updates on much needed application and my Galaxy S3. This is a great week for me.

so the same users that originally had it, can now still have it. while the rest of us (high majority on GB) are still stuck with imitation or Dolphin. why must you taunt us, Google?! i'm sad, but just impatient for ICS, really...well...JB really.

Google knows how to do it. It's only day one and they stole all the hype this year, best presentation ever. IO is epic! -- Kinda awesome how they pushed out all the updates today. Sweet.

QUESTION FOR AC?
With the announcement that Chrome will be the default browser for the Nexus 7 and presumably other Nexus devices once they are updated to Jelly Bean, does Jelly Bean lose support completely for flash? I know Adobe had said at some point support would not be available for anything new. Don't mean to ask anything dumb but it seems at some time flash will not be a part of Android.

Flash is going the way of the Dodo across all electronic media. In five years time it won't even exist, HTML-5 is taking its place.

But Flash exists NOW and until it is extinct not having support for Flash is a major pain.

That is correct. As far as I can tell, Flash won't even be updated to support Jelly Bean like it was to support ICS so even if Chrome wasn't the default browser Flash probably wouldn't work.

For anyone using an Asus Transformer, does Chrome freeze at some point whenever an incognito tab is open? I have not tried with the updated version, but its been guaranteed to happen for me every time previously.

They just updated Chrome PC broswer to ver 20 and now all of these updates for mobile, this is why I love Google and Android...they just keep innovating and updating.

Good thing I'm stuck with a T-Bolt running Gingerbread. (sarcasm people) On a serious note I'm anxiously waiting for an ICS leak (vs. Port) so that the awesome devs in the T-Bolt community can work their magic and send me some love.

am I the only one who still uses ICS Browser+? I love ability to use the thumb controls. Until this gets added to Chrome, I'll keep using ICS B+.
Android Central Newsletter
Get instant access to breaking news, the hottest reviews, great deals and helpful tips
Thank you for signing up to Android Central. You will receive a verification email shortly.
There was a problem. Please refresh the page and try again.