Check out the highlights from Google I/O 2015 in just over two minutes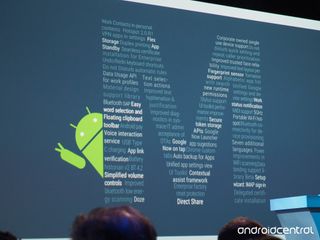 If you somehow missed out on Google I/O 2015, or just want to relive some of the highlights, Google has released a new video that will let you do just that.
The video, which clocks in at about two-and-a-half minutes long, quickly covers some of what Google is working on for Android M, Google Cardboard, and more. Of course, this only scratches the surface of what was announced at Google I/O, so be sure to check out all of our coverage from the event, including Project Brillo, Android Pay, and more.
Source: Google (YouTube)
Android Central Newsletter
Get instant access to breaking news, the hottest reviews, great deals and helpful tips
I know I'm a stodgy old conservative, but that "playground" strikes me as absolutely asinine and ridiculous. I don't understand the lack of traditional professionalism in the tech industry.

Why be professional when you don't have to? :) Posted via a mystical object I found in a dark and scary forest

Because professional adults playing on a swing set and teeter-totters looks absolutely ridiculous.

Yes, you're "a stodgy old conservative" (sorry I usually don't do "name calling" but I'm just repeating your own words), but I'll be happy to explain to you what is the idea on the tech industry in general (and Google in this case): "the looks" have absolutely nothing to do with the content of one person brain, and the content of the brain is all they care about.
A person capacity of creating good code, designing beautiful apps or come up with creative new use cases for technology is not in any way linked to said person being good looking or a "traditional serious professional looking".
So based on this idea, they make sure to provide a very relax atmosphere so that everybody can feel conformable on it and get the most out of their brains. Personally (I went to this year I/O) I didn't even come close to that playground, but the puff-beans thing to laid down while watching the talks were great!

The trend is dead and thankfully so. Life doesn't have to resemble a black and white WW2 movie. Posted via the Android Central App

I wouldn't go that far, but I'd prefer to see adults acting like adults.
Android Central Newsletter
Get instant access to breaking news, the hottest reviews, great deals and helpful tips
Thank you for signing up to Android Central. You will receive a verification email shortly.
There was a problem. Please refresh the page and try again.