CAT S61: One of the best rugged phones gets a laser-powered upgrade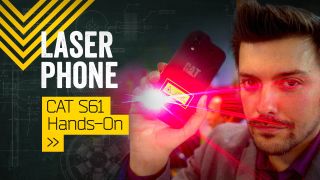 If you ask me, smartphones can't have enough sensors. Sure, the communicator was my favorite Star Trek gadget growing up, but coming in a close second was the tricorder. Starfleet's palmtop scanner could see through walls, alert the crew to the presence of poison gases, and determine the distance to the nearest drove of dilithium – all while surviving the kind of punishing abuse only Paramount Pictures soundstages- I mean, Exotic Alien Worlds could dish out.
The Cat S61 isn't quite a proper tricorder, but it comes closer than almost any modern smartphone. The sequel to last year's Cat S60 adds a laser rangefinder and air quality sensor to an even beefier chassis with improved waterproofing and durability, while also improving the FLIR thermal camera to support higher resolution and a wider range of temperatures. Best of all, it doesn't skimp on the smartphone fundamentals with a 4500mAh battery, removable storage, and Android 8.1 (with a guaranteed upgrade to Android P).
At $999, the Cat S61 isn't for the casual consumer – but if it lives up to even half its promises, it might be just the phone for the construction worker, electrician, or Starfleet away team member in your life. Check out the MrMobile Cat S61 Hands-On video above, and stay tuned for the full review to come later in 2018!
Stay social, my friends
Get the Android Central Newsletter
Instant access to breaking news, the hottest reviews, great deals and helpful tips.