Casio's WSD-F10 Android Wear smartwatch is rugged, like manly man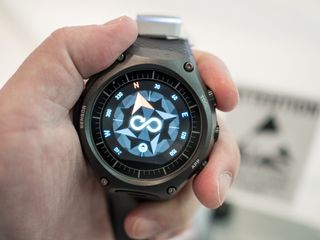 We've gone some 18 months with Android Wear now but haven't had a true rugged option. That ends now with the Casio WSD-F10, whose name is as rugged as the watch itself.
Casio's product material is heavy on mountains and forests and people wearing parkas, and when you strap on the WSD-F10 (there's that name again) you do sort of get the feeling that you might well have to wrestle a bear at some point during the day. (Or maybe that you want to wrestle a bear, but that's another thing for another time.)
Come to think of it, Casio's brochure also only features the watch on men. And when you strap on the bulky thing, it's immediately clear why. Few smartwatches are made with women in mind, but especially one that's got a MIL-STD-801G rating. It's big. It's bulky. It's WSD-F10.
Once we accept that fact, however, it's clear we've got a pretty serious outdoors-type watch on our hand(s) here.
More: Complete Casio WSD-F10 specs
The WSD-F10 — OK, we're just going to call it the F10 for a while and see if that feels any less silly — is good up to 50 meters underwater, which is a good bit more than most of us out there would fare. It's been tested against shock. And humidity. And solar radiation. And altitude. And temperature. And — OK, Wikipedia to the rescue. Point is this one's meant to be worn outside and banged around and gotten wet.
It's also meant to do things with that 1.32-inch display. You'll find built-in informational apps for hiking — sorry, "trekking" — cycling and fishing. Yes, fishing, which takes advantage of the on-board barometer to feed you information about atmospheric pressure so that you can feed yourself with fish. You've also got compass info, altitude and the usual speed and distance things. It'll come preloaded ViewRanger, MyRadar and Runkeeper to get you started.
Image 1 of 3
The F10 also tells time.
All in all, it's a pretty interesting option for Android Wear. It's big, it's bulky, but it's supposed to be big and bulky. It chargers via a single connector — and that may well be the biggest question about this thing. When you're out in the woods hunting Sasquatch, do you really want to worry about juicing up? Or maybe this'll just be more of a situational watch.
In any event, look for the Casio WSD-F10 in April for about $500 and will come in black, olive drab, orange and red.
Image 1 of 15
Sign up for Black Friday email alerts!
Get the hottest deals available in your inbox plus news, reviews, opinion, analysis and more from the Android Central team.