Carphone Warehouse to ship certain Android phones with Spark XL launcher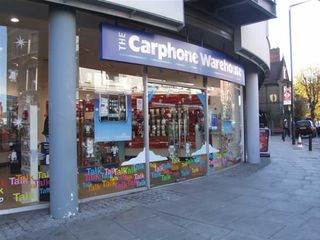 UK-based retailer the Carphone Warehouse will be shipping certain Android phones with the SparkXL custom launcher as standard, according to a press release from developer HipLogic. The ad-supported homescreen replacement includes feeds from social networks and news sites, along with weather information and an optional "deals" feed.
Some Android devices (Carphone has yet to announce specific models) will ship with SparkXL set as the default launcher. On other devices, the retailer will offer SparkXL to customers via its "Walk Out Working" in-store setup program. The full press release can be found after the jump.
Android Central Newsletter
Get instant access to breaking news, the hottest reviews, great deals and helpful tips
Alex was with Android Central for over a decade, producing written and video content for the site, and served as global Executive Editor from 2016 to 2022.
Wow, erm BIG no no, how about making them ALL stock Android and giving the option to ALL phones as to what launcher they want, perhaps even just show a list of top launchers available and go from there. Don't force ad-supported stuff to customers out the box!

You know what? As long as the Launcher is uninstallable, and its placed on top of Stock Android, I actually think this is an ok idea. I like this idea MUCH more than the Sense/Blur method of completely re-skinning the OS and making it impossible to completely remove it without rooting.

The more I read this the more my blood started to boil! I can't believe the audacity of them doing this. This launcher us likely to be crap and will give many new people coming to android a bad reflection. I only how these sales people helping them 'walk out working' site then how to get rid of it.

an add supported home screen launcher? How is this a good idea?

LOLOL an Ad supported launcher being forced on new users? HUGE HUGE FAIL. Give me a freakin break

As long as it is uninstallable, who cares? You guys need to relax. Seriously.

I know a ton of people using Android phones that aren't even sure what I'm talking about when I mention Launchers. Most people just "use" their phones without digging much into it... so right out of the box they get Ads thrown right at them and we need to chill? No, it's stupid. Make it installable as an an option, but not default.

I too, know a lot of people with Android devices who aren't the most tech savvy and expect their phone to perform right out of the box. What kind of first impression will first-time adroid users get from this garbage? Surely not a good one. This has the potential to tarnish Android branding, sigh.

I know Carphone is a fairly major retailer in the UK but couldn't you just not buy there?

I think some of the people posting in these forums would tarnish the android branding more than a launcher... If it's not one thing it is another when it comes to the inconsistencies of the android OS and UI's- blur, sense, etc... If you don't like the ads, then don't buy the phone... If you don't like the UI, buy another phone. You have a choice. If you are going to buy a smartphone, you should be smart enough to do some research. There's always BlackBerry for simple people...

unfortunately: smartphone ≠ smart user but excellent point

Thanks. You simplified my rant into one line... :) You see way too many people with smartphones that do not need them. Maybe I'm a little more sensitive to that fact because I end up being the family IT guy and fixing everyone's iphones... I'm an Android noob myself. If I listened to everyone else's posts though, I wouldn't have bought my Atrix because the dock was too expensive or it had blur, or it had a locked bootloader... in the case of all three- doesn't matter to me. I looked at what it COULD do.

+1 I have a whole family, including cousins, aunts, and uncles, with smartphones, laptops, desktops and a couple of tablets, and they don't know how to use any of it. I usually fix their stuff for them, but I also teach them as much as possible so they can learn how to use their stuff by themselves. I feel your pain brother

Blackberry for simple people..... are you nuts
i cant browse in a blackberry but can root and install roms and packages on android
iphone is simple thats where it gets the not smart smartphone users
to a non tech related person they dont understand ui vs os vs theme and whatever else we can talk about for days

agree with most people here about how it's ridiculous that they are preloading an ad supported launcher, but if you look at the launcher, it's actually not bad. https://market.android.com/details?id=com.hiplogic.sparkxl Of course this might leave a bad impression on some first time Android users, but at least it's uninstallable, unlike some other phone companies (*cough* HTC/Motorola *cough*) Hopefully Carphone Warehouse makes people aware of that. Plus if they don't tell their customers, at least people can go online and find this article on AC about it and figure out they can remove it themselves. Thanks AC!

It really wasn't bad. I just have everything set up with Launcher Pro that I had to switch back. The adds were really so small it didn't impact usability that much.

HipLogic here, Wanted to make a quick comment regarding some of the concerns. *Spark XL is a product we've built to enhance the stock Android experience to help new users get adjusted to their new phones by giving them basic news/weather/social right on the homescreen. The Carphone Warehouse has not placed any branding in the product and ads only appear in the news/weather sections as you would expect for a free media product, but not in the actual phone interface. Also, users can customize *Spark so that it only gives them only what they want, for example- the Groupon deals or the sports scores module can be turned off and the product can be completely uninstalled. *Spark XL was selected because it is a great experience for new Android users and is installed as value add for customers.

Wow, thanks for being proactive with users and commenting on the article. I don't think anyone is against your app directly, it's just the fact that it will come pre-installed on Android phones, and some new users might not realize that or know how to uninstall it by themselves. So if they don't like the launcher, then they would blame Android instead of the app itself, and that would give the OS a bad reputation for something it had nothing to do with. That's all. But thanks for commenting, welcome to AC :)

Personally, I couldn't care less about the response if it's full of company PR like this post is. No, you're not welcome on AC and get rid of your crappy launcher. Companies like this give Android a bad name to the masses of people that don't know what a launcher is and blame the OS. You can brainwash all the people that don't mind being complacent (like some people commenting here) but don't expect the rest of us who actually stand up to you to just lay down because you're telling us "it is a great experience for new Android users." That is for us to decide!
Android Central Newsletter
Get instant access to breaking news, the hottest reviews, great deals and helpful tips
Thank you for signing up to Android Central. You will receive a verification email shortly.
There was a problem. Please refresh the page and try again.