Can I play my PS4 games on PS5?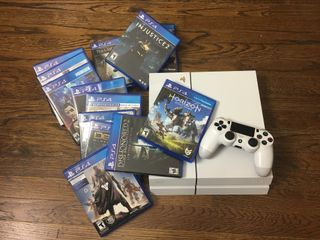 (Image credit: Android Central)
Best answer: Yes, you can play almost all of your PS4 games on a PS5. You can't, however, play anything from older generations like PS3 and PS2.
What is backward compatibility and why is it so important?
Backward compatibility is a process that supports older legacy games on newer generation systems. Basically, for PlayStation and Xbox, you could pop in a disc designed for an older console into your new system and it'll just work. We've seen this work between the Xbox 360 and Xbox One due to Xbox's emulation process, but it is something new for PlayStation.
Almost everybody has favorite games that they go back to time and again. Some stories you just want to play multiple times. With backward compatibility, you can continue playing your favorite games without needing to pay for a remastered copy (if one is even offered). Of course, you can always pick up a remaster to support your favorite developers and enjoy the updated graphics but it should be your choice.
PS5 is backward compatible for most titles
Both the standard PS5 and Digital Edition are backward compatible with the vast majority of PS4 games and some PS4 and PSVR games play on the PS5 with faster speeds and smoother frame rates. Only the following 10 PS4 titles aren't backward compatible on PS5:
DWVR
Afro Samurai 2 Revenge of Kuma Volume One
TT Isle of Man - Ride on the Edge 2
Just Deal With It!
Shadow Complex Remastered
Robinson: The Journey
We Sing
Hitman Go: Definitive Edition
Shadwen
Joe's Diner
Sony has also introduced a new PS Plus Collection, which gives PS Plus subscribers the ability to download some PS4 titles for free. The service, which launched with the new console, is similar to the Xbox Game Pass. The initial list of included games spans a wide range of genres with some huge hits such as God of War, Persona 5, and Resident Evil 7 : Biohazard.
Publishers of PS4 games also have the option to upgrade their titles to turn them into digital PS5 games. On the flipside, some of the games releasing for the PS5 also have PS4 versions so you can play them even if you haven't upgraded your console yet.
Why does the PS5 offer backward compatibility when the PS4 didn't?
One of the key reasons the PS4 was unable to offer backward compatibility in the way Xbox One had was a distinct change in how the PS4 was built. The jump from the PS3 to the PS4 architecture did not allow backward compatibility like it does between the PS4 and PS5.
The lead console architect for the PS5, Mark Cerny, said it is compatible because the next-generation console is based, in part, on the PS4's architecture. This means the games you love for the PS4 are still playable on the PS5.
Save those discs and don't shy away from building out your games library in 2020; PlayStation is stepping into this next generation on the right foot this time.
The next generation is here
(opens in new tab)
Keep checking for more chances to buy
The PS5 has been consistently sold out since preorders opened, but more consoles will keep rolling out. Hopefully you'll have another chance to get the powerful console soon.
Build your collection
(opens in new tab)
PlayStation Store Gift Card
Near limitless options
PS5 isn't available quite yet, but you can always prepare with a library of games you can play now and continue on the next generation of PlayStation in future years.
The exclusive of the decade
(opens in new tab)
Our favorite lead character, too
We came for the robot dinosaurs but stayed for one of the most unique and relatable stories told in a game this generation. Horizon Zero Dawn is an experience that nobody should miss, and thanks to backward compatibility you can still be able to play it on PS5.
Android Central Newsletter
Get instant access to breaking news, the hottest reviews, great deals and helpful tips
Android Central Newsletter
Get instant access to breaking news, the hottest reviews, great deals and helpful tips
Thank you for signing up to Android Central. You will receive a verification email shortly.
There was a problem. Please refresh the page and try again.