Buy the Galaxy S10 5G for its amazing battery life, not its 5G capabilities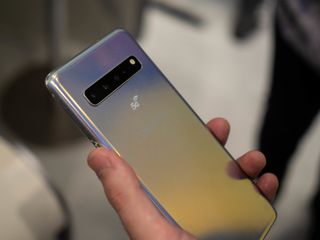 We still don't know how much the Galaxy S10 5G will cost, nor when it will be released in the U.S. But the one thing I know is that if you're looking to "jump into 5G," as the carriers would very much like you to do, I wouldn't recommend buying it for that reason. As loud as the manufacturers and carriers have been about the next-generation wireless technology over the past few years, which rose to a crescendo this week at MWC, the reality is that very few people actually need to buy a 5G phone in 2019. Or, likely, 2020.
But Samsung, being the relatively insightful company it is, saw this coming a mile away, which is why it outfitted the S10 5G with a few niceties to not just separate it from its own smaller, cheaper S10 counterparts, but from the wider industry in general.
While I didn't get to use the S10 5G during my hands-on with the Galaxy S10 units prior to their announcement, Samsung had the upcoming super flagship up and working at its booth at MWC 2019, and I got to spend some time with it.
First, it's big: it's about the size of the Galaxy Note 9 and the same boxed-off shape, but thanks to the new Infinity-O display, the screen's now 6.7 inches at a tallish 19:9 aspect ratio. That also makes it a bit wider.
The hole punch notch is a bit bigger than that of the Galaxy S10+ thanks to the addition of a time-of-flight sensor that reportedly improves portrait selfies by expanding depth information, but at first glance, I didn't notice the benefits.
The rear camera's ToF sensor gives the 5G version the only other camera feature not available on other S10 models: live bokeh while recording video. It's based on reference technology that Qualcomm introduced with the Snapdragon 855, and while it doesn't need the ToF sensor to function, in my tests it helped the foreground subject stay in focus while the background took on a purposed fog that, while artificial, looked quite good. Don't expect natural background blur here — this is all about making the person or people in the center of the frame stand out.
All of these extra camera features are great, and the big screen is fantastic for watching video, but here's why you actually want the Galaxy S10 5G. I've been using the Galaxy S10+ for just over four days now, and I'm insanely impressed with the battery. It's end-the-day-with-50%-battery good.
The Galaxy S10 5G should, especially when connected to standard LTE networks, take that even further. Its 4500mAh battery is 12.5% bigger than even the Galaxy S10+'s, and that should translate to two-day uptime for even the most extreme user.
When the S10 5G comes to Verizon in the first half of this year, followed by AT&T, Verizon, and Sprint in the second half, it'll be bundled with 5G service. I spent all week at MWC and still don't really have a sense of what that means for the average U.S. consumer who will inevitably be pressured an upsell when they walk into a carrier store in a city with any meaningful coverage.
Samsung did attempt to give visitors a taste of 5G by simulating a baseball game to a bunch of Galaxy S10 5G handsets. It showed the game split into two screens, one a broadcast stream and the other an interactive map where one could tap a part of the baseball diamond to change the camera orientation in real time. It was a neat concept, but one that doesn't seem out of reach in the current WiFi- or LTE-entrenched environment.
5G is coming; every U.S. carrier has outlined its launch plans for sometime in 2019. The Galaxy S10 5G will be out in Korea in April, and should launch in the U.S. shortly after that. But I suspect, when it's more widely available and subject to some awesome discounts, it'll be one of the most sought-after phones of 2019 for its battery life alone.
See at Verizon (opens in new tab)
Get the Android Central Newsletter
Instant access to breaking news, the hottest reviews, great deals and helpful tips.
Daniel Bader was a former Android Central Editor-in-Chief and Executive Editor for iMore and Windows Central.
I'll buy it for it's battery, size, 4th rear lense, and color. Hell of a phone

They had me until we heard of the limits to 256GB and no expandable memory. I'd rather wait for the Note 10 or Samsung 11.

I was thinking EXACTLY the same thing. No SD is a no go. There is always some dumb ass excuse for excluding it. I'm REALLY going to go off if they remove the headphone jack.

All carriers should focus on the structure of 4G LTE before racing to 5G LTE.

Not interested, but if this is a preview of what's to come for the Note 10, then I might just consider getting that.

Under controlled LTE settings, and when connected to 3G, the HTC Thunderbolt had great battery life too. We all know how that played out in real life...

Looking forward to seeing what "real world" minimum "in home" speedtest are. I'm guessing I'll be able to do away with broadband. I'd be buying for the 5G capabilities.

Sarcasm? [These words are gratuitous]

No really. Future, being the near future, at least for now. Heck, a current 2017 model is still pretty relevant.

You must be independently wealthy to be able to afford paying your carriers's data charges.

Realistically, not buying it at all is probably better advice.

You could buy this, or you could go with some of the current phones that already have two day battery life at half the price. Mate 20 and HTC U11 come to mind, and the U11 will go five days in power save mode.

Something tells me the big battery is there to make up for an infant chipset that probably could stand to be more efficient than it is. Remember the first 4g phones? Battery hogs.

It's a snapdragon 855 so the chipset is solid. I'm sure that modem will draw more power but if you turn it off, it'll be just like a Galaxy S10+ just with a bigger battery. Albeit, with a bigger screen.

Just like the rollout and transition from analog to digital, it took a few years and analog was still running with strength on the analog only and dual band phones. In the rural areas and from the high peak summits in Colorado and the West, analog had the stronger signal than digital.

The difference is that analog phones never had good battery life. Once the phone switched over to analog mode you could pretty much watch that battery meter decrease in real time.

I'd rather Samsung just made their devices slightly thicker and included bigger batteries in all the models. Anybody remember phones with a week of battery?

Yeah, those were called flip phones.

YES! Make me a Galaxy S10 with a 5000mAh battery that's up to 9.5m thick and I will buy it!
Maybe if Samsung speced their battery size to match their displays high pixel count, they could default to 1440p instead of 1080p - that really sucks.
It kinda makes the S10e seem like it might have great battery life - maybe even surpassing others 720p, smaller screen....

The last phone I had that could go a week on one charge was the U11, but that was in powersave mode.

Buy it for the battery life? Do you really thinkusers of the 5G model will see any benefit in battery life when compared to the 10+? The 5G has a larger display which uses more power, added 5G chipset, higher base mwmory and higher storage capacity.
Each of these items consumes more power - except for the 5G chip all the other items are drawing power all the time the device is switched on.
4100mAh on the 10+ vs the 4500mAh on the 10 5G.
Of course, the more you upgrade a 10+ with more memory and storage the fewer benefits you will see in terms of all-battery life.

I'm NOT buying anything Samsung, not the S10, NOT the Note 10, NOT any skinned Android phone EVER. It's Pixel, Android One or NOTHING for me. So sick of hearing about Samsung F*** Samsung, I'd sooner use an iPhone over anything from Samsung. I won't listen to any podcasts that talk about the S10.

But here you are on a Samsung article spewing again

I don't even believe this is the same Beno. Seems like a parody account tbh?

Trust me. No one takes you seriously.

12.5% percent larger battery in the 5G Samsung Galaxy S10 compared to the S10+. That's untrue. It's 9.7%.

5G? I'd pass on anything related to 5G this year. Especially if it means it will be constantly searching for a 5G signal, and that the tech needs more juice.

Anyone else getting Nexus 6P vibes from the visor on the back if this phone?

Until 5G is relevant and available in all areas like 4G is what's the point in buying ANY of these new phones? I have and S7 and there is no need to upgrade. The camera on my phone is more than adequate, the speed is fine, the features and reception is fine as well. I'm old school I actually like having a physical HOME button over a virtual HOME button. The only thing I would upgrade for is a little more space in the internal phone itself, but I do have a 128GB card that holds more than enough.

Pay all that money for a 5G phone, nah. It's gonna be a couple of more years before all carrier's are using it. It's still in it's infancy. With many things to be worked out!