Bubble Cloud Widget + Wear brings a stylish launcher to your Smartwatch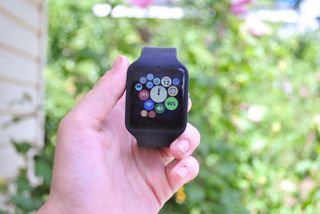 Convenience is the name of the game when it comes to Smartwatches, but at times getting to the app you need quickly can be a hassle in Android Wear. Bubble Cloud Widgets + Wear is a launcher that brings you gorgeous icons for all of your apps within swiping range. You've also got tons of options, and choices to personalize how everything looks and behaves.
If you haven't seen it yet, check it out below.
Bubble Cloud Widgets + Wear for Android Wear is available for free on the Google Play Store, with an option to purchase the premium version of the app for $2.49. When it first opens up on your watch, you'll see all of your apps arrayed with an icon for each in a colored bubble. You'll also see indicators for the date, battery power on both your phone and watch, and current internet signal. In the middle of all of this, is a clock.
If you swipe to the left, you'll get a second screen. This is dominated by a yellow bubble, which when tapped will bring you into settings. It's surrounded by more of your apps, depending on how many you have installed.
While you can access your settings via the watch, some options can also be found by using your phone. The options on your phone menu, are categorized between the App Launcher, and the Watch Faces. In App Launcher you'll see that you can change your background, adjust the size variance, freeze sizes, and access the Bubble Cloud Editor. There are also 3 options for the look of the bubbles in the launcher.
Watch Faces contains all of the options pertaining to — you guessed it — the watch face. There are options for ambient mode, enabling reduced touch sensitivity, peek card options. There are also 3 faces available for Ambient Mode.
From your Smartwatch you can also bring up some additional settings not found on your phone, along with several you've already seen. All of the settings available from your Smartwatch are on a single vertically scrolling screen, you can navigate by swiping up or down. From here you can enable an app tray if you've got enough apps to require a second screen, choose between an analog and digital watch face, you can reduce screen sensitivity, stop the animation from apps launching, and access ambient mode options.
There are also quite a few options that get added if you purchase the premium edition of the Bubble Cloud Widget + Wear. It allows you to save contacts to your phone in an easy to reach place, send emails from your watch, and allows you to have multiple extra screens for your apps. That last one becomes particularly handy, if you end up having a lot of apps on your Smartwatch. It will also auto populate app bubbles, filling them with all the apps that fall into a specific category.
Bubble Cloud Widget + Wear is a fantastic launcher. It's got a nice clean interface, plenty of options, and unless you need those premium features it's absolutely free. If nothing else, it's a nice change of pace for your wrist.
Get the Android Central Newsletter
Instant access to breaking news, the hottest reviews, great deals and helpful tips.
Jen is a staff writer who spends her time researching the products you didn't know you needed. She's also a fantasy novelist and has a serious Civ VI addiction. You can follow her on Twitter.