Bring! Shopping List for Android Wear makes it easier than ever to remember everything on your grocery list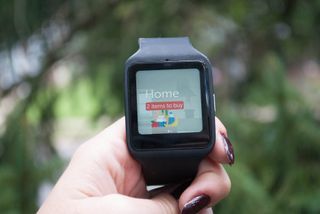 Grocery lists are something most of us use, if only to make sure you don't forget the important ingredients for dinner. Rather than digging out your phone to keep checking on that list, or trying to remember the scrap of paper you jotted everything down on, it might be time to check out Bring! Shopping List on Android Wear. This app lets you build multiple lists to handle your grocery needs, share those lists with friends, and easily check your lists.
Let's take a look.
The first thing you want to do is build a shopping list, which you do on your phone. Assembling the list is fairly self explanatory, as long as you know what you want to go shop for. Each list gets a personalized name if you don't like the defaults, along with a background image to help differentiate it. It's a small feature, but one that really makes it easy to grab the right list to look at later on.
Once you've named your list you can add people to it. This feature is especially fantastic if you're planning a party and have asked people to pitch in. You enter in the email address of whoever you want to participate in this list, and Bring! sends an invite to the list and the app. Once they have the app installed, whoever you invite can see and edit the list same as you. You can even set notifications to let you know when someone has edited that list.
To add items to your list, you have two basic choices. You can search for specific ingredients and add them that way, or by scrolling through the various categories that Bring has provided for you. Both methods are quite effective, and each ingredient that you add to your list comes with an illustration of the ingredient on a small card.
From your watch, Bring! Shopping List is fantastic. Upon opening the app you can choose between any of your shopping lists to pull up. Once it's open you'll see a small red screen, with the ingredient illustrated in white. Swiping left or right lets you see everything on your list easily, and in a pinch. One of the few pitfalls with the app is that they don't have specific brands, which can be a problem if you're shopping on someone else's behalf and don't know if they prefer something specific.
As far as shopping list apps go Bring! Shopping List is definitely one that you should be checking out. It's available on Google Play Store now for the low, low, price of free. With multiple lists, Android Wear support, and the ability to share lists with friends, this is one app you shouldn't ignore — at least not if you're responsible for the grocery shopping anyway.
Jen is a staff writer who spends her time researching the products you didn't know you needed. She's also a fantasy novelist and has a serious Civ VI addiction. You can follow her on Twitter.
This is the most useful nonmusic app i have on my Moto 360 Posted via the Android Central App

I just use Google Keep its easier to navigate plus my wife can send me a list vice-versa and it has all of my other remidners in it.

My wife and i can share lists on here. Posted via the Android Central App

Bring has a MUCH better interface for sharing lists. It is just a great UI for shopping lists. Keep is good for lots of things. It is not as good as Bring for this, at all.

You know what else makes it easy to remember everything on your list? The list. Posted via Android Central App

It is a great app. I use it with my wife all the time.

This looks simple to use and works nice with Android Wear watches also, but I'm going to have to stick with Keep for now. The ability to set location reminders and add items by voice on my Moto 360 make Keep a better option for me right now. Hopefully they continue to add features because I will certainly be paying attention. Maybe one day Bring! will be my shopping list so of choice. Posted via the Android Central App

I don't like that it shows only one item of the list at a time, too bad. I prefer SoftList or even Google Keep for this reason, it's too much trouble to flick pages on the watch while doing shopping....
Android Central Newsletter
Get the best of Android Central in in your inbox, every day!
Thank you for signing up to Android Central. You will receive a verification email shortly.
There was a problem. Please refresh the page and try again.