Blueant Q2 Smart Bluetooth headset review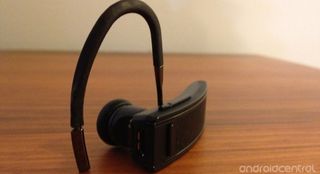 Bluetooth headsets come in lots of shapes and sizes. Some are bare bones and some utilize cutting edge noise cancelation technology and respond to voice commands.
Blueant Q2
Blueant has always been at the cutting edge of headset technology and the Q2 really is a "smart" Bluetooth headset. The Q2 uses cutting edge noise cancelation technology to cut down on background noise so your callers only hear your voice. The Q2 uses two microphones to improve voice quality as well.
There is a huge discrepancy when it comes to price with Bluetooth headsets; some are quite inexpensive and others are very expensive. The Blueant Q2 is on the upper end of mid-priced headsets, but it comes with lots of features.
What's in the box
The Blueant Q2 comes with an assortment of ear tips, a wall charger and a USB to Micro USB cable to plug in for charging.
Pairing the Q2
Just turn on the Power button and put the Q2 in your ear. You will hear a series of voice prompts telling you what to do to Pair your headset to your phone.
On your HTC EVO 4G LTE or HTC One X or other Android device, just:
Go to your Bluetooth settings
Choose Scan for devices
Select the Blueant Q2 from available devices
Once pairing is complete, the Blueant Q2 will attempt to transfer your Contacts to your headset so it can announce the names of incoming callers. Most phones support this, but some do not. If you choose not to transfer contacts at this time, you can always do so via voice commands in the future.
On most Android devices, you will see a popup asking you to confirm the transfer of data from your phone to your headset.
On older phones, you may still be asked for a Pairing code – just input 0000.
If you decide to pair your headset in the future, just hold down the Multi Function button until the Q2 says "Say a command." Just say "Pair me" and you will connect the Blueant Q2 to your phone.
NOTE: There is a Blueant app that you can download that adds specific functionality to Android devices. Search for it in the Google Play store. If you don't find it, just go to this link and download it: http://myblueant.com/android/download.php
Just make sure you got to your Settings app on your phone, then to Security and put a check mark in the Unknown sources tab.
Functionality
Using the Blueant Q2 is as easy as using your voice and learning a few commands:
Voice dialing
Press the Multi Function button to activate voice dialing. To use the voice dialing features built into your Android device, just say "Phone commands" at the prompt. Then speak any of the normal voice dialing commands.
Voice commands
Press the Multi Function button and say "What can I say?" Options do vary according to phone but they include:
Am I connected?
Pair me
Redial
Phone commands
Call back
Sensitivity level
LED light
Battery
Update phone book
Cancel
Just say a command and follow the prompts.
The Blueant Q2 can also function as a basic headset would – just press the Multi Function button to answer a call (or say Answer when the call comes in) and press the button to disconnect.
You can also connect two phones to the Q2 and simply answer whichever one is ringing.
Comfort
Bluetooth headsets can be hit or miss when it comes to comfort in your ear. The Blueant Q2 has an ergonomic ear piece that really fit well in my ear. There are additional sizes for varying sized ear canals. The Blueant Q2 also uses an ear loop to keep the headset snugly in place. One issue I had was that the ear loop (like all ear loops) can get stuck or in the way if you wear glasses.
While having a headset stuck in your ear is never "comfortable" the Blueant Q2 was very comfortable compared to other headsets I have used.
Call quality
Call quality is simply spectacular with the Blueant Q2. There are lots of sophisticated electronics behind the scenes with this headset; noise cancelation, dual microphones, advanced equalization, etc. What matters most is that there is no audible hiss, calls are crystal clear and I never had a caller say: "what did you say?"
The sound was loud and clear. Volume can be adjusted via the volume buttons and I actually had to turn the volume down!
NOTE: The Blueant Q2 support A2DP audio streaming meaning that when the headset is connected, you can stream your music from your Android phone right to the headset. While not in stereo, the quality of music through the headset was actually pretty good.
The wrap up
The Blueant Q2 is one of the very best Bluetooth headsets I have used. Call quality was great. The noise cancelation worked very well – even when I was in a noisy environment, people could hear me clearly. The added voice features work well and add a good measure of convenience.
With the separate Android app installed, you can even have the headset read your text messages.
The good
Very versatile
Great functionality
Comfortable
Great call quality
Added Android app is a plus
The bad
A bit on the expensive side
Ear loop can get caught in glasses
The verdict
With Bluetooth headsets, like many other things, you get what you pay for. The Blueant Q2 represents cutting edge technology – both in noise cancelation and in voice commands. The combination gives you a headset that just works and works very well.
Buy it now
Get the Android Central Newsletter
Instant access to breaking news, the hottest reviews, great deals and helpful tips.