Blueant Q2 Smart Bluetooth headset review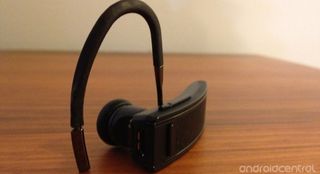 Bluetooth headsets come in lots of shapes and sizes. Some are bare bones and some utilize cutting edge noise cancelation technology and respond to voice commands.
Blueant Q2
Blueant has always been at the cutting edge of headset technology and the Q2 really is a "smart" Bluetooth headset. The Q2 uses cutting edge noise cancelation technology to cut down on background noise so your callers only hear your voice. The Q2 uses two microphones to improve voice quality as well.
There is a huge discrepancy when it comes to price with Bluetooth headsets; some are quite inexpensive and others are very expensive. The Blueant Q2 is on the upper end of mid-priced headsets, but it comes with lots of features.
What's in the box
The Blueant Q2 comes with an assortment of ear tips, a wall charger and a USB to Micro USB cable to plug in for charging.
Pairing the Q2
Just turn on the Power button and put the Q2 in your ear. You will hear a series of voice prompts telling you what to do to Pair your headset to your phone.
On your HTC EVO 4G LTE or HTC One X or other Android device, just:
Go to your Bluetooth settings
Choose Scan for devices
Select the Blueant Q2 from available devices
Once pairing is complete, the Blueant Q2 will attempt to transfer your Contacts to your headset so it can announce the names of incoming callers. Most phones support this, but some do not. If you choose not to transfer contacts at this time, you can always do so via voice commands in the future.
On most Android devices, you will see a popup asking you to confirm the transfer of data from your phone to your headset.
On older phones, you may still be asked for a Pairing code – just input 0000.
If you decide to pair your headset in the future, just hold down the Multi Function button until the Q2 says "Say a command." Just say "Pair me" and you will connect the Blueant Q2 to your phone.
NOTE: There is a Blueant app that you can download that adds specific functionality to Android devices. Search for it in the Google Play store. If you don't find it, just go to this link and download it: http://myblueant.com/android/download.php
Just make sure you got to your Settings app on your phone, then to Security and put a check mark in the Unknown sources tab.
Functionality
Using the Blueant Q2 is as easy as using your voice and learning a few commands:
Voice dialing
Press the Multi Function button to activate voice dialing. To use the voice dialing features built into your Android device, just say "Phone commands" at the prompt. Then speak any of the normal voice dialing commands.
Voice commands
Press the Multi Function button and say "What can I say?" Options do vary according to phone but they include:
Am I connected?
Pair me
Redial
Phone commands
Call back
Sensitivity level
LED light
Battery
Update phone book
Cancel
Just say a command and follow the prompts.
The Blueant Q2 can also function as a basic headset would – just press the Multi Function button to answer a call (or say Answer when the call comes in) and press the button to disconnect.
You can also connect two phones to the Q2 and simply answer whichever one is ringing.
Comfort
Bluetooth headsets can be hit or miss when it comes to comfort in your ear. The Blueant Q2 has an ergonomic ear piece that really fit well in my ear. There are additional sizes for varying sized ear canals. The Blueant Q2 also uses an ear loop to keep the headset snugly in place. One issue I had was that the ear loop (like all ear loops) can get stuck or in the way if you wear glasses.
While having a headset stuck in your ear is never "comfortable" the Blueant Q2 was very comfortable compared to other headsets I have used.
Call quality
Call quality is simply spectacular with the Blueant Q2. There are lots of sophisticated electronics behind the scenes with this headset; noise cancelation, dual microphones, advanced equalization, etc. What matters most is that there is no audible hiss, calls are crystal clear and I never had a caller say: "what did you say?"
The sound was loud and clear. Volume can be adjusted via the volume buttons and I actually had to turn the volume down!
NOTE: The Blueant Q2 support A2DP audio streaming meaning that when the headset is connected, you can stream your music from your Android phone right to the headset. While not in stereo, the quality of music through the headset was actually pretty good.
The wrap up
The Blueant Q2 is one of the very best Bluetooth headsets I have used. Call quality was great. The noise cancelation worked very well – even when I was in a noisy environment, people could hear me clearly. The added voice features work well and add a good measure of convenience.
With the separate Android app installed, you can even have the headset read your text messages.
The good
Very versatile
Great functionality
Comfortable
Great call quality
Added Android app is a plus
The bad
A bit on the expensive side
Ear loop can get caught in glasses
The verdict
With Bluetooth headsets, like many other things, you get what you pay for. The Blueant Q2 represents cutting edge technology – both in noise cancelation and in voice commands. The combination gives you a headset that just works and works very well.
Buy it now
Nice review. Does the multi-function button allow mute? That's the thing I dislike most about my Jawbone. It's not always convenient to use the phone to handle mute, especially while driving!

Decided to do my own research, and based on the manual, it doesn't look like it. Too bad. http://www.myblueant.com/downloads/manuals/Q2_UserGuide_EN.pdf

Thanks, and, no - mute isn't controlled directly. However, when you say "phone commands" you can access any command that the internal voice control on the phone supports.

This i a real good piece!!! I own one and it works great!! I recommend it!!

THIS REVIEW BROUGHT TO YOU FROM THE COMFORT OF MY BMW WHERE I AM DICTATING AS I DRIVE 80MPH IN RUSH HOUR. I AM IMPORTANT, YOU DONT GET IT. Sorry, I just had to laugh as I imagined the first bit of the review being shouted by someone who has this bluetooth headset on.

This reads more like an ad than a review. Did they just email this to you and deposit some $ into your Wallet account?

I"m doing a full series of reviews of headsets over then next couple of weeks. this is not an ad and, trust me, they are not all good.

I've had my Q2 since March, 2011. It's one of the nicer headsets I've owned, though it's starting to suffer from some wear and tear. Battery life is good. I don't use the voice control stuff much, always seems way slower to me than just calling someone normally. Otherwise, nice headset, but I wonder if BlueAnt doesn't have a new version coming soon?

One question I would like to see answered for all Bluetooth headsets is: Does the audio lag the video when watching a stream source? I've been disappointed in many headsets because this problem is common.

That depends more on the phone, than the headset (in my case the s4 speaker). I got about 1sec of lag on my old Samsung Intercept. There maybe a .2sec lag when using the same headset on my Samsung Epic 4g. Same headset on my friends Epic Touch has no noticeable lag. Cheaper headsets may also introduce their own lag on top of that.

I have the BlueAnt S4 speaker phone. This sounds like it's the same electronics and voice command programming, in a ear mounted package. A nice feature is the A2DP, so everything sounds better. I occasionally like to listen to music (I use the S4 when I'm doing yard work, since it's MUCH louder than the phone speaker), and having the headset play music is a nice touch.

I actually have this headset (and love it) - and actually, it's my 2nd BlueAnt. I originally had a T1; I purchased it for it's wind buffeting protection since I had a convertible. It worked great, however, it fell out of my car and I accidentally rolled over it (which of course, sucked). So, I was in the market for a new bluetooth headset. I ended up deciding on the Q2 mainly because of my good experience with the T1. It's much better looking and slightly more comfortable than it's predecessor - wind buffeting is just as good. THE only two problems that I have with it is a) while the battery lasts a long time, it discharges as a disproportionate rate (Meaning - it will be 'High' battery life for an hour, but then 'Medium' for days). The other problem (B) is more to do with how my phone handles the call. I will be playing music through either the headphone jack or data jack (such as using a car dock), and when I voice dial, it automatically activates A2DP over the bluetooth, not resorting my music back to my previous output (this is VERY irritating while driving). While I am now using an iPhone, I had the issue on my Droid RAZR. While I can disable A2DP, it seems to turn back on every time Bluetooth is reactivated. Anyway, overall, this is an excellent headset. I am totally a fan of Blueant and will likely stick with their products.

I have had several BlueAnt Bluetooth Headsets over the years. They have always been great quality. The only complaint I have ever had about them is that the ear loop piece tends to "give out" after some time. It will get loose and get to a point where it fails to hold the earpiece where you want it. I finally switched from their earpieces to the visor mounted speakerphone and couldn't be happier.

It's between this and the Jawbone for me. I need to swap my useless HM3700 out. As much as I would like a mute, I'll take a comfortable earpiece instead

That ear loop is easy to break I broke mine day 1

Broke mine w/I first week! For both of my refurbed Q2.

And on the evo lte it's constantly disconnecting.....and I don't care what no one says it's a HTC issue...cause I have 2 blue ants and 4 plantronics and they all do the same when I have the wifi connected.....

Its not an HTC issue, the issue is with bluetooth and wifi. Both run on the same 2.4ghz frequency so there is bound to be some interference at some point. If you have a router that has a 5ghz option than just use that use that frequency and all should be good. If not then you can always try changing the channel on your router.

Thank you muffin man I'm going to try that and see if I get better

Does the headset feature programmable voices? One of the things I really love about my Jawbone Era is that I can pick the voice the system uses. Well that and its noise cancellation, quality of construction, etc.

I love my Blueant Q2. I wear it every time I get behind the wheel and it's never let me down. By the way, there are some very nice alternative earpieces that insert into the ear that work extremely well. They come in a 2-pack and are available on eBay for under $8, w/free shipping. Just search for Blueant Q2 ear buds. Ear loops are also available there too.

Ah Thanks! I'm looking for a pair of ear loops.

I got one of theses on the 1day sales site. Yes it's a refurb but it works very well. It's so nice to have it announce the call and ask what I want to do. That being said since this is a refurb not all is happy roses here. One deficiency I have here is lack of distance from the phone. If I move it farther then a few ft it cuts out cold. Most of the time that's not an issue. When it does happen it can be frustrating. Considering I only paid $20.00 for it it was a bargain.:)

Wow! That's really cheap on the refurb. I recall the first time I saw it on 1daysales it was $34 and then it reappear on the site at $24.

Only lasted 3 months before it started sounding like Charlie Brown's teacher. Thank goodness had best buy warranty now have plantronics voyager pro hd.

Bought a Blueant T1 about a year go. Glad to say its still going strong. Purchased because I needed a blue tooth headset to listen to AC Podcast with.
Bluetooth 3.0, A2DP, Voice commands, Phonebook integration, Text read back, and that nice person inside the headset that walks you through the set up and tells you which device you're connected to. Volume, call quality, and streaming playback is great on my Evo 3D.

um.... i have had the q2 for well over a year now...... i dont understand why you are reviewing it now....

I own two of these Q2. The biggest problem is that the ear loop get broken easily. Both of mine are broken. I didn't look to see if they have the ear loops replacement kit. That would be nice. The second problem I have is that the speaker grill, the part that wraps around the mic, breaks at the bend. Aside from the hardware issue, I am very impressed with the sound quality. I didn't pay for them at full price. They were refurbed 1salesaday or dailysteals.

I just purchased this for my HTC One S. They paired it in the store, and called me to test it and I was very excited that it worked and sounded great. On my 20 minute drive home, it was successful in calling only 2 out of about 20 contacts I asked it to call. I got home, reset everything and re-paired and did a test. I tried calling another 20 people and it successfully called 3 people I asked it to call. On a 'repeat' call for example: Call Donna - it called Donna
Call Donna - it called Ana
Call Donna - it called a different Donna and didn't give an option Call Glenn - It called Alec
Call Glenn - It called Glenn and gave me 3 different numbers for Glenn
Call Glenn - It called Alec
Call Glenn - It called Willie On other call requests it would call people that weren't even close to the name! I changed sensitivty. High, med, low... I reset... I gave it a chance. Is it the HTC One S and the Voice Dialer app I have that came with the phone? When I use the Voice Dialer app without Blue Tooth it works perfectly fine. When I use Google voice app without blue tooth it works fine. I do not have a harsh, or un-understandable accent either. :)
Android Central Newsletter
Thank you for signing up to Android Central. You will receive a verification email shortly.
There was a problem. Please refresh the page and try again.