The BLU Studio 7.0 is a budget-conscious 7-inch smartphone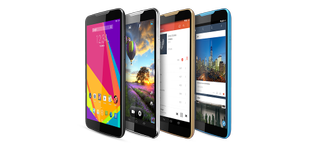 BLU Products has introduced the BLU Studio 7.0, a smartphone with a 7-inch display with affordability in mind. It runs on Android 4.4.2 KitKat, and is available now on from Amazon for $149.99 unlocked. The BLU Studio 7.0 is compatible with U.S. GSM networks like AT&T and T-Mobile.
The centerpiece of the BLU Studio 7.0 is its 7-inch, 600x1024 display. It's powered by a 1.3GHz dual-core processor, with 1GB of RAM and 8GB of internal memory, expandable to 64GB with a microSD card. It has a 5MP rear camera, as well as a 2MP front-facing camera. The Studio 7.0 comes in four colors: white, gray, blue, and gold.
Source: BLU Products
Shaqs phone Posted via the Android Central App

Haha good one. Posted with my Nexus 7 2012 or Moto X via the Android Central App

I have no words... Posted with my Nexus 7 2012 or Moto X via the Android Central App

I do, 7-inch, 600x1024 display
that display is going to look god awful.

No worse than the original Ipad mini.

Way too big..... Magenta is the new Yellow

Definitely not what she said. Posted via the Android Central App

but it is what he said about her

Way too big and way too weak and so little storage! I'm tempted though lol Posted via Android Central App with LG Google Nexus 4

you are right Linh321, I have it and yes it is too way too big, but I love it, not much storage for me is good. but be aware that battery does not last long. it's drained by midday. I have to keep killing apps and keep it plugged at all times. I still love it

Can the blu studio 7.0 be with tmobile service

Nexus 7 with phone capabilities... Posted via the Android Central App

now that could be interesting...

Course, this things actually less capable than a 2012 N7. Assuming you can make the damn thing work, that is. Wubba lubba dub dub!

N7 LTE with an app (hangouts, text plus, etc) Posted via the Moto X Pure Edition

The sucky display makes me think.

That's no phone... It's a tablet with a cellular radio. Wubba lubba dub dub!

Minus the tablet sized side bezel.

A Mali-GPU? That means it doesn't even have a SnapDragon Dual-Core. Posted via "the Contest-Won" Sprint Galaxy Note 4

Blu and 1.3Ghz pretty much assures MediaTek.

Yeah most likely. Possibly one of the low end Atom chips... Wubba lubba dub dub!

Not with a Mali gpu it would be. It is almost certainly MediaTek.

I assume it says it's a Mali GPU in the source link? I'll admit I wasn't interested enough in this to click through, and was just speculating based on the article. Wubba lubba dub dub!

Yeah it is in the source link. Pretty standard processor package for Blu.

I'm just waiting for someone to come along and say 7 inches is the sweet spot for phone size, and that they couldn't bare to go much smaller than that.

You beat me to it. I'm the kind of guy that stops a microwave at 1 second to feel like a bomb defuser.

7 inches is the gold standard of phone size. I can't even go down to anything less, no matter what people tell you, size does matter. All these 5.5 inch phones are just trying to justify themselves as average when we all know that 7 inch phones just feel better. Yeah, maybe they don't fit in everyone's pocket, but when they do you can just do more with it. Over time you'll agree with me and be unable to go back to a smaller size. "I'm da Blur boys!" - Me with 1200 ping. Yes. My Internet got worse.

They need to change pocket size LG G3 32gb

yes it does matter Sax, Size does matter...I love my 7' phablet... I really love it... even though battery last a few hours

npco543, I started with a Galaxy s I think, I went up with the 2 the 3 and the 4. I would pay full price for it. so I decided to go cheap and I bought the Nokia Lumia 1320 6' size phone but I couldn't bare Microsoft 8.1 so I change it to the Blu 7' I love it I really like it. (perfect price for the phone) I don't care if it is a crappy phone, I can see movies perfectly clear, I can play my games perfectly fine, it has lots of features, it is an Android, it is a little slow and battery will not last long. so I do have a big phone and I would not go back to 6' screen, no way jose :)

Interesting, not a bad option for "one screen" markets I guess. I don't think they would sell many in tech-savvy developed countries though.

SIM Card size? micro or nano? can't find it.

micro or nano SIM? - a phone that size could work with a full size "credit card" SIM!

The size and screen are kind of ridiculous, but for $150 unlocked, it's not the worst deal in the world. Posted via the Android Central App

you will love it I am telling you... you can see and play pictures, movies, games better

Why..? Posted via Android Central App on The Nexus 5

Why not? Posted via the ACA on NEXUS 6

Lol Posted via Android Central App

Ummmm, NA! Iphony Killa N5

Yikes I thought that display died years ago. Way to bring it back from the dead -.- Posted via the Android Central App

Future Paperweight Posted via Android Central App

As usual, people start whining about the size of the device. News flash: it's clearly not for you. Period. It's definitely not the best-spec'd budget device; however, for 150 dollars unlocked, it definitely has its target market clearly defined. You get what you pay for, and, some people can't afford a lot. It's nice to see a lot of different budget phones, though.

But it's not a flagship, so it's not a phone "I'm da Blur boys!" - Me with 1200 ping. Yes. My Internet got worse.

Could just use it as a tablet with data access, especially if on a plan where it is only $10 or so to add another line. Posted via the Android Central App

The next "Big Thing"? Posted via a beautiful Ebony backed Moto X on Verizon or the amazing Nexus 10 using the Android Central App

For 150$ it just might be worth checking it out. They also released the studio 6.0 hd
Lte
It has a quad core snapdragon clocked at 1.6 ghz. 32gb of built in storage and 3gb of ram
For 225$. Posted via the Android Central App

studio 6 is much better then studio 7 but then I like it big so I bought big....

Tempting at that price to try a 2 in 1 device. Would prefer some better specs, though. Perhaps if I sleep on it. Would use it on T-Mobile.

Would buy if it was 2010 Posted via the Android Central App

Screen size is too small. I need at least a 8in phone. Get with the picture, Blu! Small phones are so last year! Chuck Norris can call 'su' without having root permissions.

If you need such a big phone, means you want to do quite a lot of things with it, so then spending just 150$ to get it may sound good at the beginning, but in the end you will definitely get disappointed.. So buy a Nexus 7 from the beginning and that's it!
That is why you will be disappointed.. http://versus.com/en/blu-studio-7-0-vs-google-nexus-7

What size SIM card At&t ,does a BluStudio 7 " Take ? Thankful. BobEfird1
Android Central Newsletter
Get the best of Android Central in in your inbox, every day!
Thank you for signing up to Android Central. You will receive a verification email shortly.
There was a problem. Please refresh the page and try again.