BLU Life One X3 now available after One X2 screw up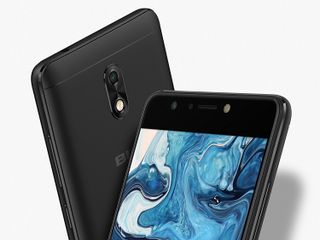 There's a ton of great value to be found in the smartphone space these days, and one company that continually releases respectable hardware for not much cash is BLU. The Life One X3 is BLU's latest unlocked Android handset to hit the market, and it really does look like a pretty good value.
The BLU Life One X3 has a regular price of $249, but for a limited time in honor of its release, you can purchase it for just $149. For that price, you'll be getting a phone with a metal body, 5.5-inch 1080p Full HD display, front-facing fingerprint sensor, 13MP rear and front camera, and a massive 5,000 mAh battery. Inside the device is the MediaTek 6753 processor, 3GB RAM, 32GB of expandable storage (up to 64GB), and Android 7.0 Nougat.
Being able to get that much phone for $149 is a great value, and while the One X3 might be worth checking out, it's worth mentioning that BLU really dropped the ball recently. The company accidentally locked its users of the One X2 out of their phone with a faulty software update, and it took the company almost an entire week to come up with a fix – let alone reach out to its customers to let them know that it was aware of what was going on.
The BLU Life One X3.
We aren't saying that the Life One X3 will be faced with a similar issue, but it's something to keep in the back of your mind.
If you're still interested in picking up the One X3, click/tap the button below.
See at Amazon (opens in new tab)
Joe Maring was a Senior Editor for Android Central between 2017 and 2021. You can reach him on Twitter at @JoeMaring1.
And yet... you commented on trash...

The comments are correct, this company is garbage, They promised updates and rarely deliver and when they finally do, its a disaster, Next, they lock the bootloader and haven't released any kernals. I have two of their phones, both sitting in a box, A R1 HD is worthless after using for a mere three 3 months. There are much better phones in a similar price range, The fans of this company, haven't owned their phones long enough!

$149! And play the brick roulette!

BLU makes some astonishing interesting products... but... really doesn't follow through with good support. I have a BLU Studio 7. It's an amazing 7" phone (yes, some people want a phone that large, get over it) at an astonishing price - but - it's slow and prone to lockup and crashing. It hasn't had a system update since I got mine. Even wiping it and running just the stock software doesn't fix the problem. So I don't buy BLU phones anymore. Which is a pity since they're one of the few companies that makes what I want.

BLU doesn't make anything. They sell rebranded phones. That's why they're crap.

BLU...hahahahahahahahahaha

U will be surprized the blue one x2 is same phone in india as panasonic eluga...weird they just buy phones from china and brand them.....
But one X3 looks good for the price

I know alot of the Gionee phones are the same as the BLU phones but neither one of them makes them. That's why support for BLU sucks because they know nothing about the phone. They can't support something they don't make. All they do is slap so crap OS and sell them to people who don't know any better and buy because they are budget phones.

I have a couple of friends who buy Blu phones and they seem to be ok. This one looks nice. Those specs just cant be had anywhere else at that price. You can have issues from any phone or maker. Even big names like Samsung and Apple and a week really isn't that long to wait for a fix.

Stay away from BLU products! Questionable build quality, lousy customer service & they never update their phones. I still have my Life XL from early 2016 & it still has Android lollipop 5.1.1. You can't even root the phone to put a custom Rom on it. In my experience, I wouldn't recommend BLU to my worst enemy.
Android Central Newsletter
Get the best of Android Central in in your inbox, every day!
Thank you for signing up to Android Central. You will receive a verification email shortly.
There was a problem. Please refresh the page and try again.