BlackBerry Priv goes on sale in France for €779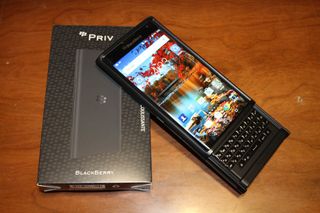 The worldwide rollout of the BlackBerry Priv continues, with the handset now available in France. Customers can order the device from the French ShopBlackBerry store for €779.
The Priv is BlackBerry's first Android phone, and was originally released in November 2015 in the U.S., UK, Canada, and Germany. Sales expanded to Italy, Spain, and the Netherlands earlier this month.
The BlackBerry Priv features a 5.4-inch display and runs Android 5.1.1 Lollipop out of the box. It's powered by a Snapdragon 808 64-bit hexa-core processor, and has 3GB of RAM. It comes with 32GB of internal storage, which is expandable up to 2TB with a microSD card. The Priv has an 18MP rear camera, along with a 2MP front-facing camera.
Blackberry is super confident with that pricing. Will be discounted like €200 in a few. Posted via the Android Central App

Holy balls that is expensive.

$844!!???!!!? WOW Posted via the Android Central App

Hmm, very pricey... I suppose if you really want that hardware keyboard... Posted via the Android Central App

What is wrong with BlackBerry? That is WAY too expensive. Posted via the Android Central App

Wow does Canada hate France for some reason? Selling that **** at that price is a jerk move Posted via the Android Central App

Ignorant comment. PRIV is the best Android phone on the market providing security features no other manufacturer can compete with! Do you know how many Entreprise customers and prosumers are buying this phone to ensure their sensitive information is protected? Way more than you think. All the additional seuciryt layers on the PRIV justify the price, which is much lower than iPhone 6S with lower specs and less memory.

Dont buy the hype. KNOX and googles implementation of Knox are just a good. Who says so? OH all the government agencies that have allowed them on their networks because of the enhanced security. http://www.pcworld.com/article/2836612/samsung-knox-devices-approved-for...

Lower specs...
Funny one Posted from my Droid Turbo

Paid $800 USD for mine and it was worth every penny. Nicest Android phone I've owned to date, my other most recent being the galaxy s6. Cry about the price if you want to but in this case you're getting what you paid for and not paying a couple hundred extra for a logo like some other phones Posted via the Android Central App

Lol fanboy Posted via the Android Central App

you'd be a fan of this phone too if you could afford. Posted via the Android Central App

Heads up folks, Mr. Moneybags walkin through. Posted from my Droid Turbo

Et me one Posted via the Android Central App

Only 779 Euro, cheap lol posted via the LG Flex 2
Android Central Newsletter
Thank you for signing up to Android Central. You will receive a verification email shortly.
There was a problem. Please refresh the page and try again.