BlackBerry PlayBook OS 2.0 launched, Android apps available to all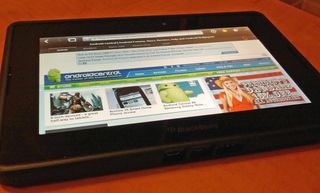 It sure has been a long time coming for our brothers over in the BlackBerry camp, but today is a day to remember. PlayBook OS 2.0 has finally been released, bringing with it access to Android applications through the Android Runtime.
Many have been tinkering for some time now with the Developer Beta of 2.0 and porting apps to try out on the device. But as of today, any Android apps that were repackaged and submitted to BlackBerry App World will be available to everyone.
We won't boast too hard about how great they're all going to be and that everyone will enjoy all of them -- that wouldn't be fair, a lot of them will probably suck. But with the level of interest seen at the recent Devcon Europe, it might not work out too badly.
There has been at least one big name Android developer who has ported over for launch though. Automattic who produce Wordpress for Android have relaunched the same app as Wordpress for Playbook. It also looks like the built in keyboard is BlackBerry's very own version of the Android third-party keyboard, Swiftkey. Pretty sweet.
A little easter egg too for any of you out there that are running a BlackBerry smartphone and an Android Tablet. Our very own Chris Parsons has been doing some investigating, and it seems that with version 2.0 of the BlackBerry Bridge application it's not just PlayBooks that can be remote controlled. Because it utilises the Bluetooth HID standard, Bridge can be used with all sorts of devices like a PS3, and even Chris' Motorola Xoom. Hit the link below to check out that video.
It just leaves us to say -- welcome to the family, sort of. It's been a long road to OS 2.0 that's for sure. We hope that Android developers will really get on board and show you some of the great quality applications that we're used to in this part of the Mobile Nations. For full coverage keep it locked to our sister site Crackberry.com.
Get the Android Central Newsletter
Instant access to breaking news, the hottest reviews, great deals and helpful tips.